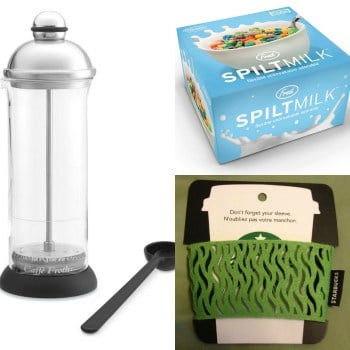 Breakfast is the most important meal of the day, we all know that. What we sometimes forget, is that it doesn't have to be just some flimsy toast or a bowl of cereal. Liven things up a bit! A fun bowl, like this Spilt Milk bowl can bring a smile to anyone's face. What's better then enjoying your Starbucks and not contributing another cup sleeve to the trash? Your very own reusable cup sleeve! Want to make your own frothy milk? Look no further!
Breakfast does not have to be boring, it does not have to be the same 'ole, same 'ole.
We're giving away a breakfast pack that contains:
One Spilt Milk bowl
One Bonjour Maximus Milk Frother
and
One Starbucks reusable cup sleeve (in black)
Mandatory
Leave a comment and tell us your favorite breakfast!
Bonus Entries
Please make sure to leave a separate comment for EACH action that you complete
Like The Fresh 20 on Facebook
Follow The Fresh 20 on Twitter
Follow The Fresh 20 on Pinterest
This giveaway will end August 31, 2012 at 11:59AM PST (so 2:59pm EST). Winner will be notified and announced on this post. This giveaway is open to US residents ONLY. If you are selected as the winner and unfortunately not in the States, we will have to select a different winner.