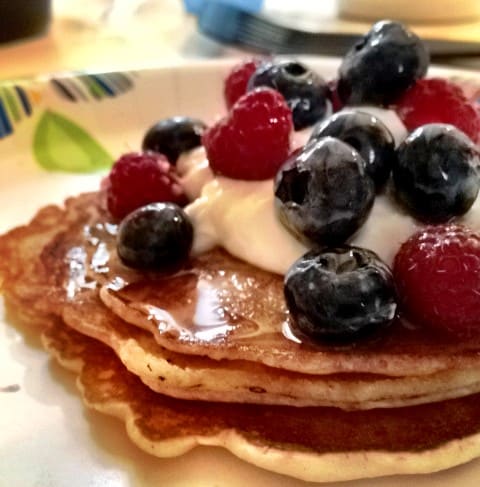 GOOD MORNINGS!
I've been a little anxious about my boys going back to school and the discipline of breakfast before 8 o'clock in the morning.  Planning ahead has been such a life saver for lunch and dinner but breakfast is a little last minute in our house.
This morning, my son asked me for pancakes. I sighed and then saw his cherub face and silently told myself to get the grill ready.  His eyes lit up when I said, "Anything for you."  So, I started thinking how I could be a weekday here with pancakes without getting up any earlier than necessary.
If companies can make frozen pancakes, why can't we? It's my new breakfast breakthrough!
Make 2 dozen pancakes one weekend morning and voila! instant breakfast.  Pancakes alone are not balanced enough to call breakfast so this flapjack tower is my answer to "what's for breakfast" at least once a week.
I recommend a number of pancake mixes but making your own is simple and rewarding. Here's a link to some amazing pancake from scratch recipes.
Simple Morning FlapJack Tower
3 four inch pancakes (made ahead; whole grain preferred) 1/2 cup plain Greek yogurt 1/4 cup fresh berries or bananas 1-2 Tablespoons pure maple syrup or honey Optional: a few fresh m int leaves   Heat pancakes in a toaster oven for about one minute. Arrange on plate and top with yogurt and fruit. Add a little mint if available. Drizzle with syrup or honey. Enjoy!  
Idea: Sprinkle pancakes with a little cayenne to get the morning started!
What's your favorite healthy pancake topping?