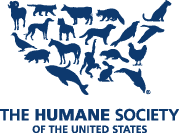 The Humane Society of the United States is the nation's largest and most effective animal protection organization. We help animals by advocating for better laws to protect animals; conducting campaigns to reform industries; providing animal rescue and emergency response; investigating cases of animal cruelty; and caring for animals through our sanctuaries and wildlife rehabilitation centers, emergency shelters and clinics.
Team Member: Olivia, Vegetarian advisor
As an animal lover and mother to many a stray over the years, I chose the Humane Society. The Humane Society is meaningful to me because it works to improve the lives of all creatures through advocacy, public education, and law-making. Especially in the wake of Superstorm Sandy and with the coming winter, I'm glad that through this gift I can make a difference in some animal's life.
THE FRESH 20 DONATED $250.00 to The Human Society. Animals are worth protecting.