Showstopping Oven-Roasted Thanksgiving Sides
It's no secret that while the turkey holds the spotlight as the iconic symbol of Thanksgiving, the real star of the meal is the sides.  Sides have been elevated to their own level of glory, with special care put into seasoning them just right and sprinkling them with garnishes to impress (and for that glorious pre-meal instagram photo).
I live for Thanksgiving, and I condone a bit of holiday indulgence. But, between Friendsgivings and potlucks and the real-deal turkey day, there are a few recipes I've developed that are stunning, delicious and best of all, easy. I gave special care to allowing the simple ingredients and seasonal produce to lead the flavor profile, while also keeping health in mind.
My vegan, gluten free whole roasted carrots, green beans with hazelnuts, and smashed baked potatoes can be placed in the oven at the same time on three racks, and they roast up to perfection in the short time it takes for your turkey to rest.
Whole Roasted Carrots

These 3-ingredient carrots are the easiest of easy. Because of their sugar content, roasting carrots results in a caramelized, crunchy outer layer with a pillowy creamy center. All they need is a pinch of salt and a bit of coconut oil to bring out their natural, vibrant flavor.
Carrots with their tops still in tact are more common at standard grocers during the holiday season. If you have trouble finding them, head to the farmers market or organic grocer.
Roasted Green Beans with Hazelnuts

A second simple recipe, you'd never guess these savory , dressed up green beans come together with just 4 ingredients. The secret to this delicious and show-stopping side dish is to go for the fresh beans and snap off the ends right before you cook them. Their natural liquid will soften them from the inside and maintain their fresh from the garden flavor.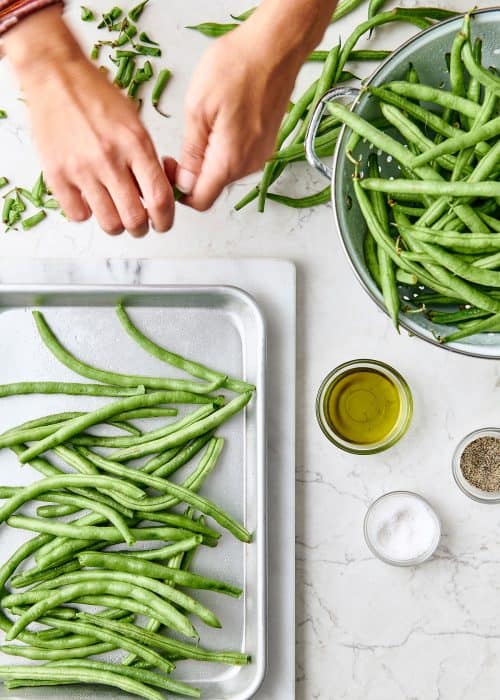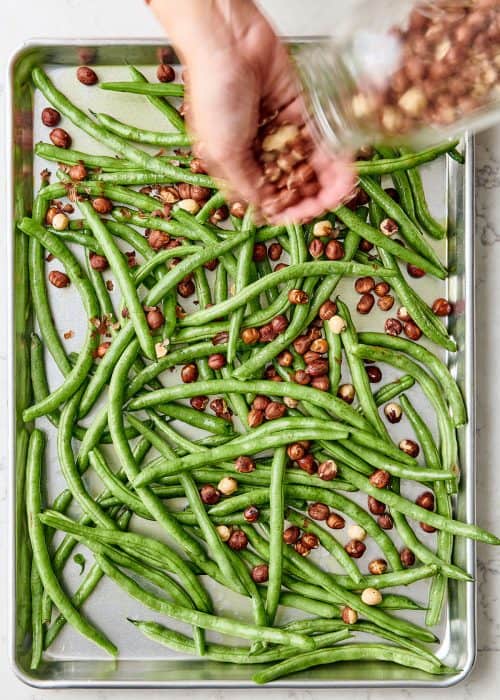 Topping the tender green beans with crunchy, nutty hazelnuts adds a complexity to the dish that really makes it special standout on your Thanksgiving table.
Smashed Baked Potatoes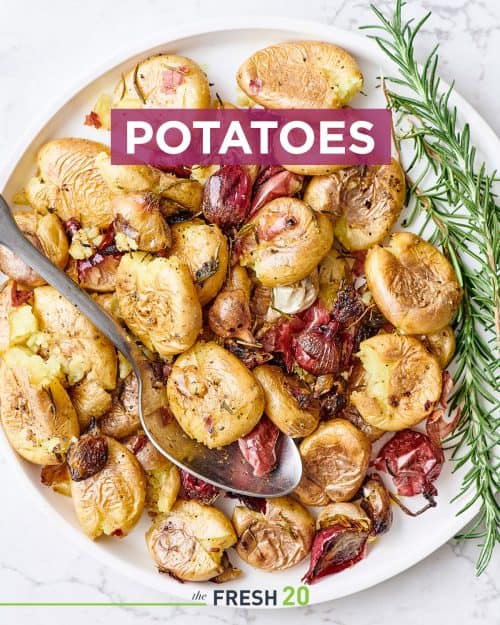 Move over mashed potatoes! My oven roasted baked potatoes are gorgeous in a serving dish and make me feel all the gratitude feels when they mix with drips of my favorite gravy. Roasted with onions and aromatic rosemary, these crispy, creamy potatoes bring all the Thanksgiving flavor to the table.
The onions caramelize adding a sweet note to the salty, savory potatoes. Each bite finishes on a festive rosemary note that it's 1o0% craveworthy.
Sheet Pan Thanksgiving Recipes
This trio of simple, delicious and impressive thanksgiving sides will leave your guests satisfied and grateful for a beautiful meal.
NOTE: If you would like to cook all three sides at once, preheat your oven to 35o degrees and place all three sheet pans on separate racks. Roast for 10-15 minutes, then remove green beans. Increase oven temperature to 400 and continue to roast carrots and potatoes for 30 minutes.
If you make this recipe, we'd love to see it on Instagram! Just use the hashtag #THEFRESH20 so we can see what's cooking in your kitchen.
Print
Roasted Whole Carrots
---
Author:

Prep Time:

3 minutes

Cook Time:

25 minutes

Total Time:

28 minutes

Yield:

8

servings

1

x
Description
Impressively beautiful 3-ingredient, caramelized roasted carrots for your Thanksgiving table
---
Scale
Ingredients
3

pounds medium carrots or baby carrots, scrubbed but not peeled

½ teaspoon

kosher or sea salt

¼ cup

olive or coconut oil
---
Instructions
Preheat oven to 425 degrees.
Arrange carrots on baking sheet.
Rub the carrots with olive oil.
Sprinkle with salt.
Roast for 25 minutes or until fork tender and a little golden brown in parts.
Print
Roasted Green Beans with Hazelnuts
---
Author:

Prep Time:

10 minutes

Cook Time:

15 minutes

Total Time:

25 minutes

Yield:

8

servings

1

x
Description
Tender, savory 4-ingredient green beans topped with crunch, earthy hazelnuts
---
Scale
Ingredients
2

pounds fresh green beans, stems removed

1 cup

roughly chopped hazelnuts

1 Tablespoon

olive or coconut oil
Dash of salt
---
Instructions
Preheat oven to 350 degrees.
Combine ingredients on an ungreased baking sheet.
Bake for 10 – 15 minutes careful not to overcook the beans.
They should still have a slight crisp to them.
Print
Smashed Baked Potatoes
---
Author:

Prep Time:

5 minutes

Cook Time:

40 minutes

Total Time:

45 minutes

Yield:

8

servings

1

x
Description
Crispy, creamy and aromatic Thanksgiving roasted potatoes
---
Scale
Ingredients
5

pounds baby dutch potatoes, washed and scrubbed but not peeled

¼ cup

olive oil
Rosemary, roughly chopped
Pearl onions (mixed), cut in half
Kosher or sea salt
Black pepper
---
Instructions
Preheat oven to 400
Arrange potatoes and onions on a baking sheet (or two)
Pour olive oil evenly over potatoes. Gently mix with hands to coat.
Sprinkle rosemary, salt and pepper on top of potatoes.
Bake until browned and crispy on the outside, about 40 minutes.
Remove from oven. Let cool slightly and then using the back of a wooden spoon.
Smash the potatoes to slightly flatten. Transfer to a bowl and serve.