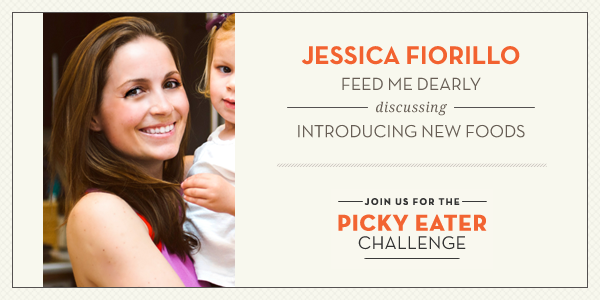 On her blog, Jessica has documents her family's 52+ weeks of trying "mystery foods". She works with her kids to experiment and make trying something new fun. They talk about the touch, the smell, what it sounds like when you shake it, all as part of the process of exploring new foods.
For our second day of The Picky Eater Challenge we are excited to welcome Jessica Fiorillo, a working mom/blogger/branding expert/cancer survivor based in New York City. She started the popular blog Feed Me Dearly in early 2013, sharing her insights on food and family with hundreds of readers around the world. In Jessica's interview she really emphasizes how trying new foods can be fun. We also discuss, how her son who was a very picky eater has come to love raw fruits and veggies. Jessica shares how important it is for everyone to have a connection to the food that we eat.
Today's Challenge…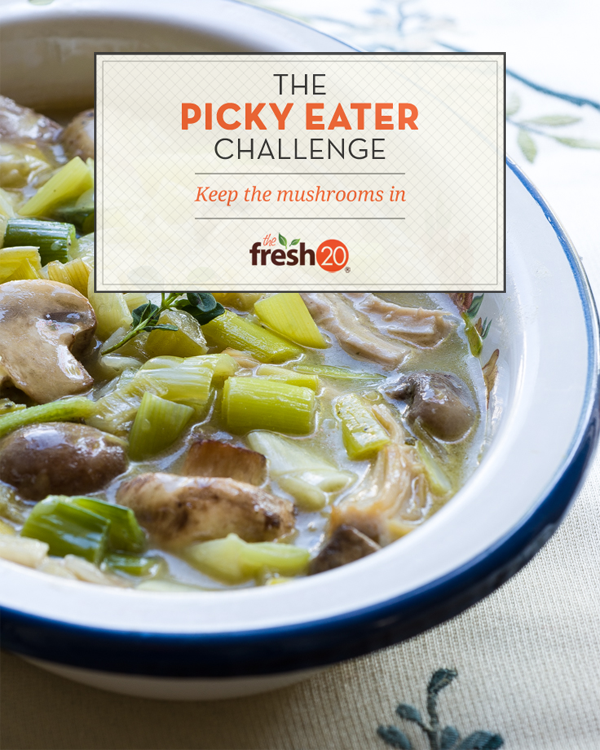 Certain ingredients are more on the picky eater spectrum than others. Mushrooms are certainly not everyone's favorite but they can add a richness to a meal that other vegetables can't provide.
Why not leave them in a recipe for extra nutrition? Challenging? Try them raw, grilled, sauteed, or baked. Find a way to introduce them into the family dinner. For my family it was mushroom toast with soup that finally broke the mushroom adversity. And if mushrooms aren't the ingredient stopping you from variety, try something else new. Parsnips? Okra? The point of the challenge is to re-try something you've sworn off for years. Adventure is out there!
Note: "Mushrooms are low in calories, fat-free, cholesterol-free and very low in sodium, yet they provide several nutrients that are typically found in animal foods or grains" -mushroominfo.com
Print
Description
Rural French cooking has produced some of the best dishes I've ever tasted. It's comfort food at the core. You could use leftover chicken for a quick rendition that delivers the same flavor profile in half the time.
---
2 Tablespoons

olive oil

2

medium leeks, trimmed and chopped

2

celery stalks, finely chopped

1 Tablespoon

whole wheat flour

2

garlic cloves, minced or pressed

1 Tablespoon

fresh thyme leaves

2 cups

low-sodium chicken broth

1 cup

white wine

1

pound leftover skinless, boneless chicken thighs (see Monday, page 141)

8 ounces

white button mushrooms, wiped clean and cut in half

2 Tablespoons

heavy cream (optional)

1⁄2

whole wheat baguette, cut into slices and toasted
---
Instructions
Heat the olive oil in a Dutch oven or other heavy pot over medium heat. Add the leeks and celery and cook until soft, about 5 minutes.
Stir in the flour, garlic, and thyme. Cook for 1 to 2 minutes, until the scent of the flour is gone. Pour in the broth and wine and bring to a boil, stirring occasionally. Reduce the heat, add the chicken and mushrooms, and simmer for 5 minutes.
Remove from the heat and stir in the cream.
Serve the fricassee with the toasted bread for soaking up the sauce.
Notes
Gluten-Free conversion: thicken with 2 teaspoons rice flour to replace flour and omit the baguette
Dairy-Free conversion: omit heavy cream
TODAY'S CHALLENGE "TWEETABLE"
Click to Tweet: "Make eating fun! My kids like broccolini better than broccoli because they think the name is funny." ~ @feedmedearly #pickyeatertips
And don't forget to check out our daily Instagram contest for a chance to win great prizes! Share a photo of your family trying today's challenge with the hashtag #pickyeatertips.
Get a free printable copy of our Food Substitution Guide!