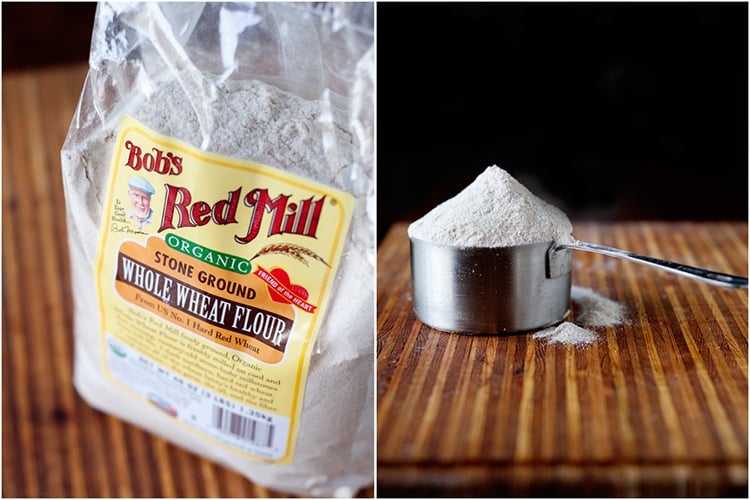 As you scan the ingredient lists from your Fresh 20 meal plans each week, you've probably noticed we use whole wheat flours for more than just baking. Maybe you hadn't considered using them when making a roux, as a breading for chicken breasts, or as a thickener when making sauces. Are you're left wondering if it will effect the texture and flavor of these savory recipes? What about using whole wheat flours in baked goods?
We'll take a bit of the guess work out by delving into the world of Whole Wheat Flour clarifying the different, and 3 most common types you're likely to see in our meal plans as well as your grocery store shelves. I think you'll be pleasantly surprised by all the places this wholesome flour can be used.
Let's begin…
Whole Wheat Flour (also called Graham Flour) is made from the entire kernel of wheat and is, overall higher in fiber and nutrients than many other flours. It also has a lower gluten content, resulting in denser baked goods. To avoid this you can use a 25-50% blend of whole wheat flour with all-purpose flour when baking. For cooking, whole wheat flour can be used just as easily as all purpose flour when making rouxs, as thickeners for sauce and breading for chicken and other meats. Using whole wheat flours in cooking does not change the texture, and adds a subtle nutty flavor to your dish.
Whole Wheat Pastry Flour is milled from a soft winter wheat resulting in a light, airy flour that is great for baking cookies, muffins, pancakes, quick breads and other pastries. It is a great substitute for all-purpose flour, and does not change the color, taste or density of the final baked good. In cooking, it is a flour that can also be used in making roux and sauces, but may be too soft of a flour to use successfully as a breading.
White Whole Wheat Flour is quickly gaining in popularity and use as a flour of choice to replace Whole Wheat Flour when baking. Ground from a lighter, albino version of wheat (versus the usual brownish-red color of it's darker counter part) White Whole Wheat Flour has all the same nutrients and fiber as Whole Wheat Flour without the heavy baking results and occasional bitter flavor. It can be used to replace whole wheat flours on a 1:1 ratio in recipes (for both cooking AND baking) and can replace up to 50% of the flour called for in a recipe using all-purpose flour. A great way to sneak some whole grains into your meals, without anyone being the wiser!
Using whole wheat flours in your everyday cooking and baking doesn't have to mean sacrificing your favorite recipes' flavors or textures. In fact, as you receive your Fresh 20 menus each week, you'll soon see the many ways that it can be used, making it an essential pantry staple. Here at The Fresh 20, we use Bob's Red Mill Whole Wheat Flour.
Rice flour is commonly used as a substitute for wheat flour in gluten free cooking. Ground, milled white or brown rice results in a gluten-free flour high in fiber and low in saturated fat, cholesterol, and sodium. Brown rice varieties are particularly rich in B vitamins, manganese and phosphorus.
If you've ever enjoyed the light crunch of a Japanese tempura, all that delicious crisp-factor credit goes to rice flour. In addition to Japanese cuisine, it's also a staple in Chinese, Indian and Indonesian cooking.
Rice flour's neutral flavor makes it a winning gluten-free flour for baking bread, muffins, cookies and cakes, as well as coating ingredients for a quick fry, thickening sauces, or our favorite use: making pancakes. We recommend using Bob's Red Mill Organic Brown Rice Flour.
Almond flour, made simply of ground almonds, is a gluten-free, paleo dream as a wheat flour alternative. Full of vitamin E, magnesium and healthy fat, it's a low carb staple in the kitchen with super food qualities.
Gluten free baking with almond flour is ideal given it's 1:1 substitution ratio with wheat flours and slightly sweet flavor. It's a popular choice for turning out delicious quick breads, pancakes, cookies and muffins. But don't be fooled into thinking it's only for baked goods! Almond flour also works well in savory dishes like meatballs, meatloafs, or to bread chicken and fish.
Shopping tip: Almond flour is made from almonds that have their skins removed, then ground super fine. Almond meal, on the other hand, includes the almond skins and has a more grainy texture. Make sure to grab the flour, not the meal, when you're perusing the aisles.
Storage Tip: Keep your almond flour in the refrigerator or freezer to extend its shelf-life and keep it fresh.
At The Fresh 20, we use Bob's Red Mill Super Fine Almond Flour.