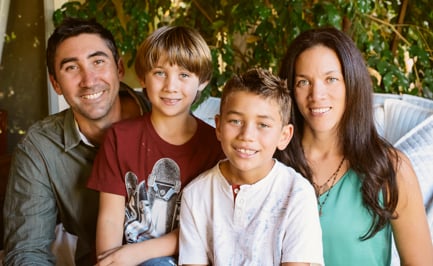 It Begins with Takeout
The high cost of unprepared.
It was tax time. I added up receipts. I was ashamed. Our busy, unorganized lifestyle had driven us to spend the cost of a brand new car on takeout food. It wasn't my fault really. There are so many alternatives to cooking at home. If I could microwave it in 5 minutes, we ate it. If someone delivered it, we ate it. And yet, at the end of the year, my energy was low and my healthy living defenses were down.
I did what we all do. I went to the Internet well. There are millions of recipes available. There are dozens of meal planning services. I still could not find what I needed. I was bombarded with "products" instead of being educated about food. Everyone wants a quick solution, but I just was not willing to serve mushroom soup casseroles or refrigerator dough to my growing family. I wasn't looking for fast and simple. I was looking for FRESH and simple.
The Fresh 20 is an alternative to food as products. It's about buying less and making more. It's about loading your dinner table with delicious, preservative free food. It's about saving that takeout money for something more rewarding than takeout!
What is the Fresh 20?
The Fresh 20 is a meal planning service, created for busy families and singles who want to eat fresh, healthy meals, and save time and money. Our meal plans rely on simple, healthy, homemade lunches and dinners using just 20 fresh, seasonal ingredients per week. No more grocery lists with 80 items that will eventually go to waste. Our meal plans are carefully created to utilize everything on the list so you can stop throwing money down the drain. The Fresh 20 mixes and matches a small list of ingredients to create 5 balanced meals that play off each other. We include detailed guides to meal prep, original recipes everyone will enjoy (even picky eaters) and motivation to help you stay the course on busy weeknights. Because we are committed to our customers, and to health and happiness for all, we now offer Vegetarian, Gluten Free, Kosher, Meals for One and Lunch, in addition to our Classic Meal Plan.
The Fresh 20. Designed to get you to the table with health and happiness, every day of the week.
About Melissa
Melissa Lanz is a former internet marketing executive who quit her day job to promote good eating habits in the midst of a national health crisis. As founder of The Fresh 20, Melissa strives to bring fresh food back to the household table and reduce the amount of processed ingredients being used. During the fall of 2009, Melissa dedicated her efforts to creating this tool for busy families and singles stuck in a takeout rut. To further her goal to be a part of The Food Revolution, she has authored and recently released The Fresh 20 Cookbook (Harper Collins 2013) and also promotes education in nutrition and healthy cooking through speaking, locally in Southern California and throughout the country.
You can always drop Melissa a note and let her know what's cooking! melissa {at} thefresh20 {dot} com