Meal Prep 101: How to meal prep like a pro
Looking to get fit and level-up your wellness with meal prep? Food is the number one factor to looking and feeling better, and planning ahead is the key with these easy meal prep ideas.
Being ready for the week and knowing you've got your eating plan covered is an AMAZING feeling. When I have a week of food chaos I'm left feeling depleted, frustrated and a little like a failure. On the flip side, the weeks when I'm on top of my food game, I have less stress, eat better and feel happier. Food chaos doesn't help your health or your mood. Meal planning and prep solves so many problems. Here are my top five meal prep hacks for a smooth sailing kitchen.
And to help you get started, don't miss the free clean eating meal plan download below.
Meal prep tip 1: SHOP SMART
Spending an hour at the store wandering aimlessly in the aisles is the fastest path to poor eating and bad results. The store isn't set up to give you a fighting chance at ultimate wellness. It's designed to make you impulse buy processed, sugar laden foods.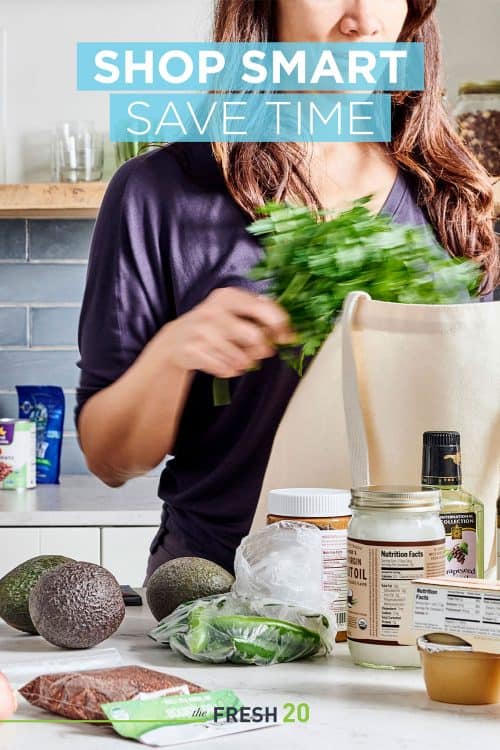 Most of the time we are hungry and/or tired when we grocery shop and showing up without a smart plan leads to poor choices in the cart. Ever see those people pushing around a cart full of fresh this and fresh that? I bet they have a shopping list. You can too. Shopping smart is the first step towards successful meal prep.
TIPS FOR SHOPPING SMART

Map out your week.
Include all meals and snacks. If preparing 5 days of weekday meals feels like too much to start, keep it simple. Instead of using a different lunch daily, just prepare extra protein (chicken or hard boiled eggs for example) and prepare extra vegetables (either raw or cooked) for a quick and easy daily lunch option.
Order groceries online.
There are several services that can drop your groceries at your doorstep. I heavily rely on INSTACART and THRIVE MARKET to help me shop smart.
Make a date with your groceries.
Make a calendar date with yourself for food shopping and prep. Commit to the time and create a positive meal prep environment.
Meal Prep Tip 2: LIMIT INGREDIENTS
I get so frustrated when I waste food. One of the reasons The Fresh 20 was created was to help me stop wasting food. I was really tired of downloading meal plans that had 80 ingredients on the shopping list. The American diet has become one of excess.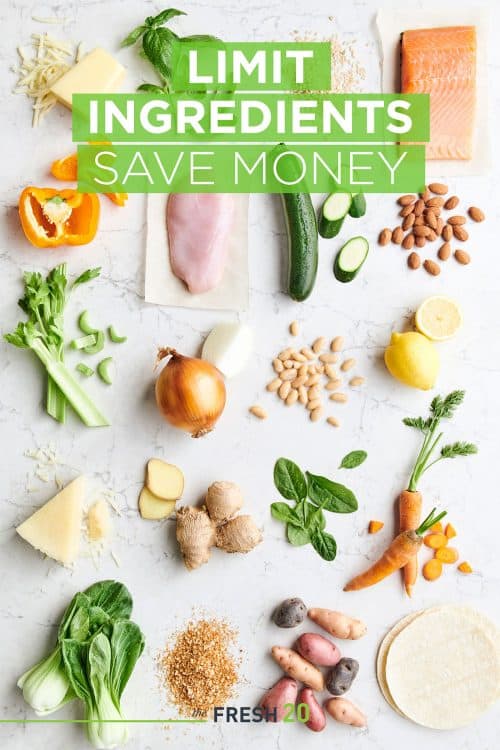 When I started to think about keeping my family healthy AND saving money it became really clear that I needed to buy less ingredients, not more. When you limit your shopping list, you can buy quality and still keep a modest food budget. I typically save at least $25 a week on groceries just by being careful about how I shop.
TIPS FOR LIMITING INGREDIENTS

Buy the right amount of protein.
I take the lead from restaurants on meat portions. Let's say you order a pasta with chicken. Typically, they will add 4 ounces of protein (or less) to the order. That's half a medium sized chicken breast. Only half! It also falls in line with a healthy portion. I buy 3 medium chicken breasts for my family of four. One pound of ground meat is enough to feed a family of four even if it might take getting used to the portion size.
Buy for the whole week.
I make a point of getting half ripe/ready to eat and half not quite ready fruits and vegetables because rotten avocados at the end of the week make me crazy. With a little planning, you can shop once for the week and still eat fresh.
Keep it simple.
Plan to use ingredients you will need to purchase anyway – for example, if your dinner plans require kale, apples and carrots, work these into your breakfast, lunch and snack plans as well to keep purchasing and prep simple and streamlined.
Waste not.
Use extra vegetables from the week before to boil a quick soup.
Meal Prep Tip 3: WASH IMMEDIATELY
When you get home from the market, take a few extra minutes to prep while you unload the groceries. 20 minutes now will save you an hour during the week! If I wait to prep fresh herbs, I'll never use them when it's time to cook later in the week. They make a huge difference in my cooking, so I make sure they're ready to add into my recipes. It doesn't take long.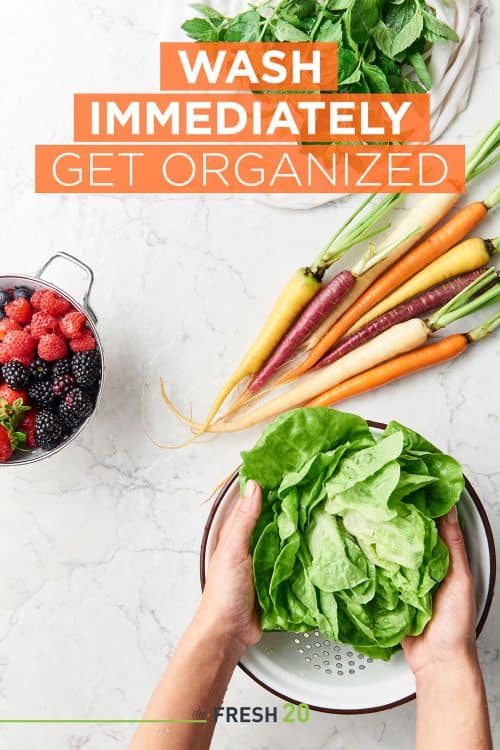 TIPS FOR WASHING & CHOPPING

Timing is everything.
Set aside time to wash and chop all vegetables for use during the week. Keep containers for different types of vegetables and different styles of chopping (for example diced onion versus sliced).
Strategize to save room.
To save room in your refrigerator, store individual cut vegetables in a single container and measure out your portion daily.
Prep veggie snack packs.
Chop extra vegetables for snacks during the day. If you leave the house for work or school daily, pre-portion veggies in individual containers for easy weekday snacks.
Also…
Marinades and Dressings.
ADD FLAVOR: Make marinades, dressings, sauces or spice blends in advance. Store and use when needed.
MAKE EXTRA: Double the recipe for any sauce or dressing if it will work for another meal during the week.
Do you want to try our FREE
20 ingredient meal plans?
Meal Prep Tip 4: COOK GRAINS
I have to say this is just smart planning. On average, grains take anywhere from 20-45 minutes so why not make a big batch and set yourself up for an easy week?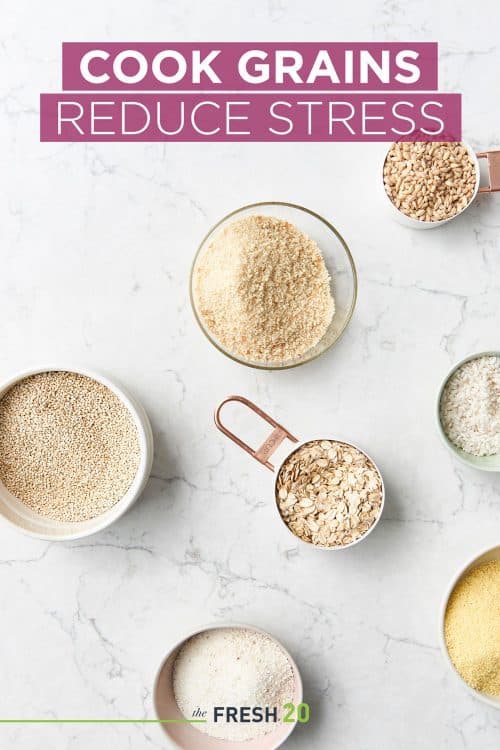 TIPS FOR GRAINS

Cook ahead and store.
Grains and beans will stay fresh for the week when sealed in an airtight container and refrigerated.
Double up.
Double your quantities and use for breakfast, lunch, and dinner.
Meal Prep Tip 5: ROAST VEGETABLES
Some vegetables take longer to cook than others, but if you can get them all on the same pan, you can cut down on effort and have the beginnings of a really healthy meal ready to go. Roasting is my secret for keeping it fresh and looking like a rock star on Wednesday without being prisoner to the stove on a weeknight.
TIPS FOR ROASTING IN BULK

Uniform Size Chopping

Make sure to chop your vegetables in uniform sizes to ensure they cook evenly. I developed a full list of vegetables types that can be roasted together here.
Roast in groups.
For quick roasting: Roast all vegetables that use the same temperature at one time.
MORE MEAL PREP TIPS…
Label and Date
LABEL: When storing any pre washed, cooked or chopped vegetables, label with item and date.
SEE IT CLEARLY: Use clear containers for storage so you can see exactly what you have
KEEP PROTEIN ON HAND: Cool and store precooked meats in individual containers
SIMPLE SMOOTHIES: For easy smoothies: Prepare smoothie bags with all non liquid ingredients included. Store in freezer and just add liquid and blend on meal day
Make Ahead
BREAKFAST TO GO: Make breakfast frittatas in muffin tins and store for use during the week.
EASY PROTEIN: Boil eggs in advance and store refrigerated in the shell for the week.
WHY PUT IN THE EFFORT?
There is no silver bullet or magic pill for health. Good health, weight loss and feeling great all require a little bit of work. The payoff is looking and feeling your best.
AND The results?
We know having a plan works firsthand. Meet Chef Leslie.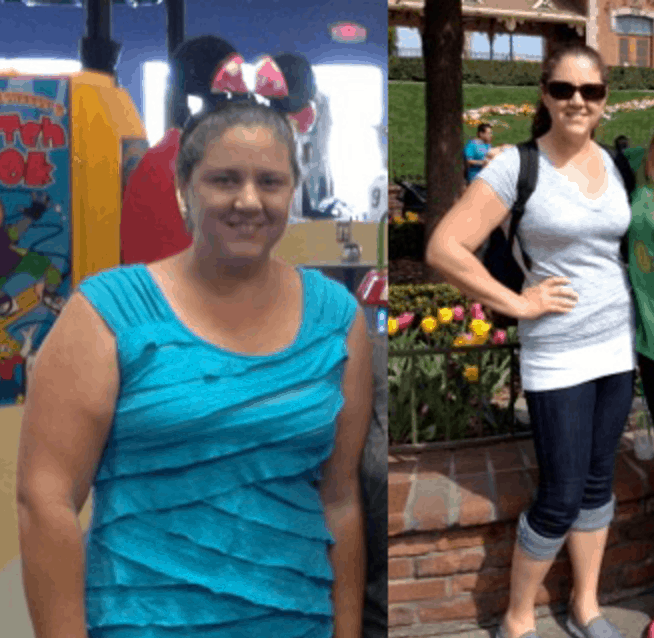 She's been with The Fresh 20 since 2013 and the entire team was shocked when she told us she lost over 25 pounds with The Fresh 20 meal plans. Amazing, right?
In her words…
"The Fresh 20 has been amazing for so many reasons. Having yummy fresh meals that won't break the bank has been so wonderful. And being able to create weekly meals for other Fresh 20 subscribers brings me joy beyond words. Being apart of the Fresh 20 team has been a huge lifestyle change, as I have lost 25 pounds changing from quick meals to Fresh 20 meals!"
If you want help with setting up your kitchen for success, why not take the hassle out of meal prep and weeknight dinners?
Do you want to try our FREE
20 ingredient meal plans?