For non-profit organizations, The Fresh 20 Fundraiser is a super-easy, super-profitable fundraising program that promotes a healthy, family-focused alternative to more common sweets or knick-knack fundraising options.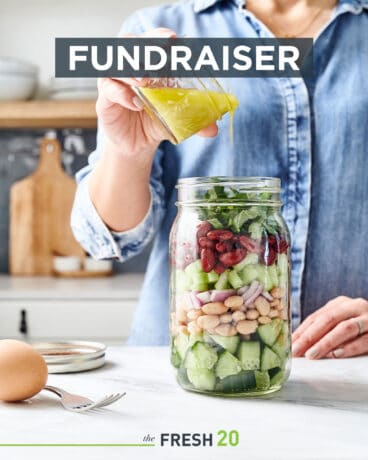 EARN MONEY WITH OUR HEALTHY ONLINE MEAL PLANS!
Fundraiser Offering to Customers: The Fresh 20 Membership
The Fresh 20 is a meal planning service with a goal to help busy families load their tables with delicious, fresh, healthy food that's easy to prepare and budget friendly.
Every week, The Fresh 20 members electronically receive:
a shopping list of 20 fresh ingredients, which members then purchase
a step-by-step guide to prep the entire week's meals – – a big time saver during the week (about an hour of prep time)
recipes and instructions for pulling together five nights of tasty meals for the family
The Fresh 20 delivers everything a family needs to shop, organize and cook nutritious weeknight meals for their lifestyle. Meal plans are chef created, nutritionist approved, simple to create, and delicious. And because the family shops, and we provide a smart collection of recipes, we ensure no wasted ingredients or excessive packaging. Meal plans are available for a range of diets, including Classic, Gluten Free, Vegetarian, Vegan, and Paleo.
Your fundraising customers may choose from three different subscription timeframes, which range in price:
Full year of Weekly Dinner Meal Plans for $79
Three months of Weekly Dinner Meal Plans for $29
One month of Weekly Dinner Meal Plans for $14
We deliver everything you need to SHOP, ORGANIZE and COOK nutritious weeknight meals for your lifestyle. Our meal plans are chef created, nutritionist approved PLUS they are simple AND delicious.
Benefits of The Fresh 20 Online Fundraising
No set up hassles (no printed order forms, no delivery, no door-to-door sales)
No upfront costs
Low Maintenance (online ordering, no money collection, no inconvenient delivery)
Expanded Reach
High Commission (organizations earn 35% of total revenue)
Easily track earnings with simple dashboard
Feel good fundraising promoting health instead of sugar and frozen food
Program Overview
Easy online administration – no order forms, no delivery, no door-to-door sales.
No upfront costs
Schools/Organizations receive up to 25% of the total revenue.
Several subscription menu plans to choose from.
Our online dashboard allows participants to track their progress throughout the campaign
Recommended campaign period is four weeks.
A complete Starter Kit is available to ensure a successful campaign.
Ready to make money for your organization?
Fill out the form below to get more information and start fundraising FRESH!