Breakfast without Boxed Cereal
In talking with picky eater households, many struggle with eating the same thing over and over. Breakfast can be espcially monotonous when caught in a cold cereal rut. For today's challenge…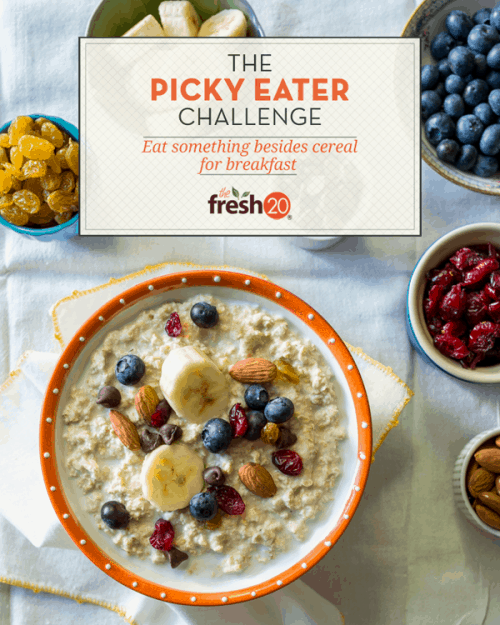 Print
FOR OATMEAL

2 cups

oatmeal 2-1/2 cups water, milk or almond milk 1⁄4 teaspoon kosher salt
FOR TOPPING BAR choose a few
plain Greek yogurt blueberries bananas strawberry pineapple
raisins dried cranberries shredded coconut ground cinnamon or nutmeg honey or maple syrup walnuts macadamia nuts chocolate pieces sautéed apples or applesauce
---
Instructions
Boil water.
Add oats and salt.
Stir once, cover and cook on low for 8-10 minutes.
Divide into bowls and add toppings as desired.
Notes
Dairy-free conversion: Use unsweetened almond or rice milk, or water. Choose dairy-free toppings.
Gluten-free conversion: Use certified gluten-free oatmeal.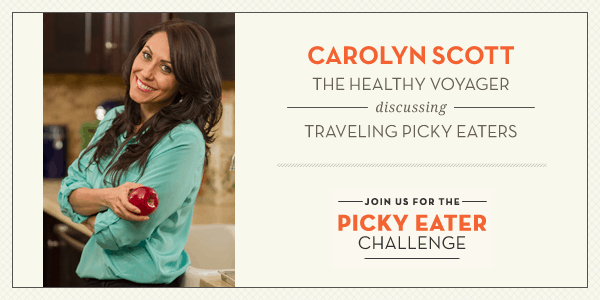 CAROLYN SCOTT-HAMILTON is known as The Healthy Voyager. Carolyn is an award winning health, green living and travel expert as well as a cookbook author, media spokesperson, vegan chef, holistic nutritionist, and television personality. Her life changed forever when she moved to Los Angeles in 1998 to start her own production company. She read a book called Fit For Life and switched to a plant-based diet and she has never looked back. She went on to obtain a masters in holistic nutrition and got a head start on a PhD in naturopathic medicine, all while successfully running her full service Lifestyle and Entertainment PR, Branding and Event Planning firm, Ineventions.
The Healthy Voyager Show started in 2005 to provide a resource for others who, like Carolyn, found it difficult to travel with dietary restrictions. She and her husband travel and eat healthy while documenting their adventures for the Healthy Voyager Web Series and radio show. The show now includes lifestyle advice, celebrity guests, and leaders in the health and green worlds.
Carolyn launched her first cookbook, The Healthy Voyager's Global Kitchen, in 2012.
As a branding expert, Carolyn has provided bilingual English and Spanish entertainment and lifestyle campaigns for clients including Virgin Atlantic, PG&E, Knott's Berry Farm, Hyatt, and NACUFS (National Association of College and University Food Service) – to name only a few.
Carolyn is frequently a guest on national print and broadcast media, for outlets such as USA Today, CNN, NBC News, The Better Show, The Discovery Channel, and Martha Stewart. She contributes regularly to Yahoo and the Huffington Post.
Recent recipes on The Healthy Voyager in the Kid-Approved Category are Strawberry Shortcake Waffles and Gingerbread Waffles with Vanilla Apple Compote.
The Healthy Voyager's aim is to help people live well, one veggie at a time!
Carolyn recently traveled to New Orleans and documented her trip locating exciting new vegan, gluten free, and healthy food options in the Crescent City. In a city well known for amazing culinary experiences, though not so much for healthy eating, Carolyn was thrilled to find several new fresh and tasty selections.
TODAY'S CHALLENGE "TWEETABLE"
"good food is in your hands. plan ahead. #pickyeatertips"
And don't forget to check out our daily Instagram contest for a chance to win great prizes!