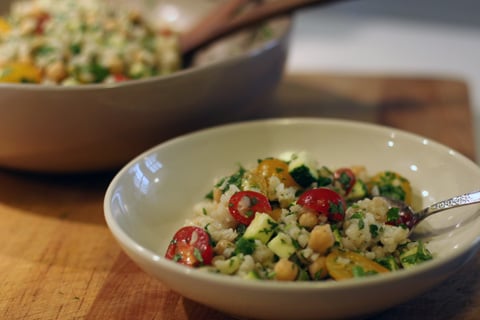 Guest post by Robyn Tinsley, 101 Pairings
Food & Wine Pairing
Aren't garbanzos wonderful? I rarely have fewer than three or four extra cans stashed away in the pantry. They are an excellent addition to any salad; you can blitz them in the food processor into hummus or a protein-packed substitute for mashed potatoes; add them to soup; even roast them into a crispy, healthy snack. I suspect garbanzos may be one of the essential elements to a happy life, along with puppy breath, a really good movie on a rainy night, and the perfect espresso.
Anyway, I know a bowl of grains for a meal may seem strange at first. Particularly if you're used to a traditional "square" meal—piece of protein, salad, potatoes. I felt the same way, early on, as I was getting further away from meat and trying to figure out how to keep enough protein in my diet. But now this kind of meal has become my idea of comfort food—without the heavy, "I think I need to lie down" feeling that comes from some less healthy versions. In fact, eating this way makes me feel simultaneously satisfied and energized. (And I sleep better. Bonus!)
This recipe is fresh and delicious—and wonderfully versatile. Example: I thought I had cucumber. I didn't. I had zucchini. I used zucchini. And while I'm at it, I thought I had mint. I didn't. I had cilantro and parsley. I used extra of both. (No power on this earth could get me back to my local Whole Foods at 5pm on the Friday before a holiday weekend.)
Oh, and the cumin is brilliant.
Since I write about food and drink pairings, I thought I'd offer up one here. This dish says Pinot Grigio to me all the way. Crisp, light, easy, nothing that requires too much analysis to appreciate. I would lean toward something from Italy, because I find them more reliably bright and refreshing. If you happen to frequent a wine store with a good Italian selection, look for a Pinot Grigio from the Alto Adige, Friuli, or Venezia (Venezia-Giulia) region. Or just pick a price point, and buy what you find. Nothing complicated in that. Here are a few I've enjoyed lately, and here's one more I tasted just yesterday:
Cantina Tramin 2011 Pinot Grigio Alto Adige ($15). Easy to like. Bright, juicy apple, ripe peach, citrus accents. Pure flavors, dry and crisp.
One final note about The Fresh 20. I am an organization groupie. Never met a calendar or blank book or organization app that didn't fill me with fantasies of a more fabulously organized life. (I keep thinking if I could just figure out how to actually use Evernote, I could rule the world—or at least my little corner of it.) So imagine my excitement about a site that organizes grocery shopping and affordable, healthy cooking in such an effortless way. Cheers to that!
Robyn is a Houston-based owner of a PR and marketing company <http://www.tinsleypr.com> , writer, enthusiastic owner of a lovely Canon camera – and creator of 101 Pairings <http://101pairings.com/> . She likes to travel, often to food/drink destinations, but also to cook and drink and hang out with friends and family. Along the way, she founded and built WineSkinny.com <http://www.wineskinny.com> , which ran for a bunch of years, and is still lingering "out there" until she figures out what to do with all that content…
Got wine? We love Club W for curated options of affordable wines.