In honor of Father's Day, our community interview today is with Ryan, a dad of nine*! Ryan's wife Amy documents their lives, and many of their meals from The Fresh 20 on Instagram under the username @partyofeleven.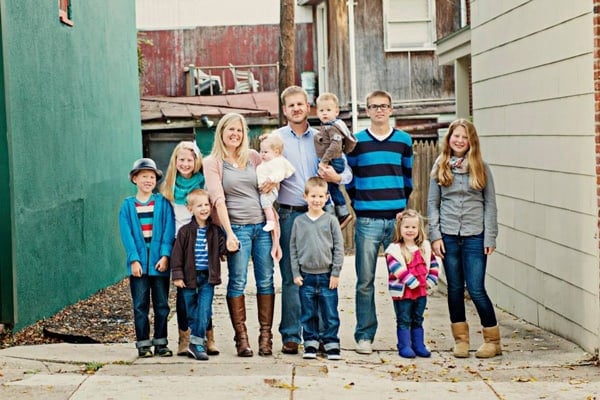 1. Tell us about your family:
We are Ryan and Amy from Bowie, Maryland and are the lucky parents of NINE children, with number *TEN due in early September. We are proud Catholic Homeschoolers of Ray (16), Josie (13), Brady (10), Sean (8), Evan (6), Bennett (5), Mary Catherine (4), Finnian (2), and Charlotte (1). Currently the boys are in the lead but new-baby-girl will tie it up at 5-5. Yes, they are all ours. Yes, we have our hands full. And yes, we know where they come from 🙂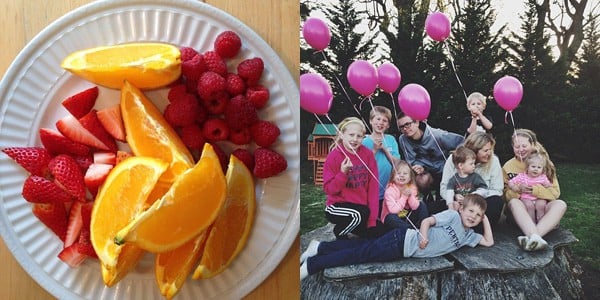 2. Why The Fresh 20?
Amy discovered the website and we decided to give the three-month subscription a try. It seemed like a well-organized, simple system to plan and prepare healthy meals. Menu planning and grocery shopping for a big crew is difficult and we are always looking for ways to make it easier. The Fresh 20 has definitely made planning, shopping, and cooking easier! With our busy schedule of evening activities (baseball, lacrosse, soccer, swimming, volleyball practices and games/meets, plus social and Church events) knowing exactly what is for dinner each night along with a structured yet simple prep guide is great to have. A few times our oldest daughter, Josie has prepared the entire meal herself while Amy and I ran the other kids in different directions for activities. The weekly menu and shopping list is designed for a family of four which is less than half of our gang, but because we have several small children, doubling each recipe usually fits us fine.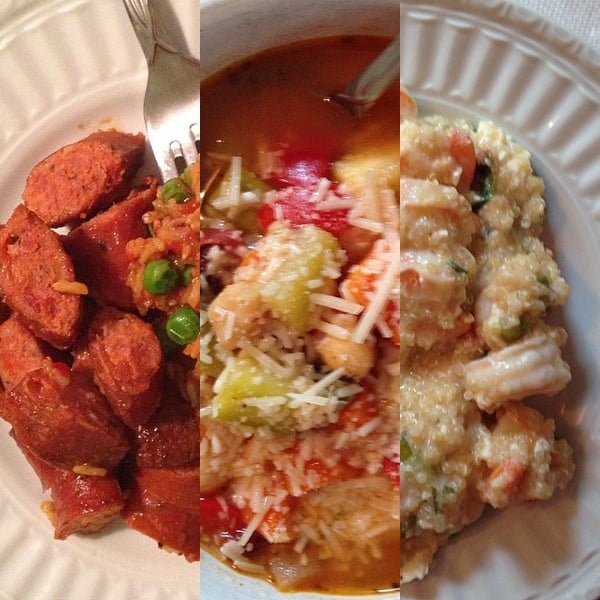 3. Who cooks most meals?
I am the chef, not because Amy can't or won't, but because I have always enjoyed cooking; plus providing for and pleasing my family makes me happy. I grew up watching and helping my Dad prepare the simpler weeknight meals while my Mom was still at work. I also learned from my Mom how to make more complex weekend meals that took longer to prepare. I hope to teach my own sons (and daughters!) in a similar way. Amy and I use the weekly grocery store trip as a regular "date night/day". We usually shop at Wegman's and will have a tasty meal there from their great selection of prepared foods before we shop.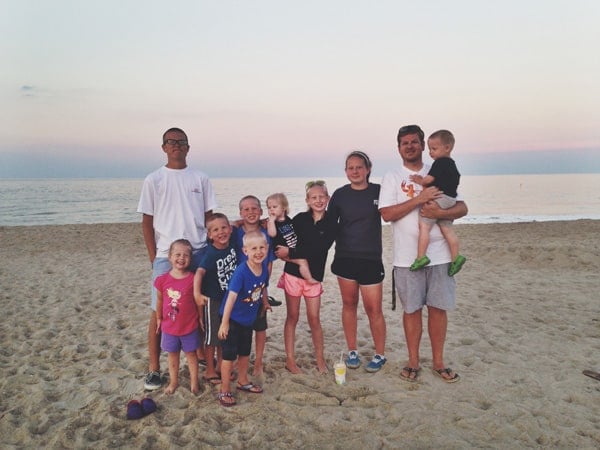 4. Is The Fresh 20 helping your family create kitchen memories?
Besides teaching the kids how to cook (and math – because we double all the quantities!), it does help create memorable family experiences. Most of the kids love helping us cook – from collecting the fridge and pantry ingredients, to measuring-mixing-prepping the items, to serving out the finished meals. Because of these fun times to learn and be together, open spots at the counter are usually always filled, and often fought over! Hopefully they will not only learn from these experiences, but also have fond memories of our times in the kitchen together; I know Amy and I will.
5. Favorite Family Meal:
I would say the winner so far has been the Steak Nachos. The soups are usually well liked (and easy to double!) and most of the Mexican or Asian style meals are a hit.
6. Least Favorite Family Meal:
I think the first weekly menu we tried had the Turkey Walnut Meatballs as one of the meals. Those were not a big hit and we were a bit leery about what the future menus would include. But we were not disappointed by what came in the following weeks, as most of the meals seemed appetizing and ended up being delicious. We sometimes tweak the ingredients or omit the ones we don't like (mushrooms). Because we double the recipes, the ones that have longer or more complicated prepping and cooking aren't always my favorite. I remember the homemade potato chips (a side dish with the turkey tortilla melt, maybe?) being tasty, but it was difficult to make a large batch.
7. Strict Rule:
Each kid learns early on that you eat what we make or you don't eat. We've borrowed a saying from another large family we are friends with that goes "you eat what you get and you don't make a fit" (it almost rhymes). That has always been our policy and because of it we don't have any picky eaters. They love most veggies and most meats and seafood, as well as some of the more exotic flavors like curry and ginger. We never understand when we hear about kids who will only eat (or are allowed to only eat) chicken nuggets or plain noodles or hot dogs for every meal.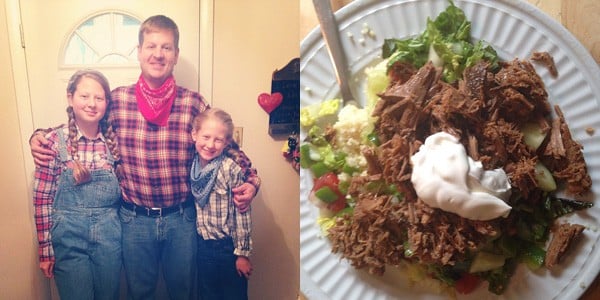 8. Indulgence:
Good cheese and Bacon! We love cheese and don't mind paying a little extra for the good stuff; Wegman's always has a great selection. Breakfast-for-Dinner, usually pancakes/waffles and bacon!, is always a fun alternative when we have a particularly busy evening and not a lot of time for prep/cooking. We sometimes bump one of the more complicated/time-intensive meals to the weekend and have this simple indulgence instead on that night.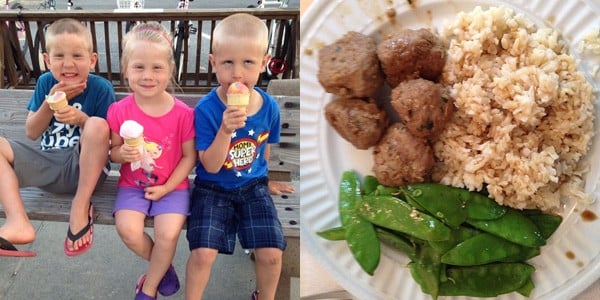 9. Best advice for health:
Eat well and exercise. Eating well is easier said than done and the healthy choices we know we should be making can sometimes be ignored when there are cheaper and quicker less-healthy choices. The Fresh 20 definitely helps with that occasional dilemma by using a short list of healthy ingredients for each weekly menu that allows you to save money and prepare quick meals. Our kids have always been active and involved in sports, even when Amy and I weren't. About three years ago, we both lost a significant amount of weight by changing our diet and by running. Hopefully these changes we made and continue to follow, as well as feeding our kids healthy meals and encourage physical activity, will make an impact on them and help them to always choose a healthy lifestyle.