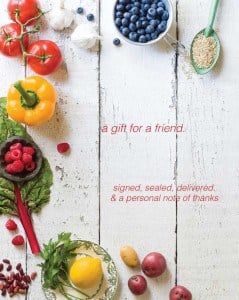 I'm going to get real for a minute.
I'm a little anxious about 2013. The Fresh 20 cookbook is finally off my desk and I'm starting to feel vulnerable. I want you to love it. I want you to feel the warmth of my kitchen in the pages. I'm hoping it will make someone smile and the recipes inside will create memories.
Of course, there will be a myriad of campaigns and events around the book launch. For now, I want you to know it's done. The entire team has done an amazing job and I am so proud of the final product.
So many of you have been amazing and supportive and I want to say thank you!
My holiday offer…

Anyone wishing to gift a pre-sale copy for the holiday season will receive a personal, hand written note from me on a gift card insert you can give directly. Yes, hand written. Just me, a pen and a quiet evening (or two…or three).

All orders made by December 12th will receive a gift insert via USPS.

Order The Fresh 20 Cookbook online at any presale outlet below.
Forward your receipt to feedback @ thefresh20.com
Include the name and address where the personal gift insert should be delivered.
I'll hand write the card and seal it with a holiday stamp!

The gift inserts will be mailed by December 15th.

ORDER FROM ANY OF THESE ONLINE RETAILERS!