12 Reasons to Buy Organic – The Dirty Dozen
Ever wonder which fruits and vegetables you should buy organic?There are 12 fruits and vegetables that make up the dirty dozen, containing the highest levels of pesticides.
We believe that fresh, clean ingredients are the key to wellness. Using The Fresh 20 meal plans ensures those extra few dollars each week spent on organic ingredients never goes to waste, and is offset 10-fold in savings each year.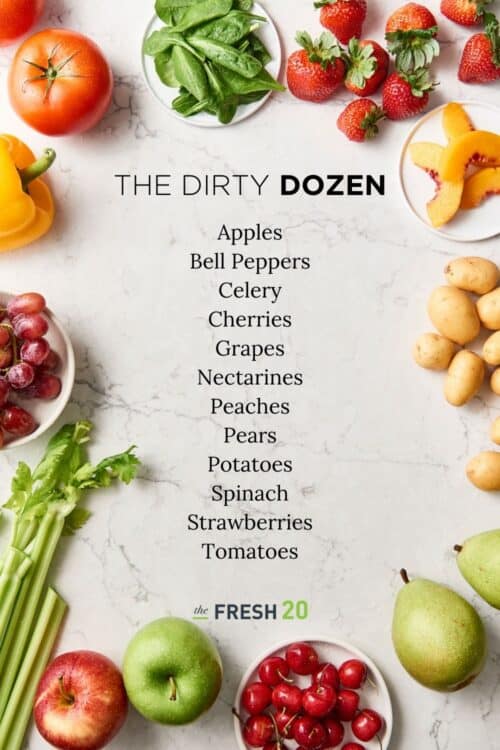 Bookmark this list or print it and refer back to it when you're doing your grocery shopping.
The 'dirty dozen' is a list of the highest pesticide fruits and vegetables.
Buying organic is not a splurge, especially when it comes to the dirty dozen. Prioritize your shopping list to fit your budget with these fruits and vegetables at the top. If at all possible, choose organic when buying:
Apples
Bell Peppers
Celery
Cherries
Grapes
Nectarines
Peaches
Pears
Potatoes
Spinach
Strawberries
Tomatoes
Why Buy Organic?
Organic produce is grown in more nutrient-rich soil, and those nutrients get passed on to you in higher levels than conventional produce. But the real benefit of buying organic comes down to fewer pesticides and chemicals in your foods.
Want more tips on how to choose the best produce? Check out our Fall Produce Guide and Spring Produce Guide for expert guidance on choosing the freshest, seasonal fruits and vegetables for your healthy dinners!