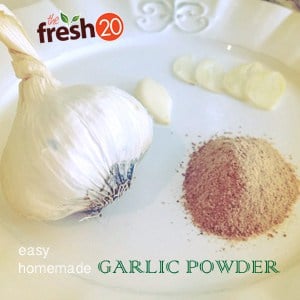 Some of the things we buy at the grocery store are quite simple to make.  And in many cases, cheaper.  As a kid, store bought garlic powder and salt were slathered on crusty French bread with butter to make garlic bread.  Oh, the salt! Oh, the preservatives!  Many grocery stores carry garlic powder but often it has any number of additives for greater "shelf life".
I never considered a homemade garlic powder until one of our chefs needed it this week to add intense flavor to barbecue sauce.  I always want the freshest option so here is the basic recipe for garlic and onion powder. One  ingredient, no additives, no preservatives. Just heat and time. I dig that about fresh cooking!
I highly recommend fresh garlic powder. I promise, you can make this and it will add intense flavor to sauces, omelets, salad dressing and more!
GARLIC POWDER RECIPE

Ingredients
Instructions
Preheat oven to 150 degrees F or 200 degrees if that is the lowest your oven will go
Peel and thinly slice 8-10 cloves of fresh garlic
Lay them out on a parchment lined baking sheet and bake for at least an hour until the garlic is dehydrated. Two hours is best but the key is making sure the cloves are crumbly dry. Let cool.
Grind in a spice grinder, crush with a mortar and pestle or mash with the back of a spoon.
Voila! Garlic Powder
I'm thinking of ways to use my new pantry ingredient. Maybe a little garlic infused fresh pasta? Now that you know how, what will you cook with fresh garlic powder?