I like to keep things as fresh as possible and this no sugar margarita is a great way to celebrate without the overly sweet store bought mix. This weekend is Cinco de Mayo, a celebration of Mexico's underdog defeat of the powerful French army in 1862 and a reminder for some of just how many times Mexico has been invaded by other countries and stayed resilient. For many, it marks the start of the thaw, a journey towards summer, and a reason to have a fiesta.
I call this a Downtown margarita because I serve it up over a large piece of ice in an old fashioned glass.
Some might call this a skinny margarita. I call it the best margarita. It tastes better than any sugary, processed version from a bottle and it's better for you, by far! This is my basic entertaining margarita and I make it spicy with jalapeños, but you could add any fresh fruit to the mix.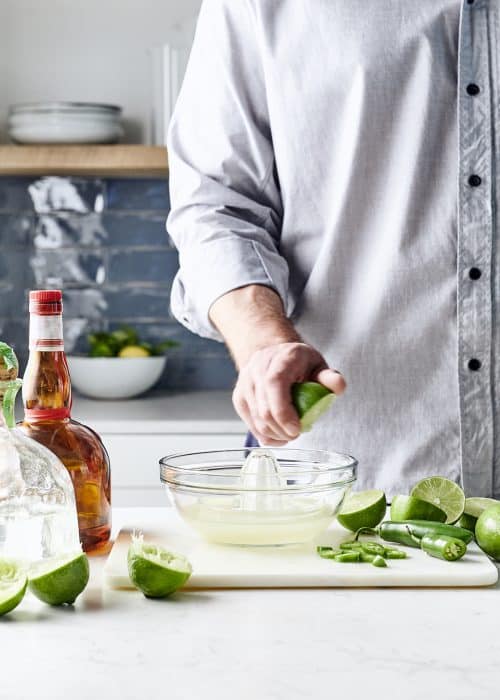 Downtown Skinny Margarita
2018-05-01 16:47:55
A simple skinny margarita recipe with fresh lime and no added sugar. For Cinco de Mayo or any celebration.
Ingredients
12 ounces Silver Tequila
10 ounces Fresh Lime Juice
8 ounces Orange Juice
4 ounces Grand Marnier Liquor
1 Jalapeño, sliced
1 teaspoon Pink Sea Salt or other fancy salt
Instructions
Measure out all ingredients (except salt) into a shaker or a 48 ounce pitcher.
Shake or stir to blend liquids.
Pour 4 ounces over a large old fashioned style ice cube.
Add a dash of salt on top of drink. Serve cold before ice melts.
The Fresh 20 https://www.thefresh20.com/