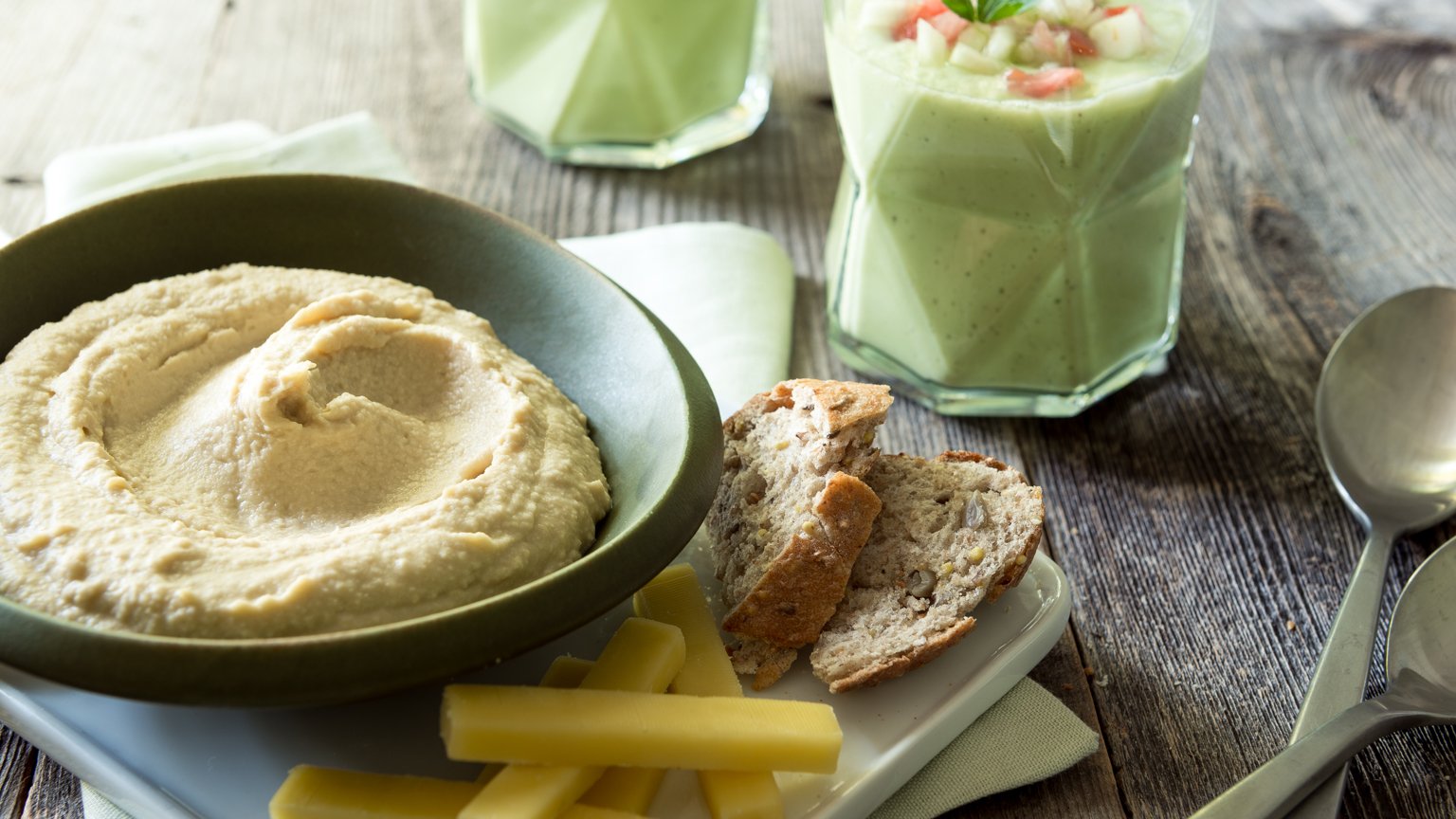 I love blending up a summer soup. It saves time and gives me weeknight dinner flexibility when not everyone can eat at the same time. Avocado makes this traditional cucumber soup rich with a smooth finish.
CUCUMBER AVOCADO SOUP
side: chickpea hummus
PREP: 20 minutes
COOK: none
YIELD: 4 servings
MAKE AHEAD
Make soup up to three days ahead
8 ounces white cheddar cheese, cut into cubes
Cut vegetables: cucumbers
INGREDIENTS
For avocado cucumber soup
1 cup plain Greek yogurt
½ cup buttermilk
2 cloves garlic, peeled
1 lemon, zested and juiced
2 cucumbers, peeled
½ cup low sodium vegetable broth
1 avocado, peeled and pitted
1 Tablespoon white vinegar
½ Tablespoon kosher salt
¼ teaspoon black pepper
½ medium red onion
For chickpea hummus
1 (14.5 ounce) can chickpeas (garbanzo beans)
2 garlic cloves, minced or pressed
2 Tablespoon lemon juice (½ lemon)
Pinch of cayenne pepper
½ teaspoon kosher salt
¼ cup olive oil
8 ounces white cheddar cheese, cut into cubes
1 cucumber, cut into slices for dipping
DIRECTIONS
For avocado cucumber soup
In the blender, combine all soup ingredients and blend until smooth. Chill until cold before serving; store up to 3 days in refrigerator.
For chickpea hummus
In the bowl of a food processor, combine chick peas, garlic, lemon juice, cayenne, and salt. Pulse to combine into a paste.
With the processor running, slowly drizzle in the olive oil until smooth. More olive oil or water can be added to achieve the desired consistency.
Serve hummus with sliced vegetables for dipping and cheese.