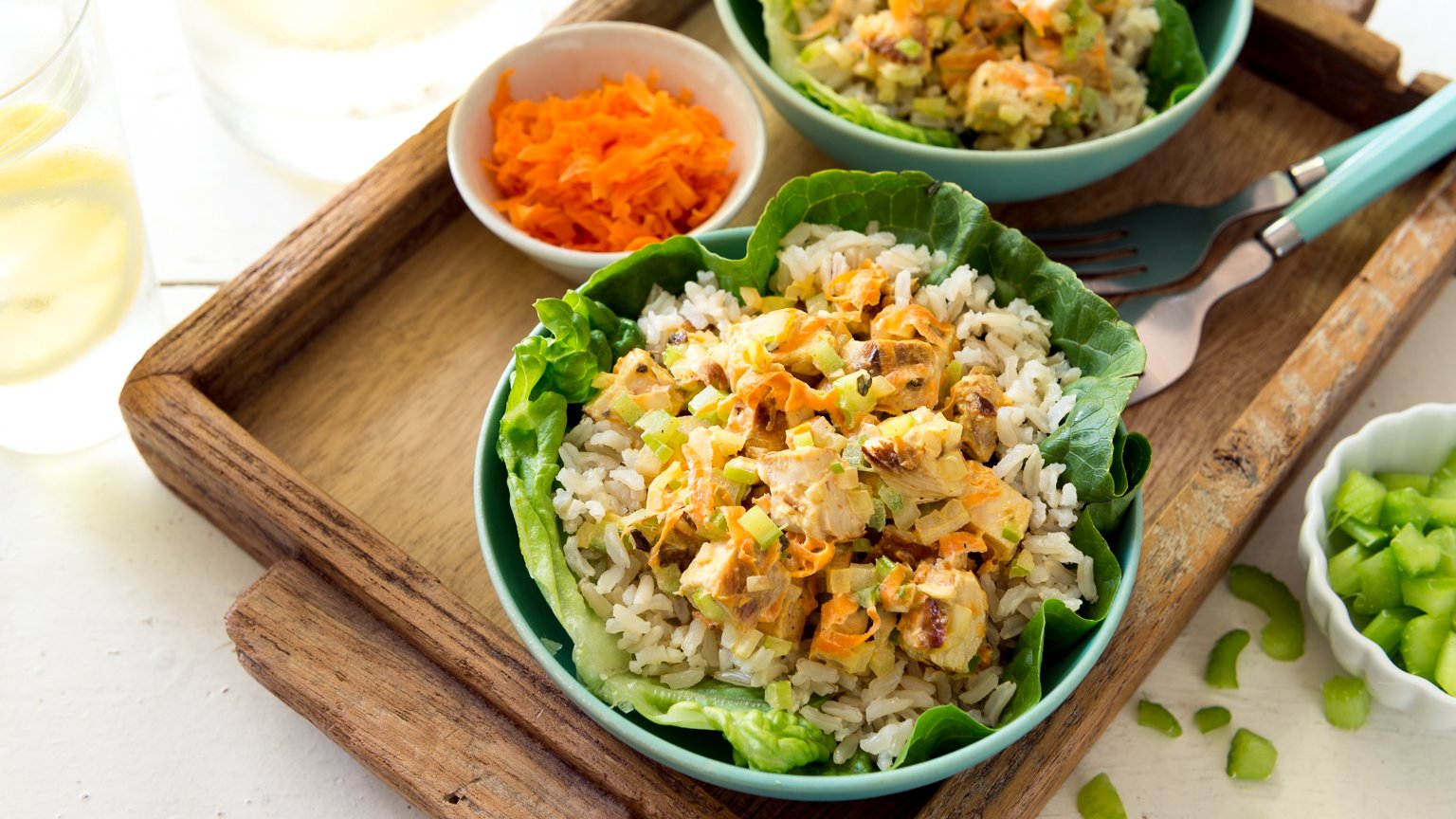 Dinner in one bowl? You can't beat the cleanup. This no mayo version of chicken salad is great for lunch and dinner.
CHICKEN LETTUCE BOWL
PREP: 20 minutes
COOK: 10 minutes
YIELD: 4 servings
MAKE AHEAD
Make soy dressing up to 48 hours ahead * see recipe below
¾ pound grilled chicken breast * see Meal #3 for recipe
2 cups cooked brown rice
Cut vegetables: onion, carrot, zucchini
INGREDIENTS
For lemon fried rice
2 Tablespoons grapeseed oil
½ red onion, finely chopped
2 garlic cloves, minced
2 cups prepared brown rice
½ lemon, zested and juiced
2 teaspoons soy sauce
For soy dressing
2 Tablespoons soy sauce
¼ cup white wine vinegar
1 teaspoon Dijon mustard
2 Tablespoons honey or 100% maple syrup
1 clove garlic, minced
¼ teaspoon black pepper
¼ teaspoon cayenne pepper
⅓ cup grapeseed oil
For chicken lettuce cups
8 whole romaine lettuce leaves (½ head)
2-3 cups shredded chicken (from two grilled chicken breasts) * see Meal #3
1 medium carrot, shredded or thinly cut into matchsticks
1 medium zucchini, shredded or thinly cut into matchsticks
½ cup fresh parsley, washed, then roughly chopped
Leftover fresh basil, shredded into strips
DIRECTIONS
For lemon fried rice
Heat a large nonstick skillet over medium/high heat and add oil. Once oil is hot, add in onions and garlic, stir to prevent burning. Once fragrant, about 20 seconds, add in brown rice, lemon zest and juice. Stir to combine and cook for 5-6 minutes or until heated through.
Finish with soy sauce and taste and adjust salt.
Serve warm in romaine lettuce leaves.
For soy dressing
In a small bowl, whisk together the soy sauce, vinegar, mustard, honey, garlic, and peppers.
Whisk in grapeseed oil in a thin stream until combined.
Taste and adjust for salt & pepper as desired.
For chicken lettuce cups
Rinse romaine leaves, dry, and set aside.
In a medium bowl, toss chicken with shredded carrots, zucchini, parsley and basil.
Add in ¼ cup of soy dressing and toss to coat.
Arrange romaine lettuce leaves in four serving bowls; fill leaves with lemon fried rice. Serve chicken and vegetables over rice with extra dressing on the side.