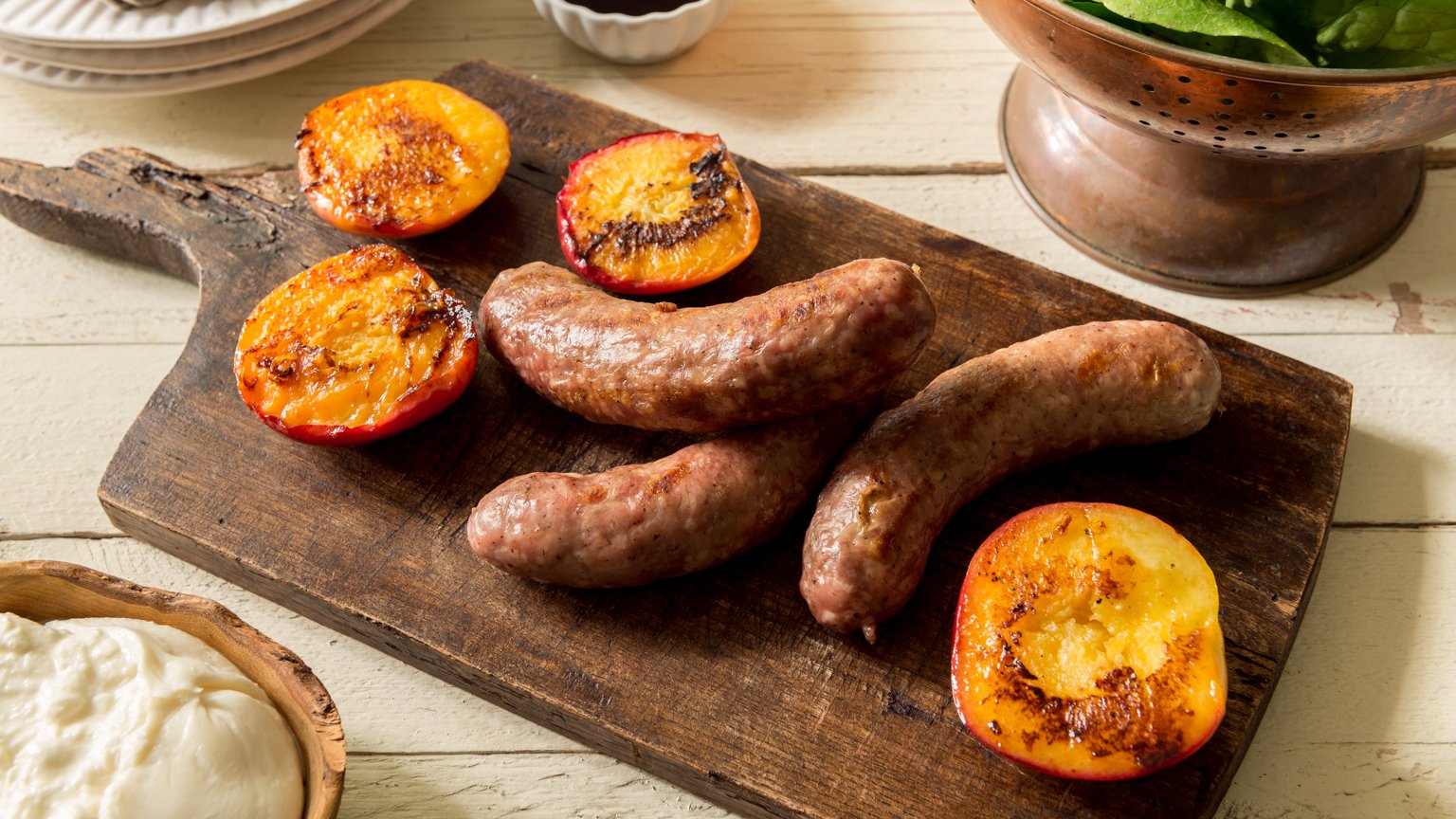 This is what I call a summer ploughman's dinner. Sausage, cheese and fruit with a gourmet twist. The caramelized flavor of the grilled nectarines is summer at it's best.
GRILLED CHICKEN SAUSAGE
side: nectarines with burrata
PREP: 15 minutes
COOK: 10 minutes
YIELD: Serves 4 with 1-1/2 sausage per person
INGREDIENTS
For grilled chicken sausage
1½ pounds chicken Italian sausage links; any variety, organic preferred (about 6 links)
1 teaspoon grapeseed oil
For nectarines with burrata
6 nectarines (for 2 dinners)
2 teaspoons olive oil
2 teaspoons balsamic vinegar
2 Tablespoons honey
Pinch of kosher salt
4 ounces burrata (a fresh Italian cheese)
½ cup raw almonds, chopped
DIRECTIONS
For grilled chicken sausage
Heat a large, nonstick sauté pan over medium-high heat. Add in oil and sauté sausages until browned on all sides and cooked/heated through.
For nectarines with burrata
Cut each nectarine in half, remove pit, and place on grill, cut side down, for 3-4 minutes. Remove from grill; reserve 2 nectarines (4 halves) for another dinner.
In a mixing bowl, make dressing by combining olive oil, vinegar, honey, and salt; set aside.
Spoon one Tablespoon of burrata over each grilled nectarine and sprinkle with chopped almonds.
Drizzle dressing over top and serve.
Cooking indoors? Preheat oven to 450 degrees. Place nectarines on a lined baking sheet and bake for 3 minutes on each side.