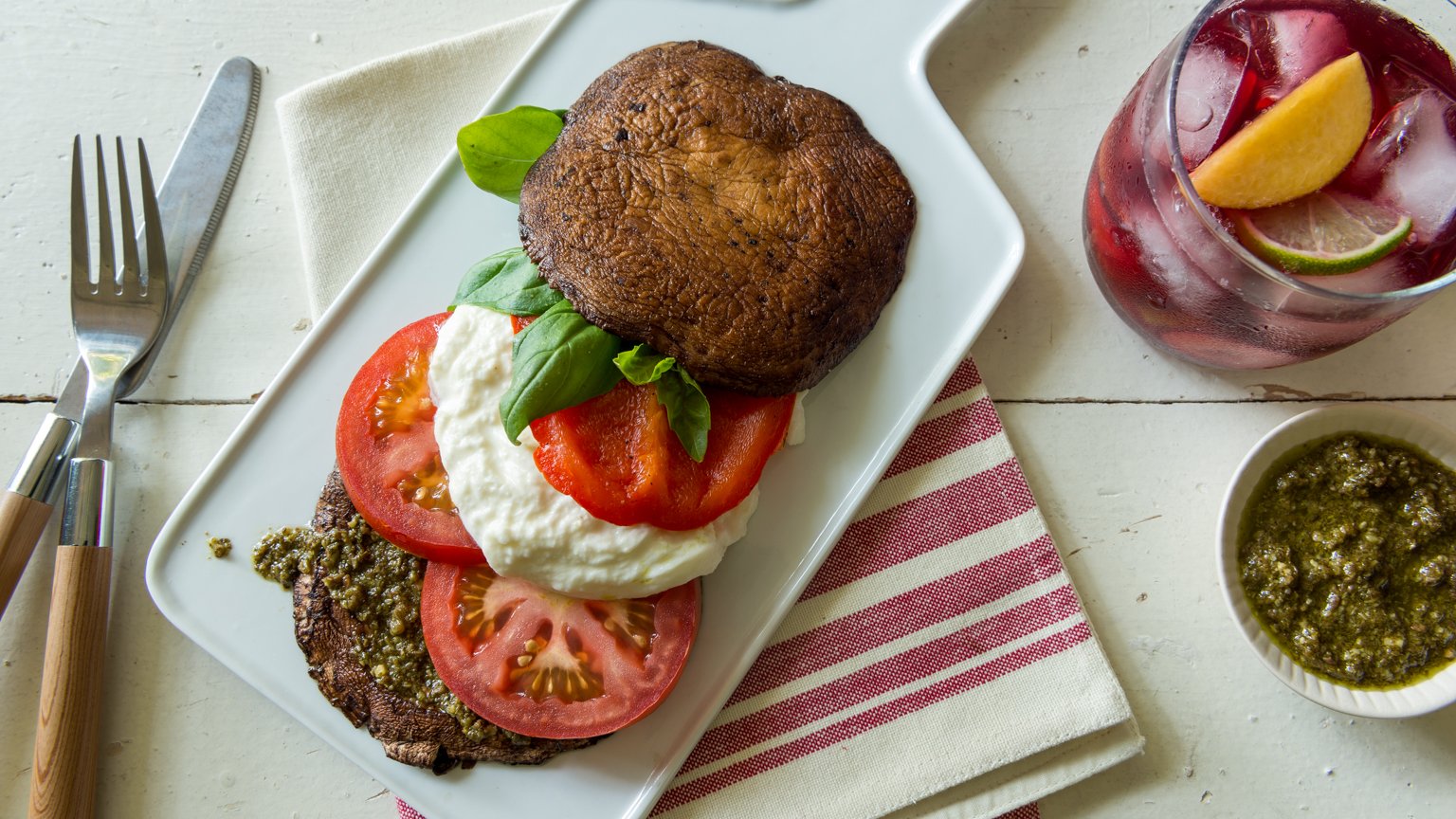 I had a similar dish in a restaurant once and I had to create it at home. Portobello mushrooms have intense flavor and can be just as satisfying as steak when grilled. Fresh pesto, garden tomatoes and burrata cheese make these summer stacks irresistible.
PORTOBELLO CAPRESE
sides: nectarine arugula salad
PREP: 15 minutes
COOK: 15 minutes
YIELD: 4 servings
MAKE AHEAD
Pesto * from Meal #1
2 grilled nectarines * from Meal #3
Roasted red peppers * see directions below
Make vinaigrette dressing * see recipe below
INGREDIENTS
For portobello caprese
4 large Portobello mushroom caps
2 beefsteak tomatoes
1 teaspoon olive oil
8 ounces burrata, cut into 8 slices
4 Tablespoons pesto * from Meal #1
8 fresh basil leaves
2 roasted red bell peppers * see directions below
For nectarine arugula salad
8 cups arugula
4 grilled nectarines halves, sliced * from Meal #3
Vinaigrette dressing * see recipe below
DIRECTIONS
For portobello caprese
Wipe clean tops of mushrooms; remove stem and gills with a spoon.
Slice each mushroom in half horizontally, creating 2 thin circles.
Cut each tomato into 4 slices.
Heat olive oil in medium skillet on high heat.
Place mushrooms caps in pan and cook for 2 minutes per side.
Place one mushroom slice on dinner plate. Top with a slice of burrata and spread with ½ Tablespoon of pesto. Top with a tomato slice, a basil leaf and finally roasted red pepper.
Repeat layers and place mushroom cap on top.
For nectarine arugula salad
In a medium salad bowl, combine arugula and nectarines; toss with vinaigrette dressing to taste.
For roasted red peppers
Rinse 2 red bell peppers and dry.
Place peppers over an open flame (directly on the stove top flame, barbecue, broiler, or in a sauté pan over high heat).
Char on all sides (don't worry if it turns black and burns). Place into a Ziploc bag and steam for 10 minutes.
Remove from bag and peel off the skin over the sink. Remove stem and seeds and cut each pepper into four pieces. Store in the refrigerator in airtight container.
For basic vinaigrette
1 Tablespoon balsamic vinegar
½ teaspoon Dijon mustard
¼ teaspoon kosher salt
⅛ teaspoon ground black pepper
3 Tablespoons extra-virgin olive oil
Whisk all ingredients together until well blended.