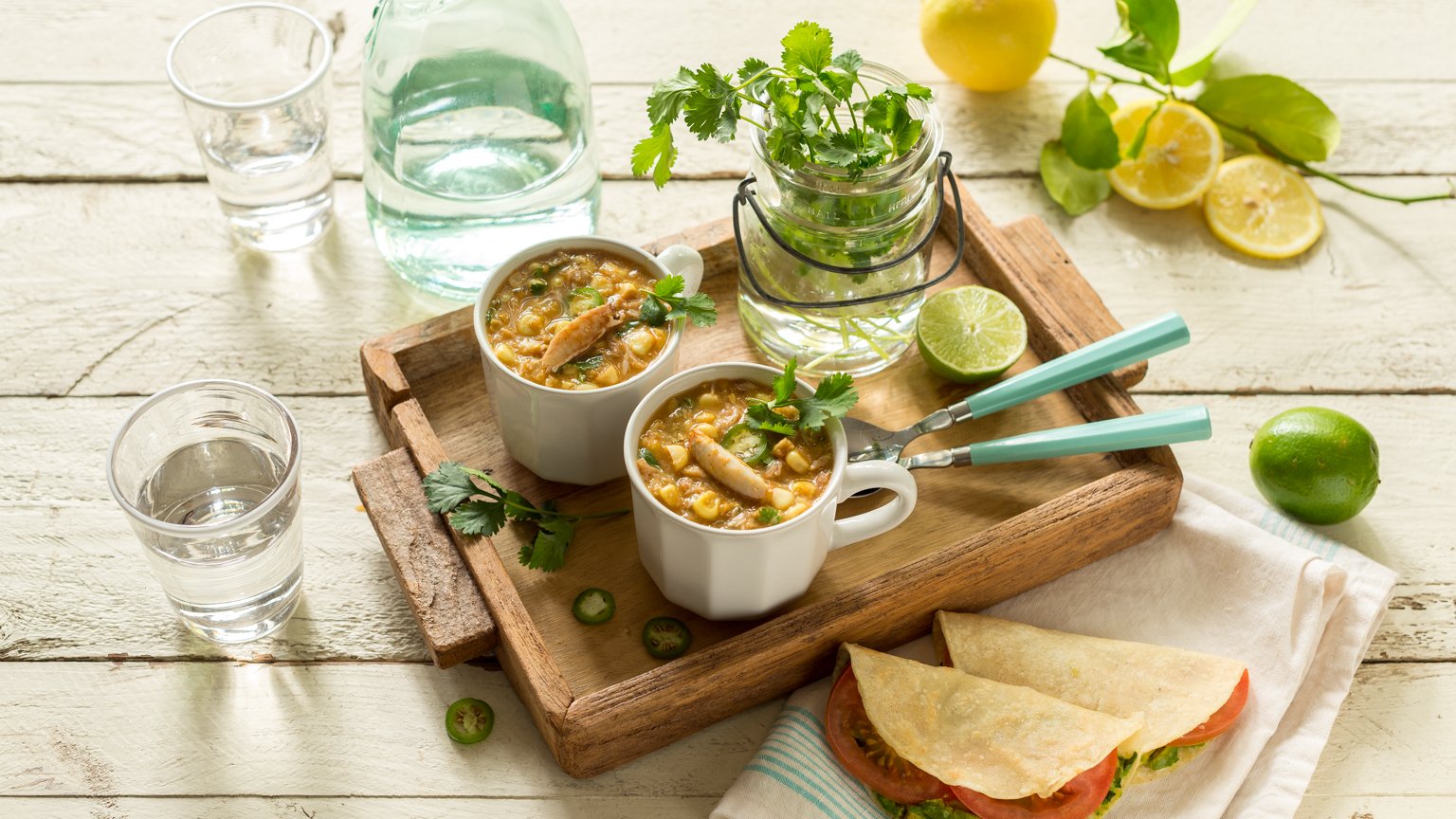 Fresh summer corn pairs with crab for this make at home chowder. It's a restaurant quality meal for impressive summer entertaining.
CORN AND CRAB CHOWDER
side: avocado & tomato quesadillas
PREP: 10 minutes
COOK: 30 minutes
YIELD: 4 servings
MAKE AHEAD
Remove kernels from corn
Cut vegetables: onion, serrano pepper
INGREDIENTS
For corn and crab chowder
1 Tablespoon olive oil
½ medium red onion, diced
2 garlic cloves, minced
¼ Serrano pepper, minced, about 1 teaspoon
4 ears of raw corn, kernels removed, cobs reserved
1 Tablespoon chili powder
1 teaspoon cumin
1 teaspoon paprika
3 cups low sodium chicken broth
1 cup water
½ bunch fresh cilantro, roughly chopped
1 pound lump crabmeat, picked over to remove any cartilage pieces
1 lime, juiced to yield 1 Tablespoon
¾ teaspoon salt
For avocado and tomato quesadillas
Grapeseed oil for pan
4 (6") organic corn tortillas
1 medium avocado, lightly mashed with salt and pepper
1 medium tomato, sliced
DIRECTIONS
For corn and crab chowder
Heat a large soup pot over medium heat; add in oil. Once oil is hot, add in onion, garlic, Serrano pepper, and corn. Stir to combine and cook for 2-3 minutes or until onions become soft and translucent.
Add in chili powder, cumin, and paprika – stir to combine. Turn up the heat to medium-high and add in chicken broth and water, stir to combine.
Add in the reserved corn cobs and simmer for 12-15 minutes.
Remove the corn cobs and discard. Carefully ladle 2 cups of the chowder with vegetables into a blender and blend until smooth. Be careful to hold the lid of the blender down tightly with a towel, hot liquids will create pressure in the blender. Add the pureed chowder back into the pot, and stir to combine.
Reduce the heat to low and add in cilantro, crab meat, lime juice, and salt, stir gently and cook for an additional 5 minutes.
Taste and adjust seasoning and thickness by adding more water if needed.
For avocado and tomato quesadillas
Heat a small sauté pan over medium high heat. Lightly brush the pan with 1 teaspoon grapeseed oil.
Add a tortilla to pan and warm on both sides. Spread avocado and tomato over half of the tortilla, fold over and warm through. Repeat with remaining tortillas.
Cut in half and serve warm.