Juicy Pork Tenderloin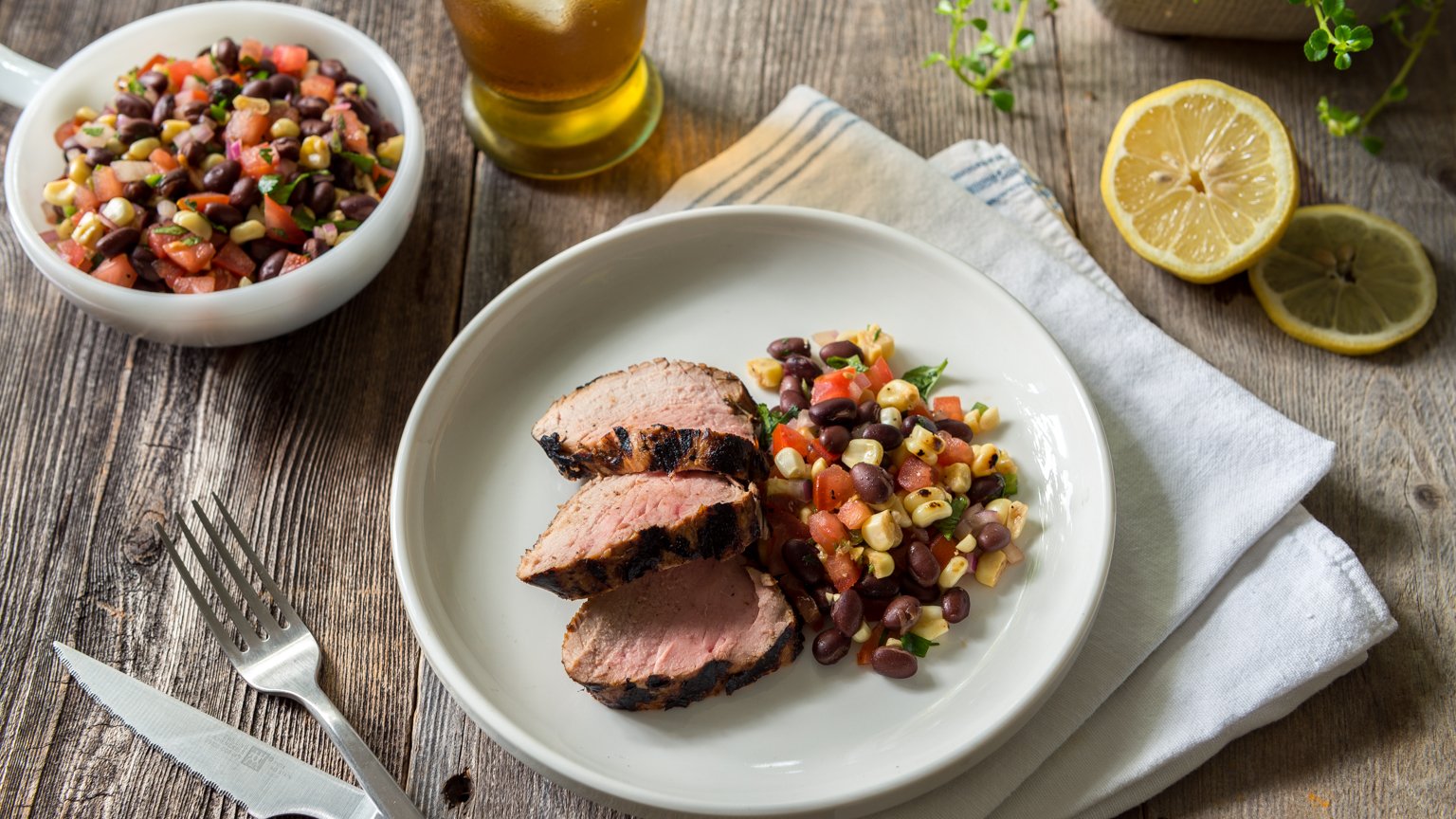 This marinade uses ingredients found in your pantry. It complements the pork and can be ready in two minutes. You can substitute most any meat desired for equally good barbeque results.
Dijon Balsamic Tenderloin with Grilled Corn & Black Bean Salad
PREP: 15 minutes
COOK: 15 minutes
YIELD: 4 servings
MAKE AHEAD
Marinate pork tenderloin (20 minutes or up to 24 hours)
Cut vegetables: tomato, serrano pepper, onion
INGREDIENTS
For dijon balsamic tenderloin
2 pounds pork tenderloin
¼ cup balsamic vinegar
2 Tablespoons Dijon mustard
1 Tablespoon low sodium soy sauce
4 garlic cloves, minced
1 Tablespoon Herbes de Provence
1 Tablespoon olive oil
¼ teaspoon black pepper
For grilled corn and black bean salad
2 ears fresh corn, grilled (1 cup kernels) *
1 (15 ounce) can organic black beans, drained and rinsed
1 medium tomato, diced
½ medium Serrano pepper, minced (2 teaspoons)
¼ medium red onion, minced
¼ bunch fresh cilantro (4 stems) roughly chopped
2 limes, juiced
1 Tablespoon olive oil
½ teaspoon kosher salt
¼ teaspoon black pepper
DIRECTIONS
For dijon balsamic tenderloin
Cut 1 pound of pork tenderloin into 2 inch pieces for kebobs later in the week and leave 1 pound whole. Place all the pork into a large Ziploc bag or a non-reactive container with the balsamic vinegar, Dijon, soy sauce, garlic, Herbes, olive oil, and pepper. Seal the bag and marinate for 20 minutes or up to 24 hours.
Heat outdoor grill.
Remove large piece of tenderloin from marinade, leave cubed pieces in marinade until ready to make kebobs.
Place tenderloin onto the preheated grill and cook for 5-6 minutes per side, or until desired temp is achieved. Timing is for 2" thick, adjust accordingly. It is best to use a meat thermometer when grilling meat like pork. The temperature should be 145 degrees.
Remove from the grill and allow to rest five minutes before slicing.
For grilled corn and black bean salad
In a medium salad bowl, combine grilled corn, black beans, tomato, Serrano pepper, red onion, cilantro, lime juice, olive oil, and salt & pepper. Stir to combine.
*To grill corn
Shuck corn and lightly brush with grapeseed oil. Place onto grill and cook for 3-4 minutes, turning often to avoid burning. Cool, then with a knife, cut downwards from top to bottom to remove kernels for salad.