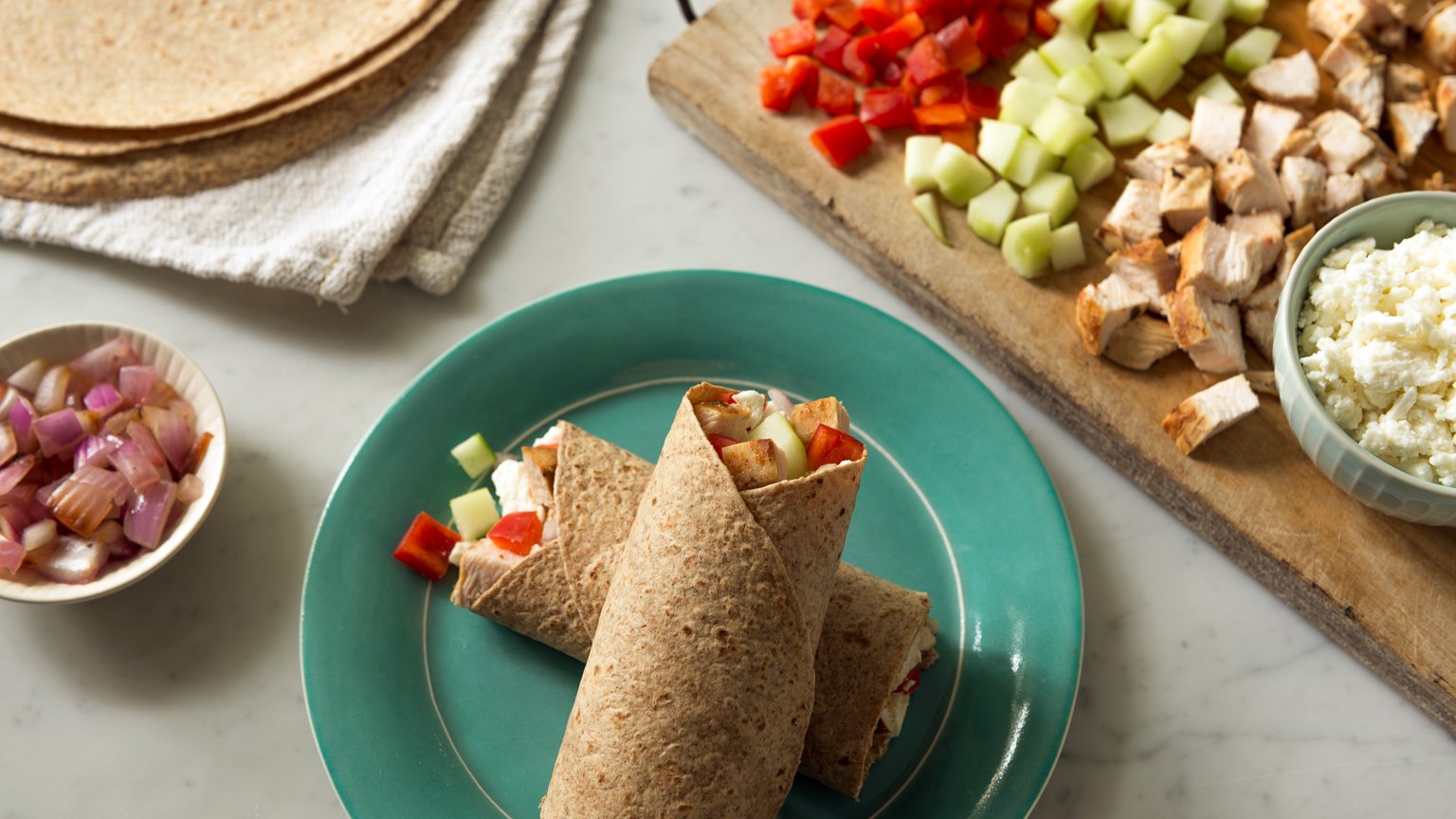 Wraps for dinner is a simple way to give home chef the night off duty. Fresh ingredients are set out and everyone creates their own wrap masterpiece.
GREEK CHICKEN WRAPS
PREP: 15 minutes
COOK: 15 minutes
YIELD: 4 servings
MAKE AHEAD
• Grill chicken and red onion
Heat outdoor grill to medium/high. Brush 1½ pounds of chicken breast lightly with olive oil, season with salt and pepper, and place on preheated grill. Cook for 6-7 minutes per side depending on thickness; chicken is done when juices run clear. Reserve half the chicken for Meal #5.
Cut ½ red onion into thick slices, brush with olive oil, and sprinkle with salt and pepper. Place on grill and cook 5-7 minutes per side until tender.
• Cut vegetables: lettuce, bell pepper, zucchini
INGREDIENTS
For creamy herb yogurt
1 cup thick Greek yogurt
½ lemon, zested and juiced
2 Tablespoons basil, roughly chopped
⅓ cup (about 1½ ounces) feta cheese, crumbled
For Greek chicken wraps
4 (12") whole wheat tortillas
1½ pounds grilled chicken breasts (for 2 dinners)
½ head green leaf lettuce, cut into thin shreds
1 zucchini, peeled and diced
1 red bell pepper, diced
½ red onion, grilled
1 medium zucchini, cut into sticks
DIRECTIONS
For creamy herb yogurt
In a small bowl, combine yogurt, lemon juice & juice, basil, and feta cheese – stir to combine.
For Greek chicken wraps
Warm tortillas for 15 seconds (wrap in paper towel and heat in microwave, if desired).
Spread 2 Tablespoons of creamy herb yogurt over one side of warm tortilla.
Arrange ingredients in the middle of each tortilla: 3-4 ounces of grilled chicken, lettuce, zucchini, bell pepper, and grilled onion.
Fold tortilla over itself about a third of the way and then roll forward creating a wrap. Cut in half and serve with extra sauce on the side.
Serve with zucchini sticks.