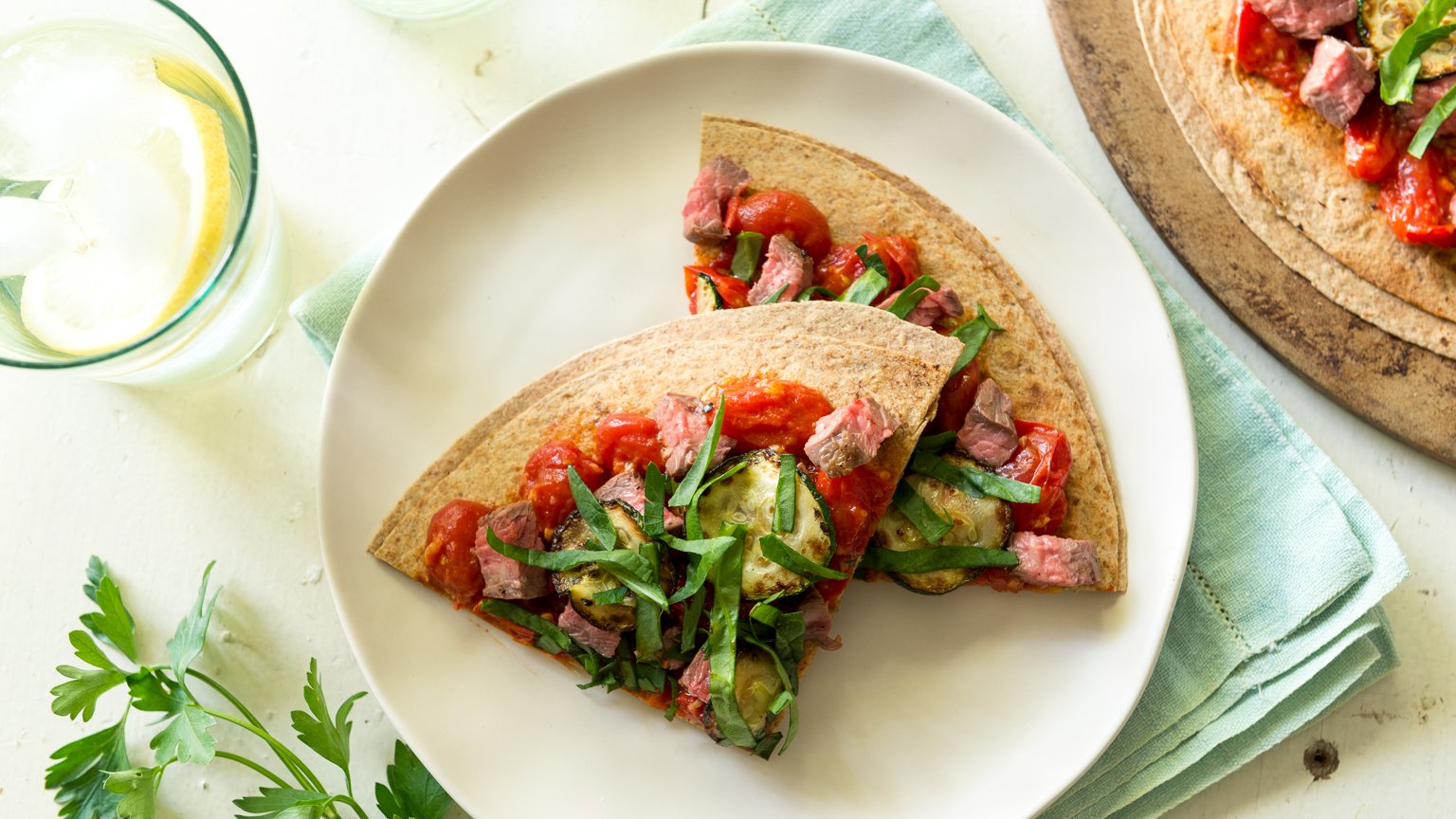 Pizza on the grill can be surprising simple. Instead of dough, you can use whole wheat tortillas for a crisp pizza-like crust. Fresh tomatoes and zucchini highlight the bounty of summer. Fresh basil required!
GRILLED STEAK PIZZA
side: stove top tomato saute
PREP: 15 minutes
COOK: 15 minutes
YIELD: 4 servings
MAKE AHEAD
Pantry dressing (www.thefresh20.com/pantrydressings)
INGREDIENTS
For grilled steak and zucchini
2 pounds of flank steak (for 2 dinners)
1 teaspoon kosher salt
½ teaspoon black pepper
1 zucchini, cut into strips
Olive oil (for brushing zucchini)
For stove top tomato saute
1½ Tablespoons olive oil
12 oz cherry tomatoes (about 1 pint)
1 lemon, zested and juiced to yield 1 Tablespoon
2 garlic cloves, minced
½ teaspoon kosher salt
¼ teaspoon black pepper
1 Tablespoon parsley, roughly chopped
For pizza
8 (12") whole wheat flour tortillas
4 ounces feta cheese, softened (about 1 cup)
1 Tablespoon olive oil
6-8 leaves fresh basil leaves, shredded
4 cups baby spinach leaves, washed and towel dried, about 2 handfuls (8 ounces)
¼ cup pantry dressing
DIRECTIONS
For grilled steak and zucchini
Heat outdoor grill to medium-high.
Remove steak from the refrigerator about 20 minutes before grilling; this will allow the steak to cook more evenly. Season the steak with salt and black pepper on both sides.
Brush zucchini strips with a little olive oil on both sides.
Place steak onto the preheated grill and cook for 3-4 minutes per side, or until desired doneness is achieved. Timing is for 1" thick. Adjust accordingly.
Arrange zucchini on sides of grill and cook for about 2 minutes and remove.
Remove steak from the grill and allow to rest five minutes before slicing. Reserve half the steak for Meal #4.
Dice grilled zucchini for pizza topping.
For stove top tomato saute
Heat a large nonstick sauté pan over medium/high heat and add oil. Once hot, add in tomatoes and stir to coat with olive oil. Add the lemon zest, lemon juice, garlic, and salt & pepper. Sauté for 4-5 minutes until tomatoes are heated through, begin to soften, and the skins split.
Finish the tomatoes by stirring in the fresh parsley.
For grilled pizza
Top four tortillas evenly with feta cheese, then top each with a second tortilla.
Brush each side of tortillas with olive oil and place onto the grill. Grill for about 1 minute per side or until slightly crisp.
Remove from the grill and add toppings; spread 2 Tablespoons of tomato sauce onto prepared tortilla then top with slices of steak, zucchini and top with fresh basil.
Place back onto grill for about 2 minutes to warm through.
For salad
Toss spinach with dressing.