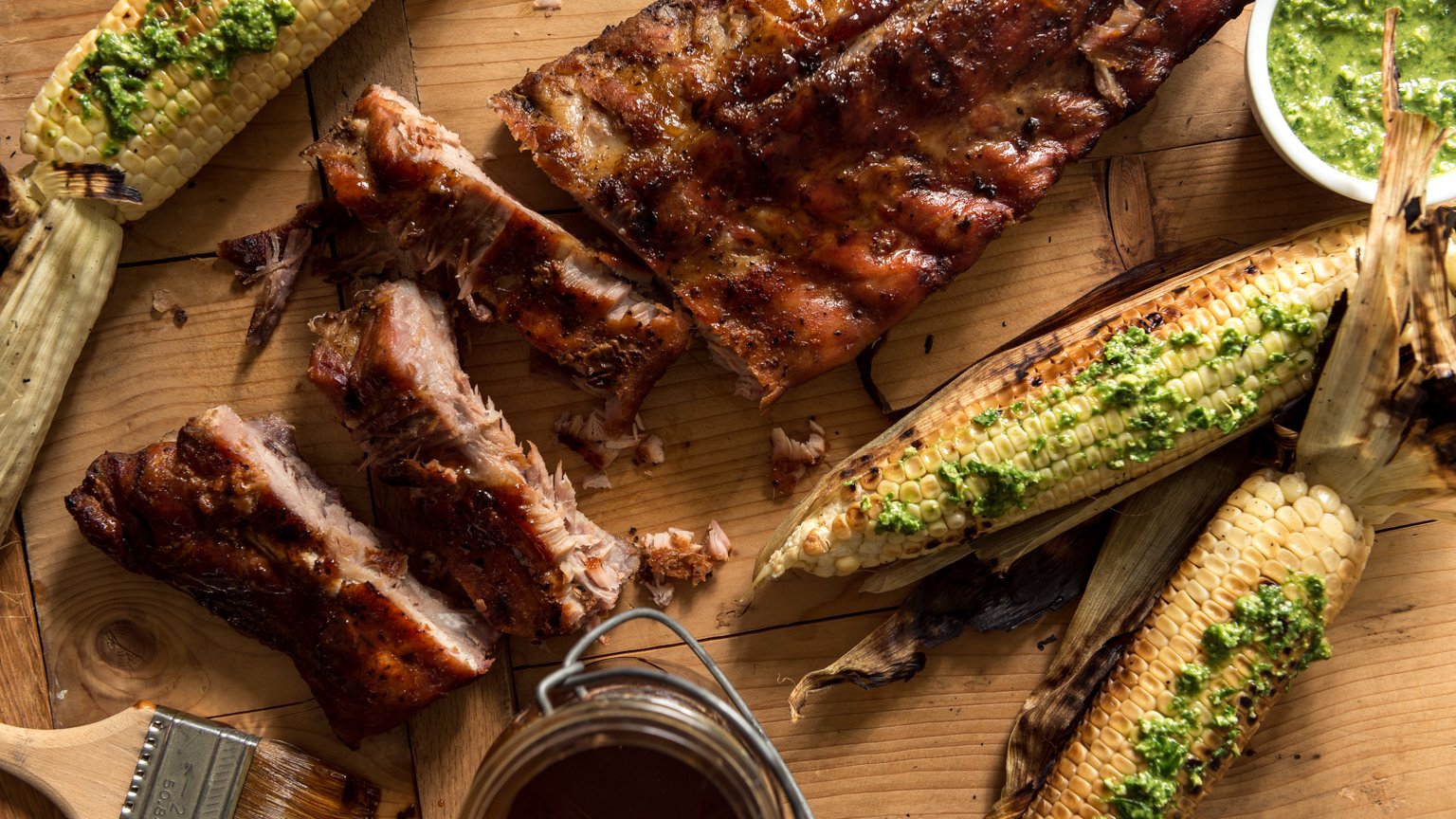 Tender and juicy is the only way to enjoy ribs. We use homemade BBQ sauce with no added preservatives to slow cook our ribs. The flavor is tangy and fresh.
QUICK SUMMER RIBS
side: pesto portobellos
PREP: 1 hour
COOK: 15 minutes
YIELD: 4 servings
MAKE AHEAD
• Prepare ribs: If necessary, trim fat off ribs. Cut each slab into 4 pieces of 3 ribs each.
Place the ribs into a large pot and cover with water. Bring to a boil over high heat; reduce heat to medium and simmer until tender, about 45 minutes. Drain ribs and transfer to a large Ziploc bag or container; store in refrigerator for up to 3 days.
• Make pesto * see recipe below
• Make BBQ sauce * see recipe below
INGREDIENTS
For BBQ ribs
2 slabs pork baby back ribs, boiled
1 cup BBQ sauce *see recipe below
Kosher salt and black pepper to taste
For pesto portobellos
4 large Portobello mushroom caps
1 cup homemade pesto * see recipe below
DIRECTIONS
DINNER NIGHT
For ribs
Preheat outdoor grill to medium-high (500 degrees).
Place ribs, meat side up, on the grill. Cook for 5 minutes and then flip.
Brush the ribs with half of the BBQ sauce.
Continue to cook for an additional 5-10 minutes, basting the top of the ribs every few minutes. Remove from heat and let rest before serving; season with salt and pepper.
For pesto portobellos
Wipe mushrooms clean and remove stem and gills.
Spread ¼ of the prepared pesto over the center of a 12" piece of aluminum foil.
Place one mushroom in the center of the pesto covered foil and fold to seal. Place on heated grill off to the side; repeat with remaining mushrooms and pesto.
Cook for 10-15 minutes.
For BBQ sauce
3 Tablespoons butter
½ red onion, cut into quarters
2 cloves of garlic
4 tomatoes, cut into quarters
1 cup water
⅓ cup honey
2 teaspoons Dijon mustard
½ teaspoon kosher salt
Melt butter over medium heat. Add onions and garlic and sauté for 5 minutes until onions are soft.
Add tomatoes and continue cooking an additional 5 minutes.
Smash tomatoes with the back of a wooden spoon or spatula.
Add water, honey, Dijon, and salt.
Simmer for 15 minutes, stirring frequently. Liquid will start to thicken.
Remove from heat and cool down.
Strain BBQ sauce into a container and store in refrigerator.
For pesto
½ cup olive oil
1 lemon, juiced to yield 2 Tablespoons
1 bunch (12 stems) fresh basil
1 cup arugula salad (can sub baby spinach)
¼ cup raw almonds
2 ounce Parmesan cheese, grated
salt and pepper to taste
Combine pesto ingredients in a blender or food processor until smooth. Add salt and pepper to taste. Store in an airtight container for up to 5 days; reserve 4 Tablespoons for Meal #4.