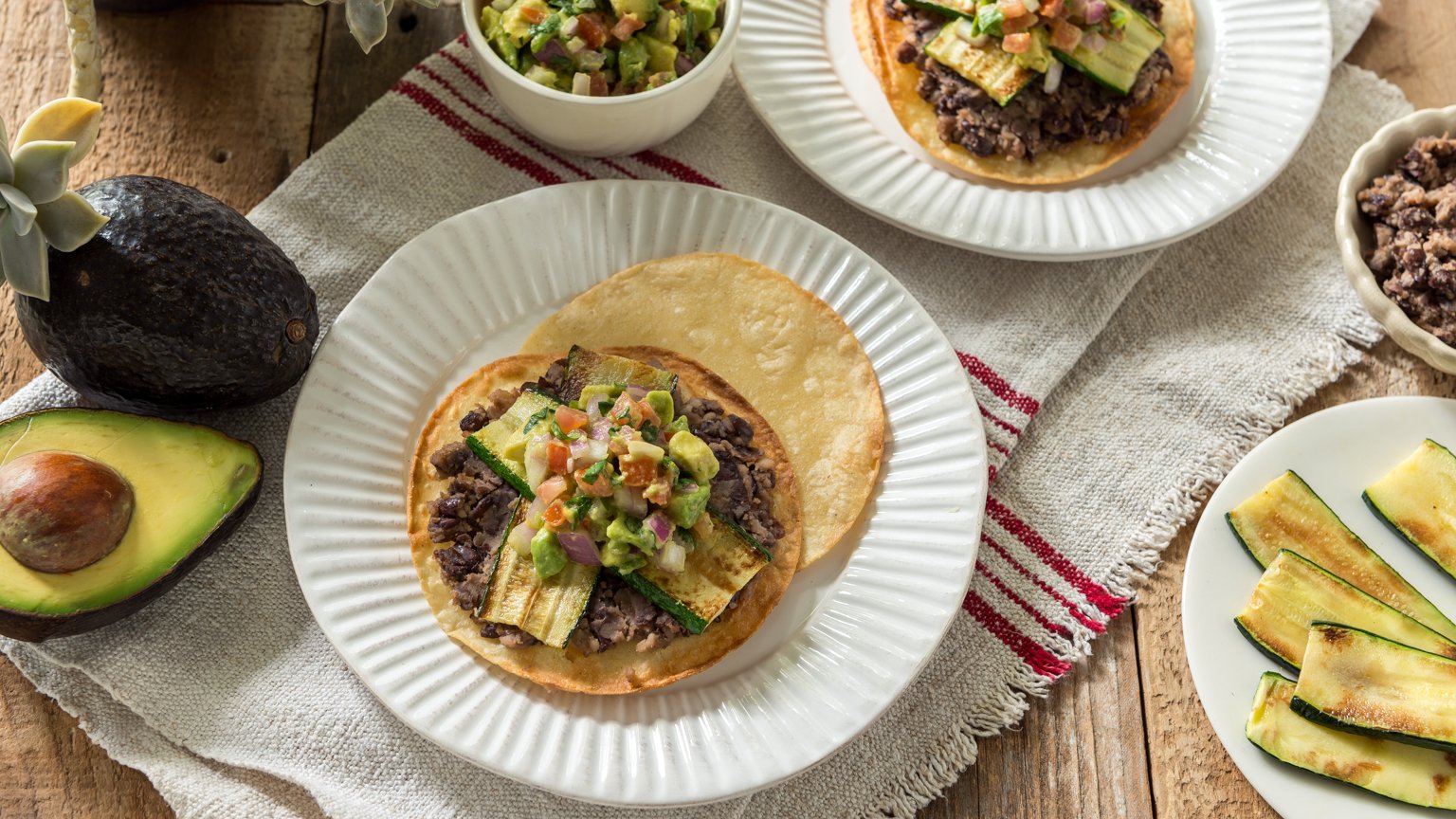 Tostadas are considered hand held food in my house. A great meal to take outdoors or eat on the go on a busy summer evening. Smashed black beans and freshly grilled zucchini are healthy toppings to keep the meal fresh.
ZUCCHINI BLACK BEAN TOSTADAS
sides: white beans with zucchini and grilled lemon
PREP: 10 minutes
COOK: 10 minutes
YIELD: 4 servings
MAKE AHEAD
Cut vegetables: zucchini, onion, serrano pepper
INGREDIENTS
1 Tablespoon grapeseed oil
2 medium green Italian zucchini, cut lengthwise into 8 slices
½ teaspoon kosher salt
¼ teaspoon black pepper
1 (15 oz) can organic black beans, drained and rinsed
2 teaspoons chili powder
1 teaspoon cumin
8 (6") organic corn tortillas
For avocado salsa
1 medium tomato, cut into small dice
¼ medium red onion, cut into small dice
1 avocado, ripe but firm, cut into small dice
¼ medium Serrano pepper, minced
¼ bunch fresh cilantro, roughly chopped
1 lime, juiced
1 Tablespoon extra virgin olive oil
¼ teaspoon kosher salt
Pinch of black pepper
DIRECTIONS
For zucchini black bean tacos
Heat a large nonstick sauté pan over medium high heat and add in oil. Once oil is hot, add zucchini and season with salt & pepper. Sauté for 2-3 minutes or until lightly browned and softened, but still firm. Turn off heat and set aside.
In a small saucepot over low-medium heat, combine beans, chili powder, and cumin – stir to combine. Simmer for 5-6 minutes or until heated through.
Toast tortillas on the stovetop over a low open flame until crispy.
Assemble 2 tortillas per person with beans, zucchini and avocado salsa.
For avocado salsa
In a small bowl, combine all salsa ingredients and mix well.