Guest Post by Carolyn Scott-Hamilton from HealthyVoyager.com
It's the most wonderful time of the year! But it's also the most decadent, expensive and stress-filled time of the year. And adding in the travel element really adds to the craziness. Crowded airports, cramped cars, fast food and sugary holiday treats, it's enough to send you hiding under your covers until the snow melts.
Traveling during the holidays is no easy feat and neither is trying to avoid the pitfalls of eating junk food while on the go. It seems easy to grab a sugary laden coffee drink and a fat filled muffin for breakfast, a greasy burger for lunch and an even greasier pizza for dinner.
But don't let convenience be the enemy this holiday travel season. Plan ahead by packing healthy food and snacks, no matter if you are flying or driving. You will arrive at your destination happier, healthier and even with a bit more in your wallet!
Here are some of my favorite snacks for healthy holiday travel!
Super Greens Juice – Making a fruit and green vegetable packed smoothie or juice is a great way to squeeze in your 5 servings while away from home. It's tasty, sweet and is easy to pour into a thermos for convenient beverage mobility!
Peppermint Cocoa Kale Chips – We all like snacking on sweet stuff so why not snack on healthy sweet stuff! All the crunch of a chip with all the holiday peppermint cocoa you crave this time of year but with nothing but healthy goodness!
Holiday Trail Mix – Nuts and seeds are always a great snack as they keep you full and satisfied with the good fats and protein they pack. Put together a fun holiday themed mix with pumpkin seeds, walnuts, almonds, dried cranberries and chocolate chips!
Holly Jolly Veggie Pinwheels – Sandwiches and wraps are totally portable food. Enjoy the colors of the season with yummy pinwheel sandwiches! Take a spinach tortilla, slather on some red pepper hummus, add tomato slices and leafy green of choice, roll up tightly, slice into bite sized pinwheels and enjoy!
Pumpkin Brownie Bites – We all deserve a little treat so bake up some yummy goodness before hitting the road. Use the healthiest boxed brownie mix you can find, mix it with 1 can of canned pumpkin, bake per instructions and voila, low fat, high antioxidant brownies that taste great!
The possibilities are endless so get creative but be sure to plan ahead, pack smart and enjoy the healthy flavors of the holiday season!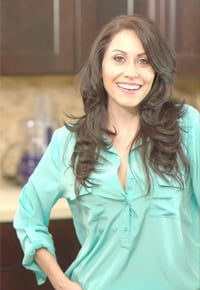 Carolyn Scott-Hamilton is a holistic nutritionist, vegan chef, cookbook author, speaker, show host, consultant and healthy travel expert. Keep up with Carolyn on her blog, The Healthy Voyager.