Best Salmon Recipe
We've all been there: that moment when you tell your kids fish is on the menu for dinner, and the struggle that ensues when their aversion results in moans, groans and even tears. Knowing the important health benefits of a diet rich in Omege-3 fatty acids inspired me to come up with this crowd-pleasing recipe for people who don't like fish. And it's 100% a winner! Just ask the kids.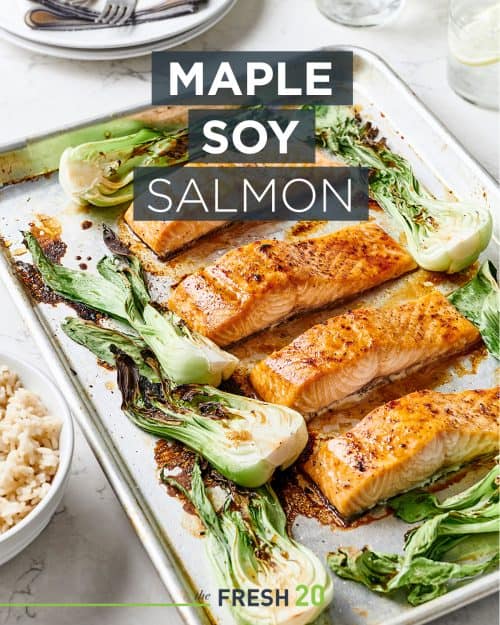 The mild flavor of salmon combined with the perfect blend of pure maple syrup, salty soy sauce and fresh garlic is the secret to making this so, SO delicious for even the pickiest eater. And that's so important because salmon is packed with antioxidants and healthy fats.
Health Benefits of Salmon
Did you know Omega-3s are considered essential in nutrition because our bodies can't create them? We must consume them. Studies show they play a pivotal role in improving arterial function and can decrease inflammation, lower blood pressure and reduce the risk of cancer. But there's more. Salmon's chock-full of B vitamins that maintain optimal functioning of your brain and nervous system. A portion of salmon also provides more potassium than an equivalent amount of banana, which lowers blood pressure and reduces the risk of stroke.
If that's not enough to inspire a wellness-obsessed home cook like me to come up with a fish recipe that anyone would love, I don't know what would!
I hope you enjoy the flavor and health benefits of one of the best salmon recipes ever. It's also simple, easy and comes together quickly.
Print
Ingredients
1 Tablespoon grapeseed oil
½ cup organic maple syrup
¼ cup reduced sodium soy sauce
2 cloves garlic, minced
1 Tablespoon fresh grated ginger
¼ teaspoon cayenne pepper
Dash of kosher salt
Dash of black pepper
1-1/4 pounds salmon fillet
1 pound bok choy
1 Tablespoon olive oil
2 cups brown rice (cooked)
---
Instructions
1. Pre-heat the broiler on high and lightly coat a sheet of aluminum foil placed on top of a broil pan with the grapeseed oil. (This helps with cleanup!)
2. Whisk the syrup, soy sauce, garlic, ginger and cayenne in a small saucepot. Bring the liquid to a simmer over medium heat for 5 to7 minutes until the sauce is thick like syrup again. Set aside to cool.
3. Arrange the salmon on the broil pan and season with the salt and pepper. Surround the fish with pieces of the bok choy. Place the pan 5 inches from the flame and broil for 5 minutes.
4. Brush the salmon with a small amount of reduced glaze from the stovetop.
5. Return the fish to the broiler for an additional 2 to 3 minutes.
Note: cooking time depends on thickness of the salmon. It is best to watch closely and avoid over cooking fish. In general, I remove the salmon just before I think it is done because it will continue to cook once removed from broiler.
7. Remove the salmon from the broiler and transfer to a serving dish. Cover the fish with the liquid glaze. Serve with brown rice.