Welcome to The Fresh 20 Recipe Diary!
This week's recipe: MUSHROOM CAPRESE
ORIGINS:
The caprese salad, increasingly found on American menus, originated in the Capri region of Italy. It is a beautifully simple salad designed to celebrate its fresh, ripe ingredients; tomatoes, fresh mozzarella, basil, and olive oil. Coincidentally, the finished salad represents the colors of the Italian flag! While it is traditionally served as a salad or appetizer, Chef Leslie has developed a main dish caprese with the addition of hearty Portobello mushrooms.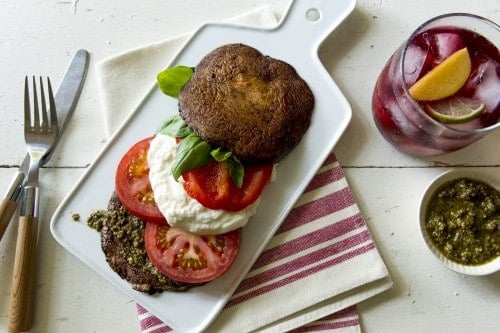 KEY INGREDIENTS:
FRESH MOZZARELLA
A key flavor in any caprese is the creamy soft tang of fresh mozzarella cheese. Traditionally, the caprese is prepared using buffalo mozzarella (made from water buffalo milk), but today, most mozzarella is made from cow's milk. If you have the opportunity to use buffalo mozzarella, it is markedly sweeter and creamier – delicious! At your local market, fresh mozzarella is usually sold is ball form packed in either water or whey. Its high moisture content makes for a delicious dish, but also leads to quicker spoilage, so plan on using it soon after purchase.
TOMATOES
It may be early in the season for tomatoes in some regions, but it's worth the investment to find great tomatoes for the caprese. This dish calls for a ripe juicy slicing tomato – think large and vine-ripened like a deep red beefsteak.
BASIL
Choose bright green, fresh looking leaves. There are hundreds of basil varieties available from lemon to cinnamon to purple – choose your favorite, although you can't beat a basic sweet basil. Sweet Thai basil is another option; it has a distinct licorice flavor if that is something you enjoy.
RECIPE NOTES:
Be sure to remove the mushroom stems and give the caps a good wipe down to remove any dirt (a damp kitchen towel works great). There is a wide variety in the thickness of the caps, so be sure to check on the mushrooms while they are roasting – they should be just fork tender – you may need to adjust the cooking time slightly. Try presenting the salad like a hamburger; place one mushroom gill side up on the plate and layer on the spinach, tomatoes, and cheese and then top with the second mushroom; serve with a side of quinoa and avocado slices. You can also make a beautiful presentation by fanning the ingredients out on the plate over the quinoa.
Mushroom Caprese
2017-03-02 12:46:51
Serves 4
Ingredients
1 Tablespoon olive oil
8 Portobello mushroom caps, wiped clean
6 ounces spinach leaves (4 cups)
4 medium tomatoes, sliced
6 ounces fresh mozzarella, sliced
¼ cup chopped basil, leaves (½ bunch)
1 Tablespoon olive oil
¼ cup balsamic vinegar
1 avocado, sliced
Instructions
Heat oven to 400°F.
Drizzle oil over mushroom caps and roast in oven until tender, about 10 minutes.
Place 2 mushroom caps on a dinner plate and layer with spinach, tomatoes, mozzarella, and basil and drizzle with oil and vinegar.
Garnish with avocado slices.
The Fresh 20 https://www.thefresh20.com/
The Recipe Diary is presented each week for The Fresh 20 members. If you'd like more information on becoming a member, click here for a free sample meal plan.