Welcome to The Fresh 20 Recipe Diary!
This week's recipe: SPRING VEGETABLE PANZANELLA SALAD
ORIGINS: A summertime staple in Tuscany, the panzanella salad was originally a humble dish designed to use up the stale bread and abundant tomatoes farmers had on hand. Bread was soaked in water to soften it and then mixed with tomatoes, olive oil, and vinegar. This created an easy dish that required no heating of the kitchen in the hot summertime months and the economical use of on-hand ingredients.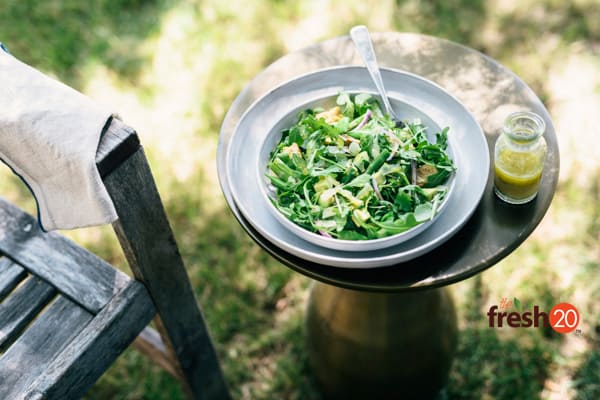 KEY INGREDIENTS:
Bread – As the star of the salad, bread is very important to this recipe! Be sure to choose a substantial, rustic bakery loaf with a good crisp crust and chewy interior. We recommend whole grain, but sourdough or country white would also be good choices. Because we aren't using stale bread, a quick grilling will dry out the bread, letting it soak up the delicious juices. Don't remove the crust from your bread – it provides a great chewy texture among the other tender ingredients.
Seasonal Vegetables –Because this is a spring panzanella, tomatoes, a traditional ingredient, aren't included. Many of us don't yet have access to beautiful ripe summer tomatoes that the salad needs. However, asparagus, snap peas, onion, and avocado are readily available and when combined with amazing bread, make this recipe simply delicious.
Dressing – Traditional panzanella salads are dressed simply with olive oil, vinegar, and salt. Our springtime version adds a bit of honey and mustard to create a light vinaigrette that adds flavor without overpowering the ingredients.
RECIPE NOTES: The key to a successful panzanella is the melding of many simple flavors into one masterful salad. You must let the salad sit before serving, at least 10 minutes, more if possible. Feel free to be creative with ingredients – change the type of bread and vegetables to make a dish that captures your family's favorite flavors.
[yumprint-recipe id='26']
Next Week: Beef Pad Thai
The Recipe Diary is presented each week for The Fresh 20 members. If you'd like more information on becoming a member, click HERE for a free sample meal plan.