Fish wins for turning up more noses than any other food. Skipping fish can increase the risk of cardiovascular disease. The American Heart Association recommends eating fish at least two times a week. There are so many nutritional benefits, it pays to fight through a fish aversion at the dinner table. Take the challenge and try fish as a healthy addition to taco night!
For today's challenge…
Eat Seafood for Dinner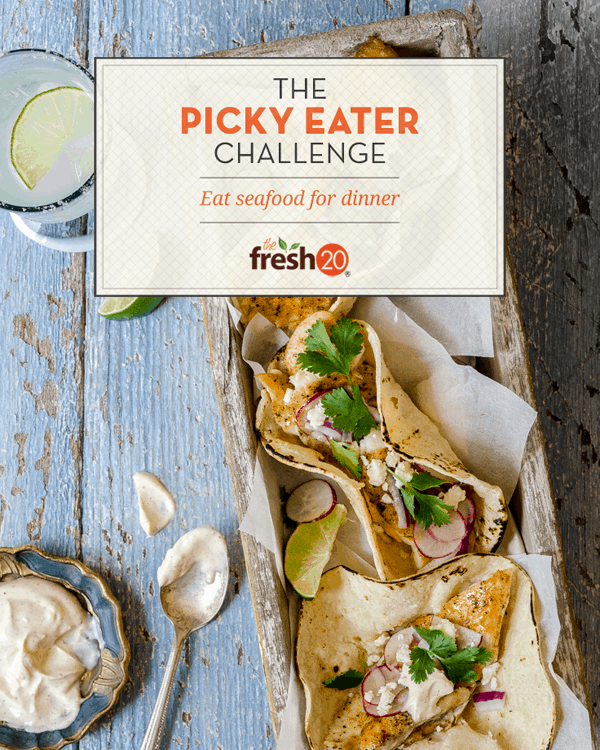 Print
Description
In my kitchen, tacos are like pasta. Flexible. This recipe is just one of a hundred different ways you can fix them. Most families enjoy the ease and simplicity of a good taco night. Buy a thick piece of fish and cut it into uniform pieces that will cook evenly, without dry- ing out. You can use the DIY Corn Tortillas on pages 105–6 or store-bought tortillas.
---
for the fish

11⁄4

pounds skinless fish fillets (any variety), 1 inch thick

3⁄4 teaspoon

kosher salt 1⁄2 teaspoon black pepper 1⁄2 teaspoon sweet paprika 2 Tablespoons olive oil
for the beans
Two

15

-ounce cans cannellini beans, rinsed and drained

1⁄2 teaspoon

sweet paprika 1⁄4 teaspoon kosher salt
for the tacos

8

corn tortillas, 6-inch size

1⁄4

red onion, thinly sliced

5

medium radishes, thinly sliced

1⁄2 cup

fresh cilantro leaves

1 cup

low-fat plain Greek yogurt

2

limes, cut into wedges

1

avocado, sliced
---
Instructions
for the fish
1. Rinse the fish fillets and pat dry. Season with the salt, pepper, and paprika.
2. Heat a large skillet over medium-high heat and add the oil. Once the oil sizzles, add the fish and cook for 2 minutes or so per side, depending on thickness; be careful not to overcook the fish.
for the beans
Meanwhile, combine the beans, paprika, and salt in a medium saucepan and bring to a simmer over medium heat.
for the tacos
1. Wrap the tortillas in a paper towel and heat in the microwave for 20 to 30 seconds.
2. Set out the red onion, radishes, cilantro, yogurt, limes, avocado, beans, and salsa, along with the fish and tortillas, and have each person assemble their own tacos. Serve with the limeade (see opposite).