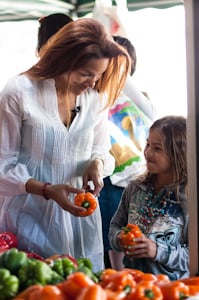 With summer comes the abundance of fresh, local produce at farmers' markets across the country. But how do you find the closest? We've pulled together some fabulous resources to help you plan out your next, or even your very first, trip to the farmers' market. We'll also touch base on how to find a local co-op so you can purchase on a regular basis throughout the year and not just during market season.
FINDING A FARMERS' MARKET
My first experience with a farmers' market came via word of mouth. Still a fabulous method of advertising for many, but what if your friends and family aren't shopping at a market either? Take a walk along the streets of your town's downtown area – flyers can be found in shop windows for a variety of events, including the farmer's market.
If you still haven't found one, check online! LocalHarvest.org is the go-to resource for all things fresh and local. You can narrow down what you are searching for – farmers' markets, co-ops, CSA's, farms, grocers, and even restaurants that purchase local foods!
Another resource for finding a market near you is to turn to your smartphone. The app, Locavore, can help you find local produce that's in season and where to purchase. I haven't fully explored this app, but it seems like it could be a good, free resource.
The USDA also maintains a website of listings for you to search and browse. Both websites shared let you search by location, so look for what's close to home, close to family, even close to your vacation destination!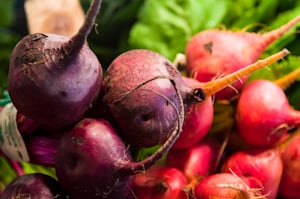 HAVING FUN AT THE MARKET
Farmers' markets are perfect family outings. While you browse, you can take the time to introduce new foods and new colors to young children. You can also involve them – let them carry a small reusable shopping bag and be in charge of carrying the salad greens! Many farmers' love to talk about their gardens and fields, so see what information they can share with you and your family. Farmers' markets, co-ops, and local farms are also great for capturing photos. Whether it's piles of sweet corn, or vine-ripened tomatoes, or your young child taking a bite of a fresh strawberry, you can capture those moments to share with everyone.
SPREAD THE WORD
Remember how I said my first trip to the market came via word of mouth? Do your part and spread the word to your friends and family! See if your market/co-op/grocery/farm has a Facebook check-in, and utilize that to notify your friends of where you are! Share your photos to your page ad make sure to share where you took them. Find out how you can put a sign in your yard. My local market is only in it's second year of business, so they have yard signs available for anyone willing to stick one in the ground! It's a great way to show your support!
How long have you been shopping locally? How did you learn about your local market/co-op/farm/etc?
– written by Mandi Welbaum of The Fresh 20