It's not a normal Friday. Schools are closing, every other email is a cancellation, and social media is buzzing with images of empty grocery store shelves. We're all struggling to adapt to this chaos, maintain our health, and prepare ourselves.
Meal planning has always given me calm and control in moments when I feel overwhelmed, and again I find myself turning to preparing food as my comfort zone.


A Guide to Stocking Your Pantry for Emergencies
We've put together a guide to stocking your pantry with a 2-month emergency food supply. This is simply a jumping off point for your family. Use it as a guide and customize as needed. If your local stores are missing some of these items, we can recommend ordering through Thrive Market.
Eat well and plan for health!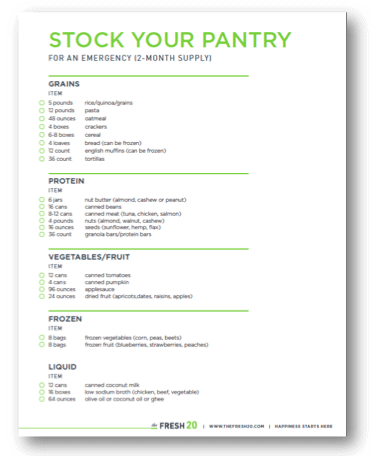 Emergency Non-Perishable and Frozen Food List
When stocking your pantry for an emergency, think of the 5 food groups and how you can maintain those in your diet with shelf stable and frozen foods, with a focus on whole ingredients instead of processed items like pizzas and microwave dinners.
The Fresh 20 list includes grains, proteins, vegetables and fruits, some frozen items and liquids to maintain your health in the midst of a crisis.

Do you want to try our FREE
20 ingredient meal plans?
Do you have a plan? For a limited time, our meal plans are on sale. Use Promo Code: COOK20 for 30% off your meal plan.
CLICK HERE to choose a plan.
Annual members have access to a searchable archive so they can find plans including what they have in stock.