The Fresh 20 is excited to be a part of #realfoodholiday, a virtual progressive holiday dinner created for you by some of the industry's best food and lifestyle bloggers. Enjoy this next stop – Apple Crumble from The Fresh 20 Thanksgiving Menu!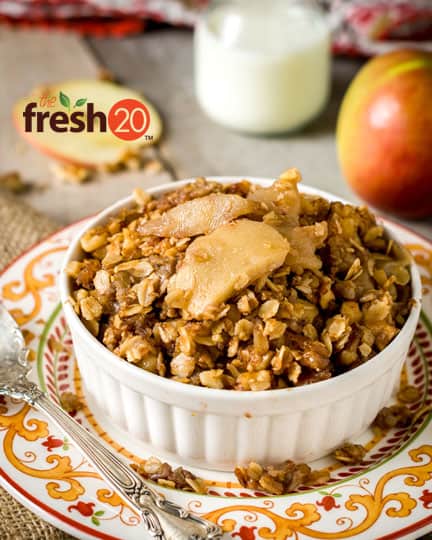 Nothing says holiday more than the tantalizing aroma of apples and cinnamon drifting from your kitchen.What makes our Apple Crumble recipe so special? Other than the divine taste, it is simple, healthy, and transforms a few simple pantry items into something fit for a holiday celebration. The combination of tender sweet apple filling with the toasted crunch of oats and walnuts will please young and old alike. Banish the store bought pie – we're sure that after one bite this will become a regular at your holiday table.
Leftovers (if there are any) are even better the next day.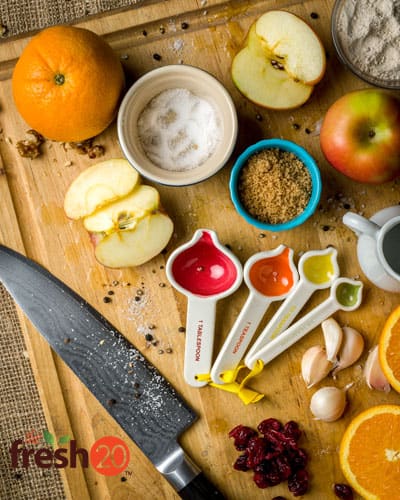 RECIPE
THANKSGIVING APPLE CRUMBLE

FOR FILLING
5 apples (we use Gala), peeled, cored, and thinly sliced
2 Tablespoons white whole wheat flour
2 Tablespoons freshly squeezed orange juice
A pinch of orange zest
¼ teaspoon ground cinnamon
6 Tablespoons brown sugar
2 Tablespoons butter, diced into cubes
¼ teaspoon salt
FOR CRUMBLE
1 cup rolled oats
5 Tablespoons cold butter, diced into small cubes
¾ cup chopped walnuts
¼ cup brown sugar
1½ Tablespoons white whole wheat flour
¼ teaspoon ground cinnamon
¼ teaspoon salt
DIRECTIONS
Combine all the ingredients for the filling together in a large prep bowl until well incorporated.
Mix all the ingredients for the crumble together in another large prep bowl until just well incorporated. Don't over knead the butter into the mixture.
Pour sliced apple mixture into an ovenproof baking dish. Spread crumble mixture on top of the apples in an even layer. Bake for 45-50 minutes at 350°F.
Remove from oven and allow to cool for 5-10 minutes before serving.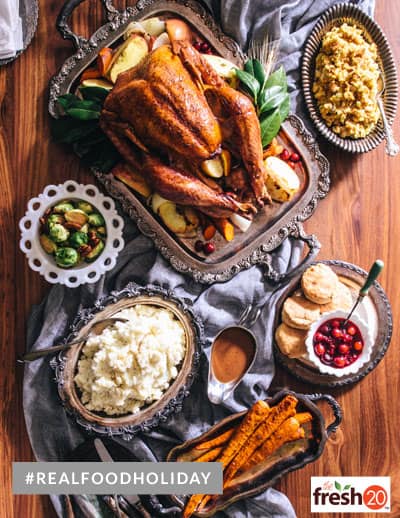 Looking for more Thanksgiving dinner ideas? Check out the complete #realfoodholiday Thanksgiving by visiting these healthy, happy bloggers.
Our meal plan members get our 20 ingredient, unprocessed Thanksgiving e-books (classic and vegetarian) for free with their subscription. Our full color Thanksgiving is also available for purchase. More Info