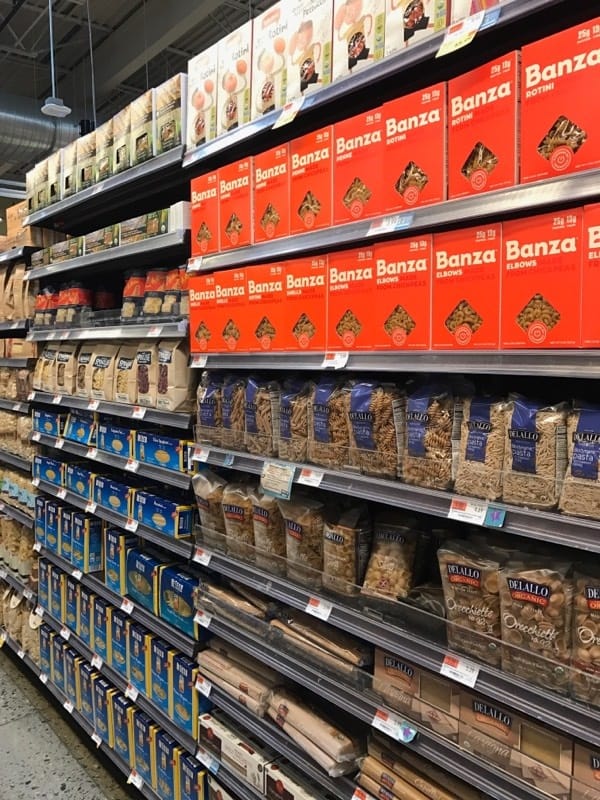 There was a time when we were kind of "meh" about gluten free pasta. It was typically a sticky combination of processed white rice and corn. If we were lucky, it had a trace of brown rice but that created a gummy, rather unpleasant texture and even whole brown rice pasta falls short nutritionally.
As an alternate to these gluten free pasta options, we often relied on gluten free grains such as whole brown rice, quinoa or millet or got creative with veggie noodles made from spiralized zucchini, butternut squash, beets or carrots. While these made for amazing recipes, sometimes we just want pasta because nothing marries better with a homemade pesto or a Fresh 20 turkey meatball (see below).
Recently we have noticed a bit of a gluten free pasta revolution and, as a dietitian, much as I find it cliché to sing the praises of my beloved beans, it works so well. Thanks to beans, gluten free pastas now boast a nutrition profile with double the protein and four-times the fiber of its refined flour counterparts and just as important, the taste and texture are so pleasant, you might not even notice your pasta contains legumes. Give it a whirl picky-pasta friends and let us know what you think.
If you are looking for a grain-based gluten free pasta, whole brown rice or quinoa pasta are the best of the grain-based gluten free pasta options from a nutrition perspective with about 4gm each of protein and fiber.
As with most food items, there are many options on the grocery store shelves and always check the label and ingredients to make sure there are no fillers or other shortcuts that diminish the taste and quality. Another reason to always check the label: not all are gluten free as some are combination of different grains or grain and bean. If you struggle to find these options in your local grocery store, try Thrive Market or The Fresh 20 Store (Amazon)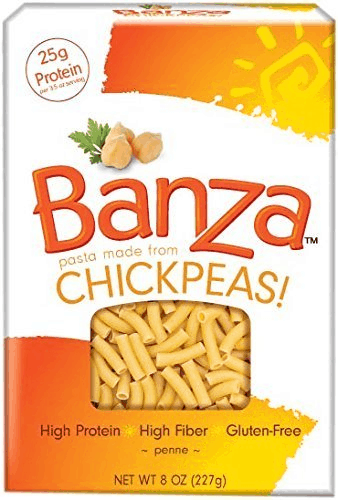 Chickpea Pasta
This pasta pairs well with about any sauce – pesto, hearty meat sauce or light primavera or shrimp all taste great. Of all the legume pasta alternatives, it most closely resembles classic white or wheat. Tip: to keep it clean, stick with buying the pasta and make your own sauce rather than the mac n cheese version.
Average Nutrition (per 2 oz serving):
Calories: 190-200, Protein: 12 – 14g, Fiber: 8g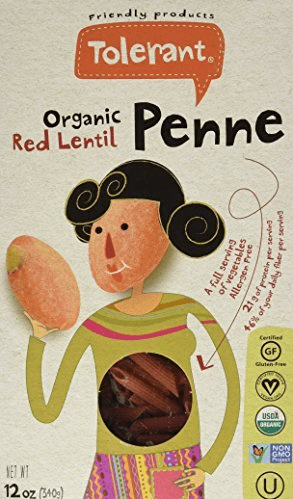 Red Lentil Penne
The color is enticing and this pasta has a nice soft, though slightly less al dente texture than white or wheat pasta. It holds up well to most sauce, though it might lose too much texture in soup or stew.
Average Nutrition (per 2 oz serving):
Calories: 200, Protein, 15g, Fiber: 10-12g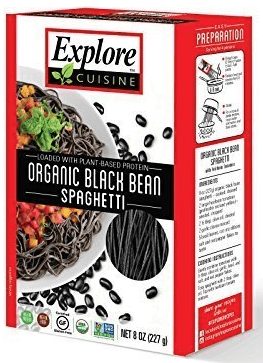 Black Bean Pasta
Black bean pasta has more of a bean taste and is definitely a bit heartier. It is great chilled in a peanut sauce and holds up well to a hearty chicken or meat sauce as well. If you like a bit of a bite, black bean pasta is definitely a great choice.
Average Nutrition (per 2 oz serving):
Calories: 200, Protein: 18-25g, Fiber: 12g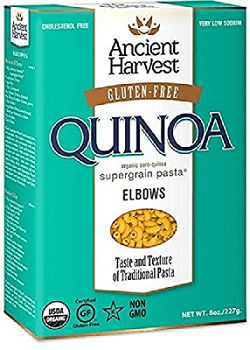 Quinoa Pasta
Quinoa-based pastas are usually easy to find on most grocery store shelves. While I have heard complaints that quinoa pasta has a bit of a bitter taste and gritty texture, it also works well in many dishes. Try quinoa elbow pasta, it even holds up well in soup.
Average Nutrition (per 2oz serving):
Calories: 200, Protein: 4gm, Fiber: 4gm
Brown Rice Pasta
Look for an organic, whole grain brown rice pasta. Both the nutrition profile and texture of whole grain is superior. While white rice pasta can be gummy, brown rice pasta is a bit more firm. While the nutrition profile is inferior compared to legume-based pastas, it is generally easier to find and a better option than white noodles for those who need or prefer a gluten-free pasta.
Average Nutrition (per 2oz serving):
190kcal, Protein: 4g, Fiber: 4g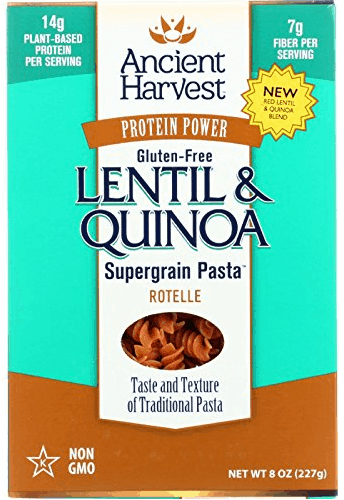 Grain and Bean Combination
Pasta with a grain and bean combination are a great choice and the combination of leagume and grain creates a great texture and flavor. Again, just be sure to assess the label carefully to ensure the product is gluten free.
Average Nutrition (per 2oz serving):
200kcal, Protein: 14g, Fiber: 7g
[yumprint-recipe id='35']