By Olivia Griffiths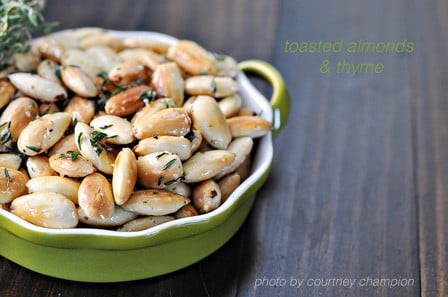 Being a vegetarian at parties is hard, especially when you are simultaneously avoiding meat AND trying to eat healthily. Mushroom puff anyone? Fried Brie? It seems like every nibble that doesn't involve beef or chicken needs to be fried, or covered in cheese, or both. What's a vegetarian merrymaker to do? Take it from someone who's eaten entire meals consisting of Chex Mix and carrot sticks—if you include a few delicious and light veggie appetizers or hors d'oeuvres in your holiday party spread, everyone, even the carnivores, will be merry and bright.
The thing is, yummy vegetarian food is actually not that difficult. Here are some basic ideas to get you started:
Use vegetables in place of the ever-present cracker or puff pastry. Endive, lettuce, anything green and leafy makes a delightful "plate". I once encountered cherry tomatoes, sliced in half and roasted for a few minutes, drizzled in olive oil and topped with fresh basil. I think I ate the entire platter.
Beans are your friend. Healthy, inexpensive, and most of the time no cooking required. Edamame sprinkled with sea salt (just remember a bowl for the discarded pods.) Re-fried beans, mixed with chilies or almost any spices. Pesto mixed with white beans. Straying from the traditional hummus standby, try whole chickpeas mixed with raisins and a little bit of curry powder, or pureed chickpeas with garlic and mint. Tabbouleh is light and really easy to make. All of these can be served as dips for vegetables (try asparagus stalks instead of celery) and all of them are absolutely delicious on crackers of any kind.
Dried fruit. Apricots, cranberries, raisins, dates. They can all sway savory or sweet, and they can spice up (and pretty up) any appetizer.
Go nuts. Almonds, cashews, peanuts, all can be served raw in pretty display bowls, or roasted with honey and spices like cayenne pepper or ginger. Any of the butters, too, can be swirled with honey, or olive oil and herbs, and used as a spread. And never forget how adorable mini PB&J sandwiches can be.
Olives. Marinated with herbs, chopped up and added to a spread or dip, made into a tapenade. Versatile and scarily good.
Vegetables that aren't "crudités." Peppers, sliced tomatoes, zucchini, eggplant, squash…the list goes on. Roast them in the oven, throw some garlic and herbs and olive oil in there. Done.
I think people think "vegetarian" and they immediately go limp broccoli stalks and cream cheese dip. But there are so many other choices available. Once you figure that out, the world is your vegetarian oyster. Don't be afraid to experiment—it's pretty hard to mess vegetables and beans up. I guarantee that almost anything you come up with will be delicious. Think outside the Meat Locker. Everyone will thank you.
Toasted Almonds with Thyme
2 cups whole blanched almonds (about 12 ounces)
1 1/2 tablespoons olive oil
2 tablespoons fresh thyme leaves
1 teaspoon sea salt
Preheat oven to 350 degrees. Spread the almonds in a single layer on a foil lined baking sheet. Toast until golden, about 15 minutes. Let cool completely, then toss in a bowl with olive oil, thyme, and salt, until well coated.
Tabbouleh
1/2 cup bulgar wheat
3 tablespoons olive oil
1 cup boiling water
2 cups chopped flat-leaf parsley
1/2 cup chopped mint leaves
2 medium tomatoes, finely chopped (or grape or cherry, cut in half or quarters)
1/2 cucumber, peeled and chopped
3 tablespoons lemon juice
3/4 teaspoon salt
1/4 teaspoon pepper
Stir together bulgur and 1 tablespoon olive oil in a heatproof bowl. Pour boiling water over bulgar, cover bowl tightly with plastic wrap and let stand 15 minute. Drain in a sieve, squeezing bulgur to remove excess liquid. Transfer bulgur to a bowl and toss with remaining ingredients, including 2 tablespoons olive oil. Serve warm or chilled.
DO YOU HAVE A VEGETARIAN PARTY FOOD FAVORITE?