Back To School Lunch
Poor sandwiches. Is it just me or have sandwiches suddenly been moved out of the spotlight when it comes to back-to-school lunch? With the freshest ingredients and assembled properly, a simple sandwich can become an incredibly delicious, satisfying and balanced lunch. It's been a staple meal for hundreds of years because it's a complete, balanced and portable meal.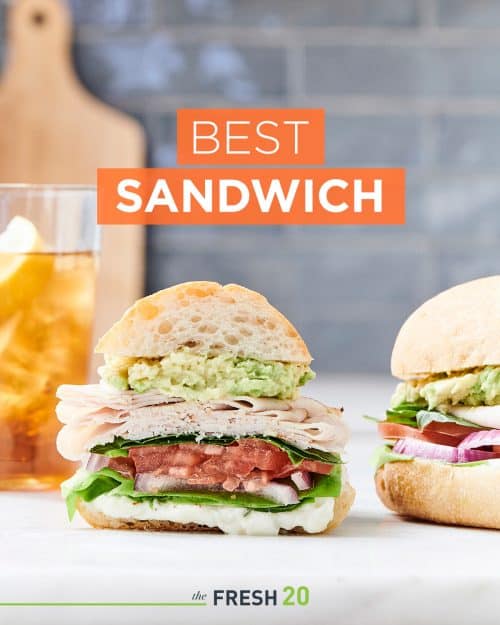 With layers of flavors and textures, a serving each of protein, carbohydrates, vegetables, fruit (tomato) and dairy, a basic sandwich hits all the marks for nutrition. And best of all, it's easy.
The World's Best Sandwich
…at least that's what my family calls it! There's no special sauce on this sandwich that makes it 'the world's best.' The real secret is the freshest, most flavorful ingredients and complimentary textures. Starting with the bread. Oh, bread, how I love thee. Coated with a flaky crust, and offering up that soul satisfying warm, yeast smell, bread is one of life's most simple pleasures.
I deviate from classic hard cheeses like cheddar or swiss for a creamier burrata or ricotta because it does double duty as a spread and a cheese. The same goes for a ripe avocado. These are your creamy, buttery textures. Building up from there, the large leaves of butter lettuce stay put and add a soft crunch, followed by a crisp red onion. and juicy tomatoes. Keeping the tomatoes in the middle helps avoid soggy bread, if you're going to pack your sandwich for later.
Choosing deli meat
And deli meat. There is a HUGE range of quality when it comes to deli meat. Always (always) visit the deli counter for your sandwich meats. Though more expensive, these options have fewer preservatives, and in many cases, no fillers. Ask your deli clerk for recommendations and sample the options to ensure you are happy with your selection.
Do you want to try our FREE
20 ingredient meal plans?
If you make this recipe, we'd love to see it on Instagram! Just use the hashtag #THEFRESH20 so we can see what's cooking in your kitchen.
Print
Italian Roll
Roasted turkey
Butter lettuce
Red oinion
Ricotta or Burata
Avocado
Tomato
Basil
Olive oil
Balsamic vinegar
Spices: Salt, Black Pepper, Oregano
---