Eggplant is often given the bad reputation of things that make you go "yuck". For centuries is was treated with disdain as many believed it caused insanity. Poor eggplant. Don't believe the hype. Eggplant is a boss vegetable with plenty of nutritional benefits including antioxidants and cell health. For today's challenge, we invite you to give it another shot.
People that dislike eggplant often complain that the texture is slimy and the taste slightly bitter. There are dozens of ways to get rid of both and still enjoy this meaty vegetable. The point of a challenge is that it might feel uncomfortable. Try and have fun with the meal and let your imagination take over.
Try Another Way of Cooking Eggplant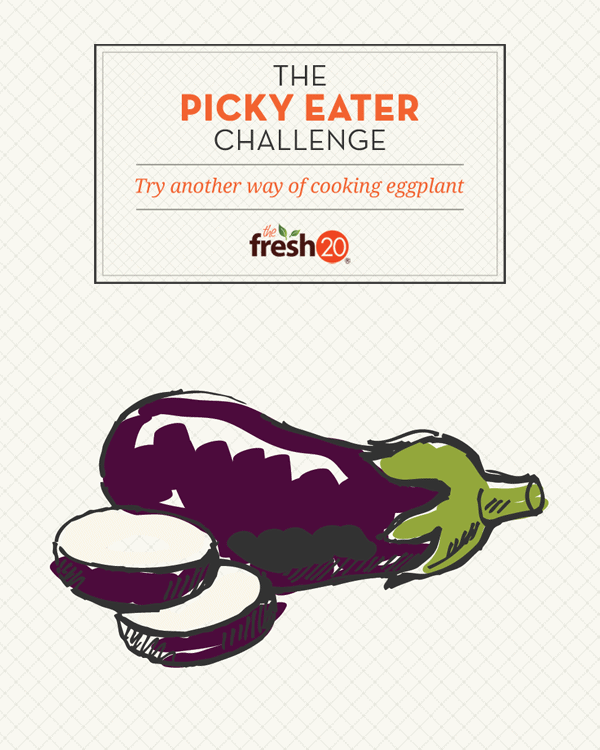 I love this simple baba ganoush dip as a meal starter.
Print
1 Tablespoon

olive oil

1

large Japanese eggplant, ends trimmed

1

garlic clove, minced or pressed

1⁄4 teaspoon

kosher salt

1⁄4

bunch fresh flat-leaf parsley, finely chopped, long stems removed

2 Tablespoons

tahini or

1/3 cup

pulverized sesame seeds

2 Tablespoons

fresh lemon juice
---
Instructions
Preheat an outdoor grill. Brush the grill with the olive oil to prevent sticking.
Grill the eggplant whole, turning occasionally, for 10 to 15 minutes. If the skin gets a little burned, it is perfectly fine. Let the eggplant cool.
Cut the eggplant lengthwise in half. Scoop the flesh into a food processor and puree until smooth. Add the garlic, salt, parsley, and tahini and pulse to combine. Add the lemon juice a teaspoon at a time, tasting after each addition, until the desired tang is achieved. Transfer to a serving bowl. Refrigerate until ready to serve.
Some favorite recipes for trying eggplant!
Skinny Tastes Baked Eggplant Sticks
Food Republic's 5 Easy Eggplant Dishes
David Leite's Rigatoni with Tomatoes and Eggplant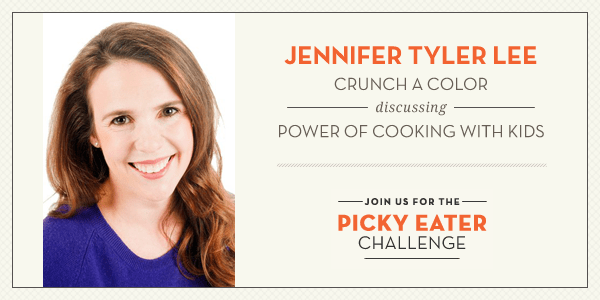 Jennifer Tyler Lee is the author of The 52 New Foods Challenge, Creator of Crunch a Color® and is on a mission to end battles over broccoli and help busy parents have fun at the family table!
Jamie Oliver's Food Revolution said this about Jennifer: "A mom and genius game creator helping kids eat fresh food!" — so, she's the expert we chose to talk about the power of cooking with kids for The Picky Eater Challenge. She's a wealth of information!
Her book, The 52 New Foods Challenge: A Family Cooking Adventure for Each Week of the Year, is a week-by-week guide that makes it easy to cook together as a family—one new food each week. 150 simple, delicious recipes and advice from nationally acclaimed nutrition experts, shows parents how to enjoy mealtimes, plant the seeds of change at their family table, and easily incorporate healthy habits every day of the year.
Her award-winning series of crunchacolor.com offers healthy eating games. Started from her kitchen table in the fall of 2011, Crunch a Color was named one of Dr. Toy's "10 Best" in 2011 and 2012.
She is a featured blogger at The Huffington Post and is a contributor to the James Beard Award-Winning magazine, Edible.
TODAY'S CHALLENGE "TWEETABLE"
"If at first you dislike, try again. And again. And again. ~ Jennifer Tyler Lee, @crunchacolor #pickyeatertips"
And don't forget to check out our daily Instagram contest for a chance to win great prizes!