Kitchen Goals
I often hear about how disorganized refrigerators and pantries can become. I can empathize. One of the major factors that led me to start The Fresh 20 was feeling like my kitchen was chaos. Too many gadgets. Too many random items in the fridge. I knew I needed to edit my pantry, countertops and refrigerator using a system that would allow me to see what I have, only purchase necessary items, and make full use of every ingredient. Part of that is organization, and part of it is smart planning about what I purchase and how I store it.
These few steps will leave your kitchen feeling fresh again.
1. FRIDGE PURGE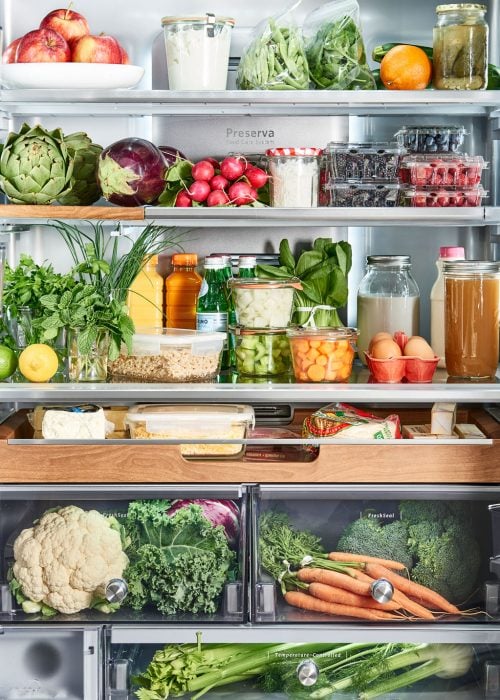 No one's fridge looks this clean all the time. I'm not sure mine has ever looked this clean. I cook and my fridge is messy but I do like to clean out the fridge every 6 months.
When I can't stand it anymore, everything in the fridge gets thrown away! Everything! Old ketchup, specialty mustard that no longer has a purpose, soy sauce, ancient taco sauce and my personal favorite, last summer's pickles. Fridge purge is a healthy process. It sheds away the heavy, unwanted burden of fridge clutter and gives any kitchen a facelift. Also, you can help fight bacteria and cross contamination of meats and vegetables by cleaning out the fridge every once and a while! Once it's empty, I wipe it down inside and strategize where each type of item will go back in based on how often it's used. I also arrange items shortest in front to tallest in back.
2. PANTRY CLEAN OUT:
There are several items sitting in your pantry right now that you will never use. There are others that I plead you not to use. Top Ramen packets come to mind. Without looking, make a mental list of all of the ingredients you have used in the last couple of months.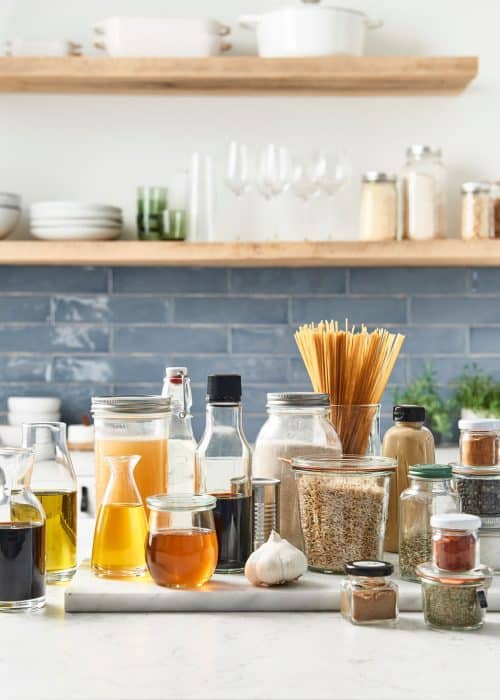 Now look through the pantry/cupboard and remove anything that didn't appear in the mental list. If you have an exotic spice rub from a gift basket two years ago, trust me, you are not going to get around to it. Same goes for that weird barbecue sauce that has no origin.
Clear the shelves for vibrant, quality ingredients that you use often. I typically keep 20 pantry staples that I can use as building blocks for meals. Along with a few healthy snacks for my teens, this is how I keep a minimalist pantry.
Get rid of 2 year old spices and dried herbs. They may look fine, but the flavor is gone. Flavored oils have a shorter shelf life than raw oils. Check for expiration and get rid of anything that has been opened longer than six months. Donate the rest (unopened and unexpired) to a food bank.
3. UTENSIL DRAWER EDIT: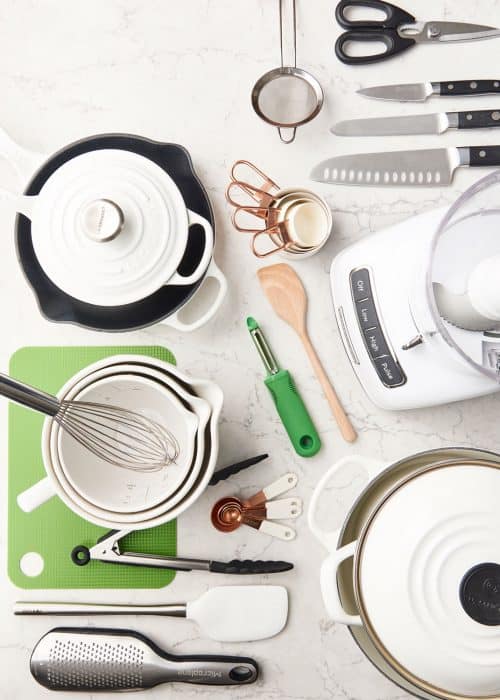 Keeping a tidy utensil drawer is no easy task. To start, choose a few key areas closest to your stove, like the nearest drawer and a spot on the counter for a utensil holder. Use the countertop holder as a catch-all for a set of tongs and a few of your most used spatulas and wooden spoons so they're within easy reach for daily cooking. In the drawer, tuck away other large cooking utensils like a pasta claw, soup ladle, larger tongs, and additional spoons.
If you have extra space, choose a drawer under your largest area of counter space for prep items like measuring spoons and cups, garlic press, cherry pitter, avocado slicer, etc. Also, I'm a big advocate for magnetic knife strips. They feel cleaner than blocks. Either way, it's best not to throw knives in a drawer, so choose a space close-by on your counter or wall for strip or block. You don't want to reach into a drawer and come up against a hidden knife.
Under that prep utensil drawer, store all of your cutting boards and prep bowls so they are all within reach. I also like to keep a lazy susan for my most used spices, oils and honey/maple syrup in the cabinet just above this prep area.
TIME TO GET ORGANIZED!
Is it time to clean out your kitchen? I'd love to know what crazy items you have lurking in you fridge or pantry! Leave a comment and fess up! What's headed for the trash?
Do you want to try our FREE
20 ingredient meal plans?