Featured Meal from the April 28th Meal Plan: Caponata Fish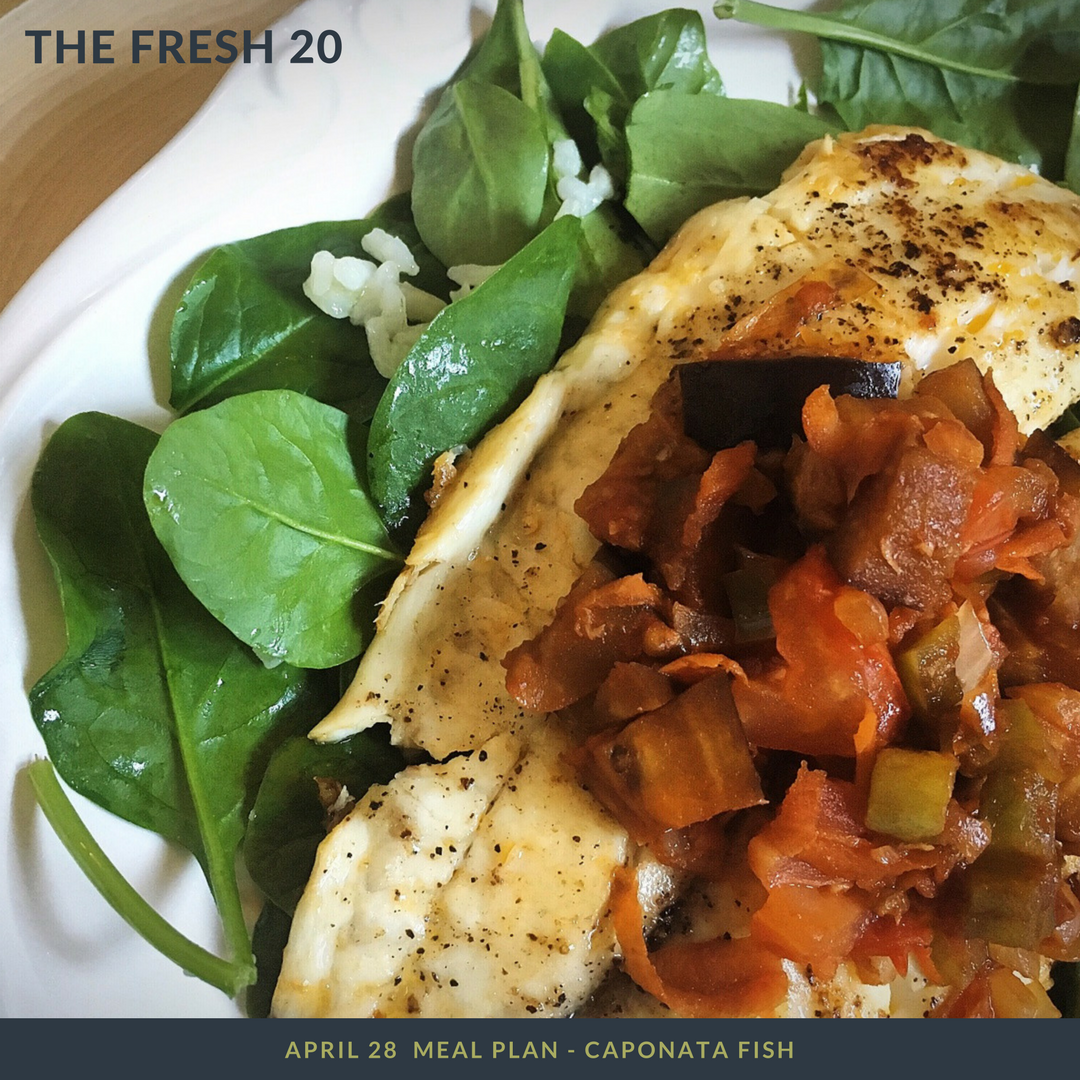 FEATURED INGREDIENT: EGGPLANT
No doubt you've seen beautiful shiny purple eggplant in your market and thought "What do I do with that?" Cooked improperly, eggplant can be mushy and bitter, but cooked properly they become the perfect complement to whatever they're paired with. On their own, eggplant tastes like a mild summer squash, but the rind can be bitter and should be removed. Smaller eggplants are the most tender and sweet, so choose two small instead of one large if need be. Freshly picked eggplant will be deep purple with smooth glossy skin and a bright green stem. Once home store in the refrigerator for 3-4 days max, eggplant becomes bitter and mushy when past its prime.
Caponata Fish
2017-04-28 10:07:23
Serves 4
Ingredients
1½ Tablespoons olive oil
1 yellow onion, diced (1 cup)
2 cloves garlic, minced
2 carrots, shredded (⅔ cup)
1 small eggplant, diced small (4½
cups)
2 bell peppers, diced small (2 cups)
6 tomatoes, chopped (4¼ cups)
2 Tablespoons chopped green olives
dash of black pepper
1 Tablespoon tomato paste
1 Tablespoon maple syrup
2 Tablespoons balsamic vinegar
1¼ pounds white fish fillets
½ cup low-sodium chicken broth
8 ounces spinach (6 cups)
3 cups cooked whole wheat orzo,
warmed
Instructions
1. Heat a large non-stick skillet over medium heat and add oil.
2. When oil is hot, add onion and garlic and cook for 1 minute,
then add carrot, eggplant, and bell pepper and cook for 3-4
minutes.
3. Add the tomatoes, olives, black pepper, tomato paste, syrup,
and balsamic vinegar and cook for about 3-4 minutes.
4. Remove half and save for Meal #3 - Turkey Fauxletta*
5. Add in fish fillets and broth and simmer for about 5-8 minutes
until fish is done.
6. Serve on bed of spinach with orzo.
Notes
* If you do not subscribe to our meal plans and/or don't plan to make meal #3, only make 1/2 the amount of caponata
The Fresh 20 https://www.thefresh20.com/