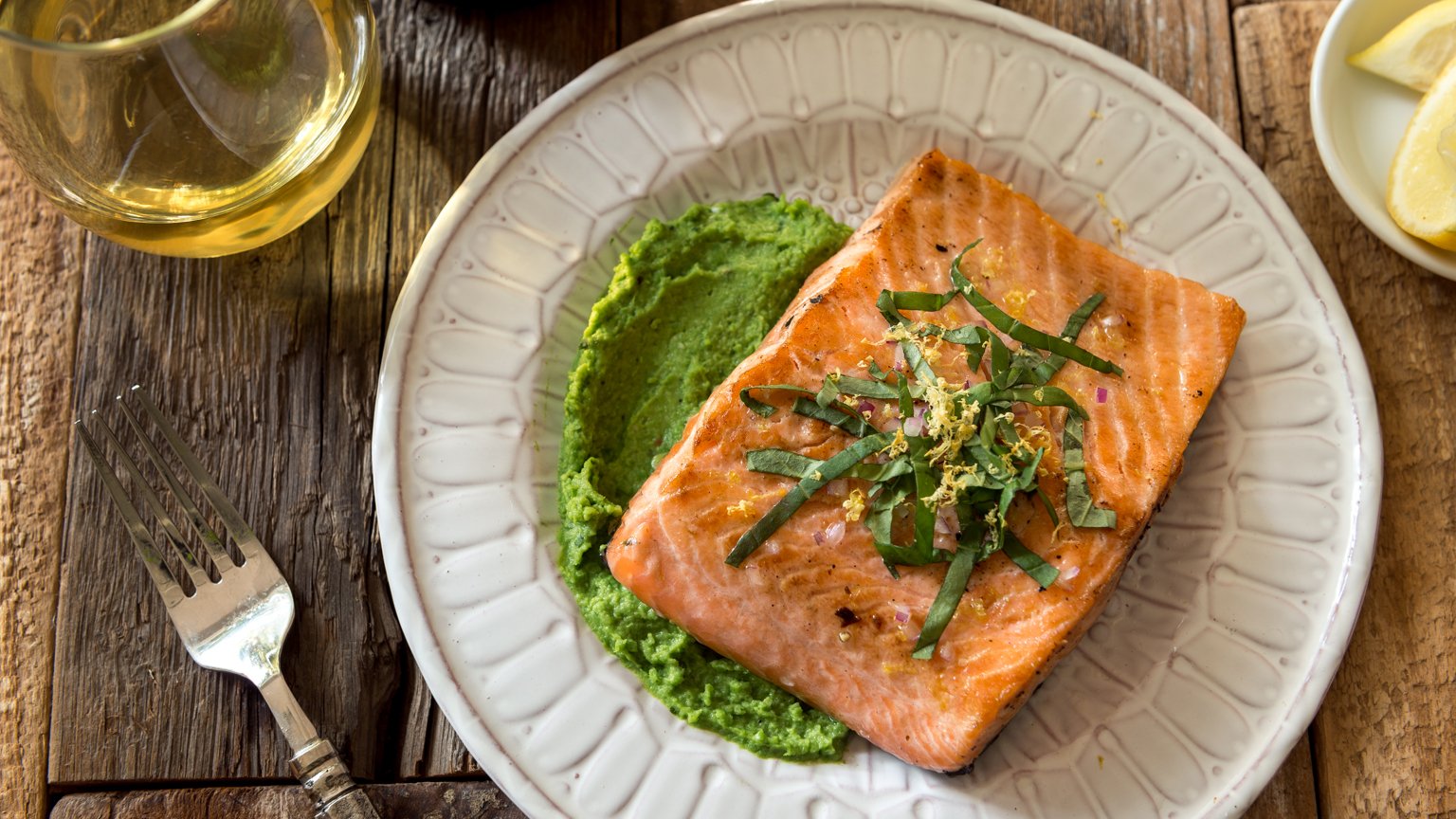 Every time I make this dish I get compliments. You don't have to over think grilled salmon, but it's important to not over cook the fish. If you have been struggling with getting kids to eat peas, this is your solution.
GRILLED LEMON SALMON
side: pea puree
PREP: 15 minutes
COOK: 20 minutes
YIELD: 4 servings
INGREDIENTS
For grilled lemon salmon
1 Tablespoon olive oil
3 Tablespoons very finely minced or grated red onion
1 lemon, zested and juiced
1 cup low sodium chicken broth
¼ teaspoon kosher salt
¼ teaspoon black pepper
For pea puree
2 cups fresh or frozen peas, thawed and at room temperature
¼ cup fresh basil leaves
½ cup grated Parmesan cheese
1 garlic clove, peeled
½ lemon, juiced
½ teaspoon kosher salt
½ teaspoon black pepper
½ cup olive oil
For salmon
4 salmon fillets, about 1 ¼ pounds
Kosher salt & black pepper
1 Tablespoon grapeseed oil
½ lemon
4 whole wheat dinner rolls
For garnish
5 basil leaves, rolled together lengthwise and then cut into thin slices (chiffonade).
DIRECTIONS
For lemon broth
Heat a small sauce pot over low/medium heat and olive oil. Once warm, add in the onions and sweat for about 2 minutes or until they become soft and translucent.
Add in the lemon zest & juice, broth, and salt & pepper, simmer for 10 minutes. Turn off the heat and keep warm.
For pea puree
In the bowl of a food processor, combine the peas, basil leaves, parmesan cheese, garlic, lemon juice, and salt & pepper – pulse until combined.
Turn on processor to a steady speed and drizzle in olive oil until smooth, about 2-3 minutes.
For salmon
Lay salmon out onto a flat surface and season each side generously with salt & pepper.
Heat a large nonstick sauté pan over medium/high heat and add grapeseed oil. Once oil is hot (almost smoking), add in salmon. Cook on the first side 3-4 minutes or until a nice golden brown crust forms, flip to other side, reduce heat to low/medium, and continue to cook for 3-4 minutes longer.
Squeeze fresh lemon juice over the top.
Divide the lemon broth into 4 shallow bowls and sprinkle with basil chiffonade. Scoop a large spoonful of pea puree into each bowl and top with a salmon fillet. Serve with whole wheat dinner rolls.