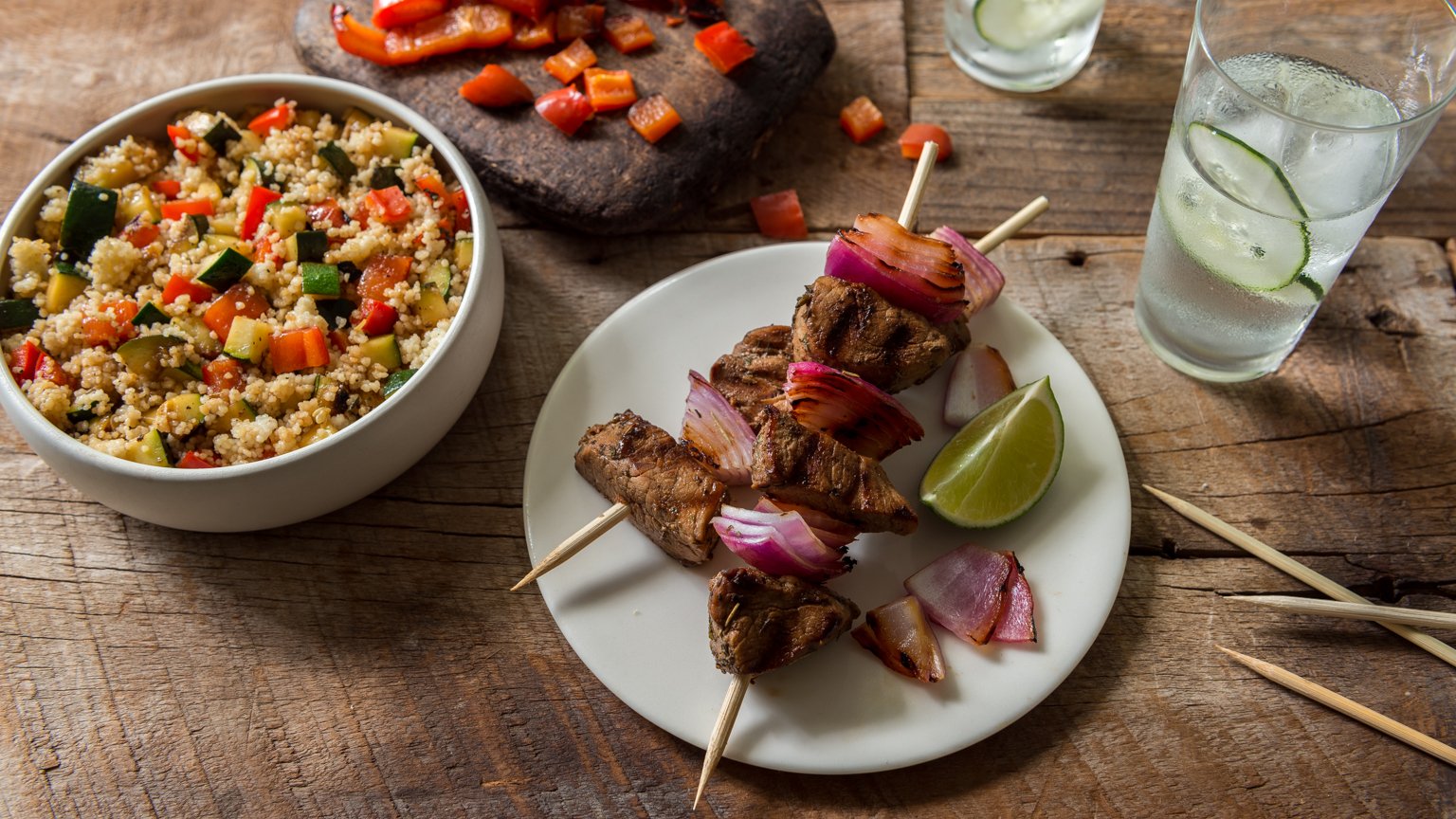 Grilled onions and marinated pork tenderloin are all you need for a great kebab. Don't worry if you don't have skewers, the cubed meat can be cooked directly on the grill. The key to success is slow cooking over medium heat.
PORK KEBABS
side: grilled vegetable couscous
PREP: 10 minutes
COOK: 20 minutes
YIELD: 4 servings
MAKE AHEAD
1 pound marinated pork (cubed) * See Meal #1 for recipe
Cut vegetables: onion, zucchini, bell pepper
INGREDIENTS
For pork kebabs
8 wooden skewers
1 pound marinated pork, cut into large bite sized pieces * see Meal #1 for recipe
1 medium red onion, cut into eighths for kebobs
For grilled vegetable couscous
1 medium green Italian zucchini, root end trimmed, cut in half
1 red bell pepper, stem removed and cut in half
1 teaspoon grapeseed oil
1 teaspoon dried oregano
2 Tablespoons extra virgin olive oil
1 Tablespoon balsamic vinegar
½ teaspoon kosher salt
¼ teaspoon black pepper
1½ cups of low sodium chicken broth
1 Tablespoon of extra virgin olive oil
1 cup dry couscous
DIRECTIONS
For pork kebabs
Soak 8 wooden skewers in cold water- set aside.
Heat outdoor grill.
Remove pork from marinade and discard any remaining liquid. Skewer the pork pieces evenly onto 8 skewers alternating with onion.
Place the skewers onto the preheated grill and cook for about 3-4 minutes per side, rotating often so they don't burn. Be careful not to overcook, the pork isn't high in fat so it will dry out quickly if overcooked.
Lightly brush zucchini and red bell pepper with grapeseed oil and grill alongside the kebobs until charred and slightly softened.
Cooking indoors? Preheat your oven to 450 degrees and place kebobs and vegetables onto a foil lined baking sheet, cook for 12-18 minutes, turning after 10.
For grilled vegetable couscous
Cut grilled zucchini and red pepper into small, bite size pieces.
In a large bowl, combine the grilled zucchini, grilled red bell pepper, oregano, olive oil, vinegar, and salt & pepper, stir to combine – set aside.
In a small saucepot with a lid, bring the broth to a boil with the olive oil.
Once boiling, turn off the heat, stir in the couscous, and cover with the lid. Allow the couscous to absorb the liquid, about 7 minutes.
Lightly fluff the couscous with a fork, cool slightly.
Once the couscous is slightly cooled, add it to the large bowl of vegetables and stir to combine.
Serve warm kebobs over couscous.