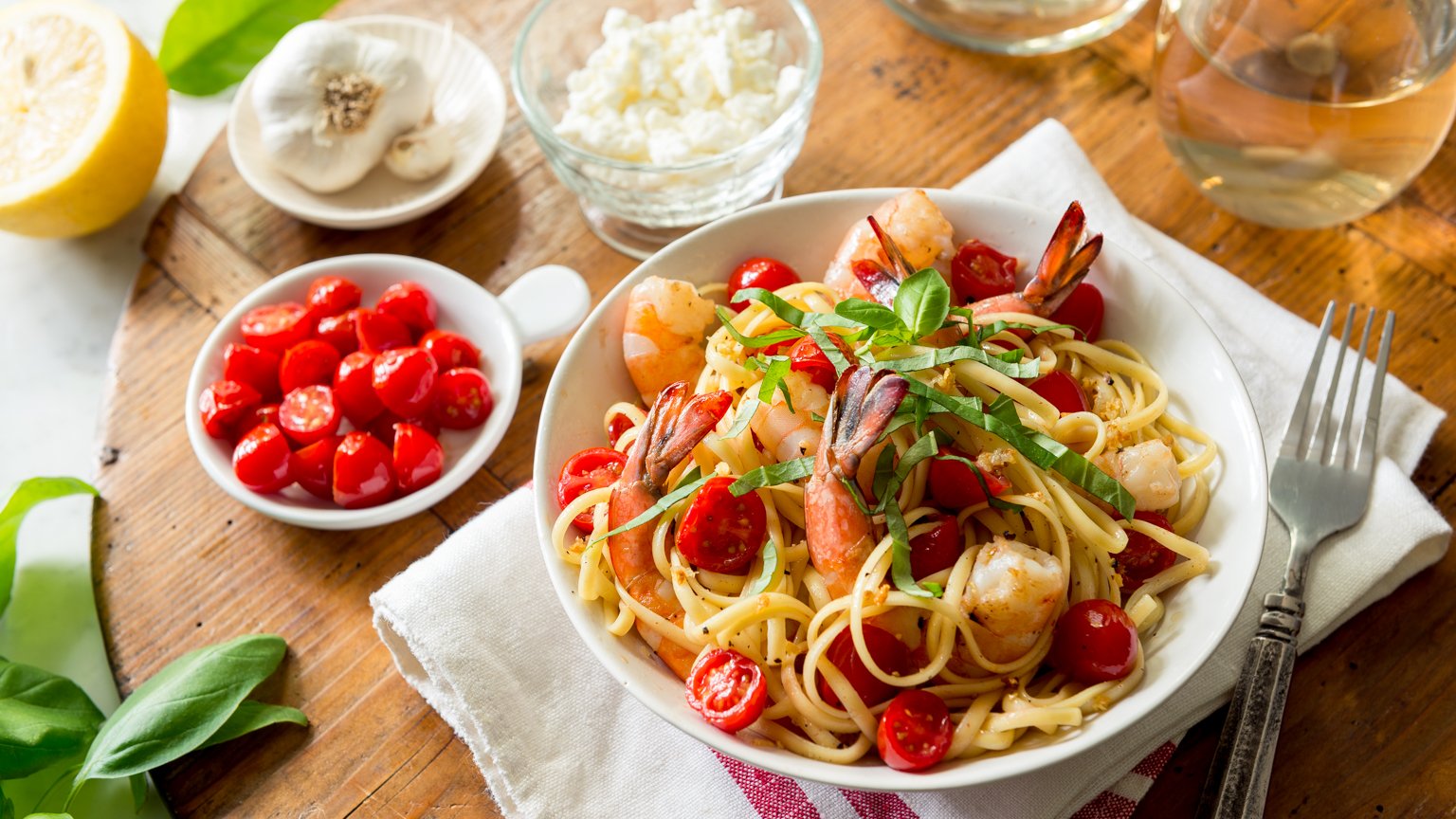 This is my number one go to summer meal. It's light but filling and is a perfect sunset meal. Garden tomatoes make the dish really special.
CITRUS SHRIMP LINGUINE
side: spinach salad
PREP: 10 minutes
COOK: 10 minutes
YIELD: 4 servings
MAKE AHEAD
Pantry dressing (www.thefresh20.com/pantrydressings)
INGREDIENTS
For shrimp scampi
Kosher salt to taste
12 ounces whole wheat linguine
2 Tablespoons olive oil
3 cloves garlic, minced
1 pint cherry tomatoes, cut in half (2 cups)
1 lemon, zested and juiced
1 pound peel-and-eat shrimp
2 Tablespoons unsalted organic butter
2 cups chicken or vegetable broth
½ teaspoon black pepper
¼ cup shaved parmesan cheese
1 Tablespoon fresh parsley, chopped
1 ounce grated feta cheese (¼ cup)
For salad
6 cups baby spinach, washed and towel dried
¼ cup pantry dressing (www.thefresh20.com/pantrydressings)
Kitchen Tip
The key to great pasta is making sure there is enough salt in the water and that the noodles don't get mushy. Al dente translated is "to the tooth," which means the noodles should still have a slight bite to them. I tell my kids if they can split the linguine using just their tongues, then mama overcooked the pasta!
DIRECTIONS
For shrimp scampi
Boil salty water for pasta in a large stockpot.
Cook pasta according to package instructions. Do not overcook.
While pasta is cooking, heat olive oil in a large sauté pan over medium heat. Add minced garlic, sauté for 1 minute.
Add tomatoes and lemon zest and juice. Cook for 2-3 minutes.
Add shrimp and butter. Sauté for 2 minutes.
Add chicken or vegetable broth and let simmer for 2 minutes. Remove from heat.
Drain pasta but do not rinse; add to pan in small batches.
Add black pepper and gently fold in parmesan. Sprinkle with fresh parsley, divide into four bowls, and if desired, top with a small amount of feta cheese.
For salad
Toss spinach with dressing.
Substitutions
Cooked diced chicken can replace shrimp.
Spaghetti can be used instead of linguine.
For low-carb version, serve over a bed of steamed broccoli.