Dessert Alert: Heart Healthy Chocolate Love
In our house, we do our best to celebrate love every day. Every morning, my husband hops out of bed, then brews and serves me morning coffee before my feet even hit the floor. After almost 2 decades of marriage, this simple gesture makes me swoon with adoration and starts my day feeling loved. So when Valentine's Day rolls around, we don't head out on the town for a pre-fixe packed restaurant. We continue our daily dinner routine, together in the kitchen as a family, with a bit of extra indulgence and care.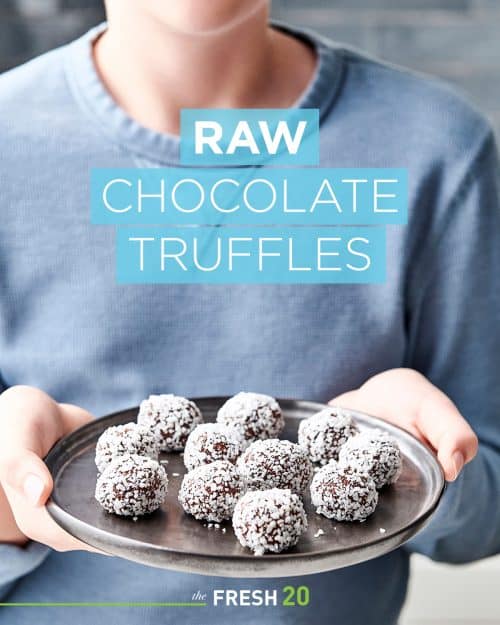 Since it's very likely that Valentine's Day will find you inundated with candy and sweets, my best advice is to stick to quality and indulge in only the good stuff. These homemade truffles by best selling author and celebrity nutritionist Kimberly Snyder are sweet luxury without the guilt.
Homemade Valentine's Day Treats
These vegan chocolate truffles are filled with wholesome ingredients like almonds, honey and coconut that bring sweetness and depth without the processed sugar and artificial flavors that boxed chocolates contain. One serving (4 pieces) of boxed fine assorted chocolates from a popular brand has 32 grams of sugar. That's THIRTY TWO — or nearly 8 teaspoons of sugar. To put that in context, the American Heart Association recommends no more than 37.5 grams for men and 25 grams for women per day.
On a day that's all about hearts, I just can't show my love with a treat that's so very unhealthy for the physical heart. Especially when there are healthy AND delicious, melt in your mouth valentine chocolates that I can easily make at home.
I've been known to freeze them and drop one in my boys' lunch boxes with a little note sealed with a kiss. Or make them for a delicious surprise for when the kids get home and watch after school smiles happen.
Do you want to try our FREE
20 ingredient meal plans?
Homemade Healthy Chocolate Truffle Recipe
For me, Valentine's Day is less about cards and gifts and more about heartfelt sentiments that we all love and are loved. Be good to yourself and those you hold dear. And…eat a healthy raw chocolate treat!
Print
Description
Melt in your mouth chocolate truffles filled with almonds, honey & cacao then topped with coconut
---
2 cups

Ground Raw Almonds (preferably sprouted then dried first)

1/2 cup

Raw Organic Honey

1

Tbs. Organic Coconut Oil

3/4 Cup

Raw Cacao (can be found in most health food stores and at Whole Foods)
Pinch of Celtic sea salt

1 cup

shredded, dried unsweetened coconut flakes
---
Instructions
Combine all the ingredients except for the coconut flakes in a large bowl and mix thoroughly.
Roll up your sleeves, take a small amount of the mixture, and roll small balls between your palms.
Add your love! Dip each ball in a separate smaller bowl containing the coconut flakes.
Freeze overnight to harden the truffles.
"Cacao promotes feelings of love and joy and opens up the energy of the heart chakra," says Kimberly. "It contains the neurotransmitter anandamide known as the 'bliss chemical.'" She adds that it should be an occasional special treat, not something for every day. And what better day than Valentine's Day?
Kimberly's book, The Beauty Detox Foods: Discover the Top 50 Beauty Foods That Will Transform Your Body and Reveal a More Beautiful You, is available for on Amazon
Visit KimberlySnyder.net for more about Kimberly.