Sometimes life doesn't go as planned but soup is always a good idea. I've been building soups from very basic ingredients for years and it's always satisfying in stressful times. And I know some of you may not love all the extra time in the kitchen but YOU GOT THIS!! Like the beloved Remy from Ratatouille, "Anyone can cook!" Follow the step by step guide and warm up the kitchen. For now, I send you wishes of comfort!
.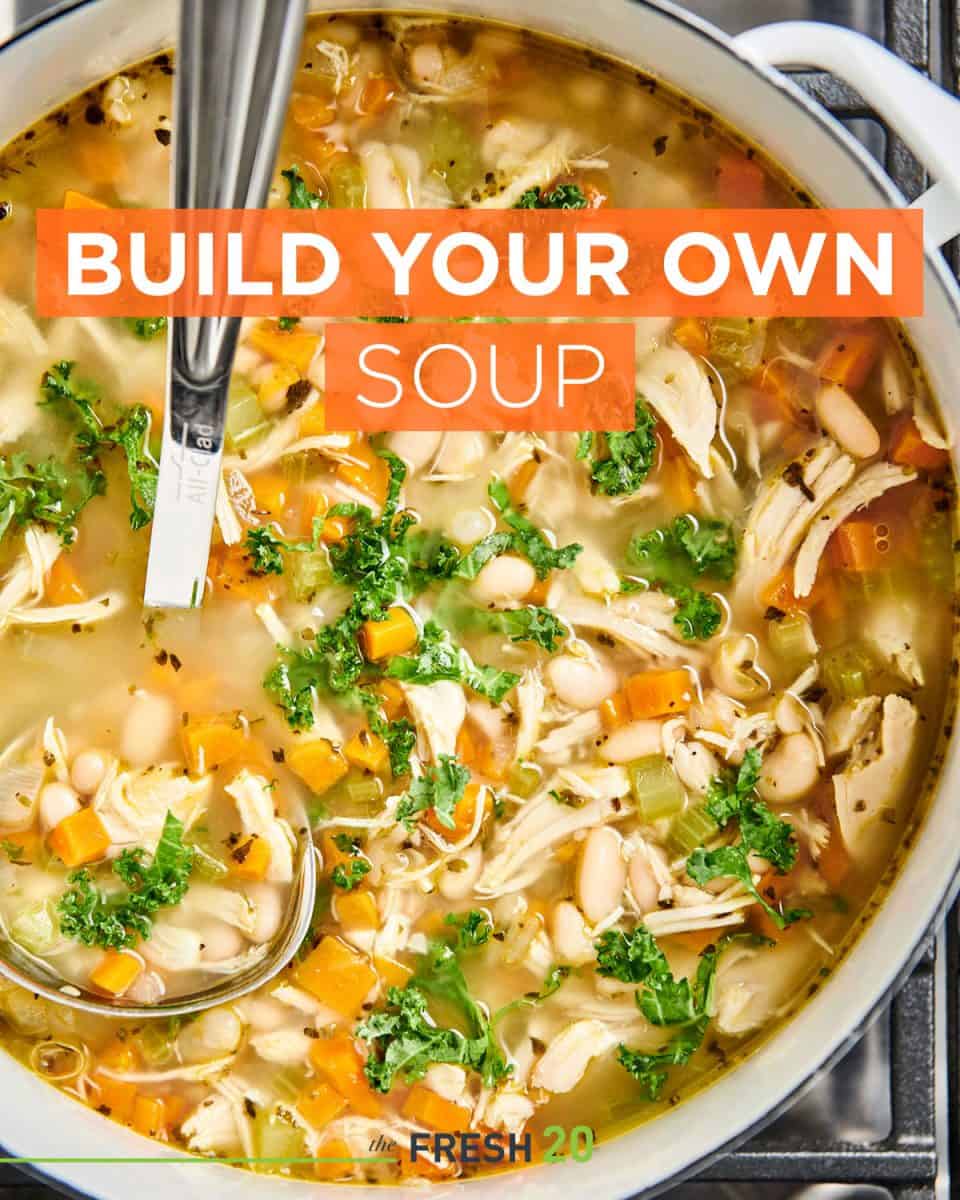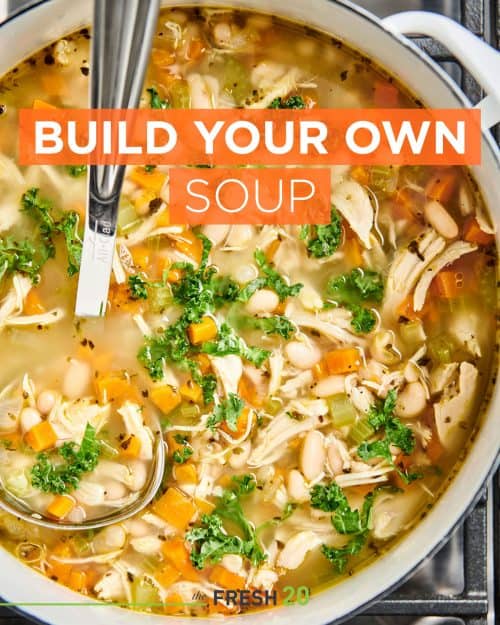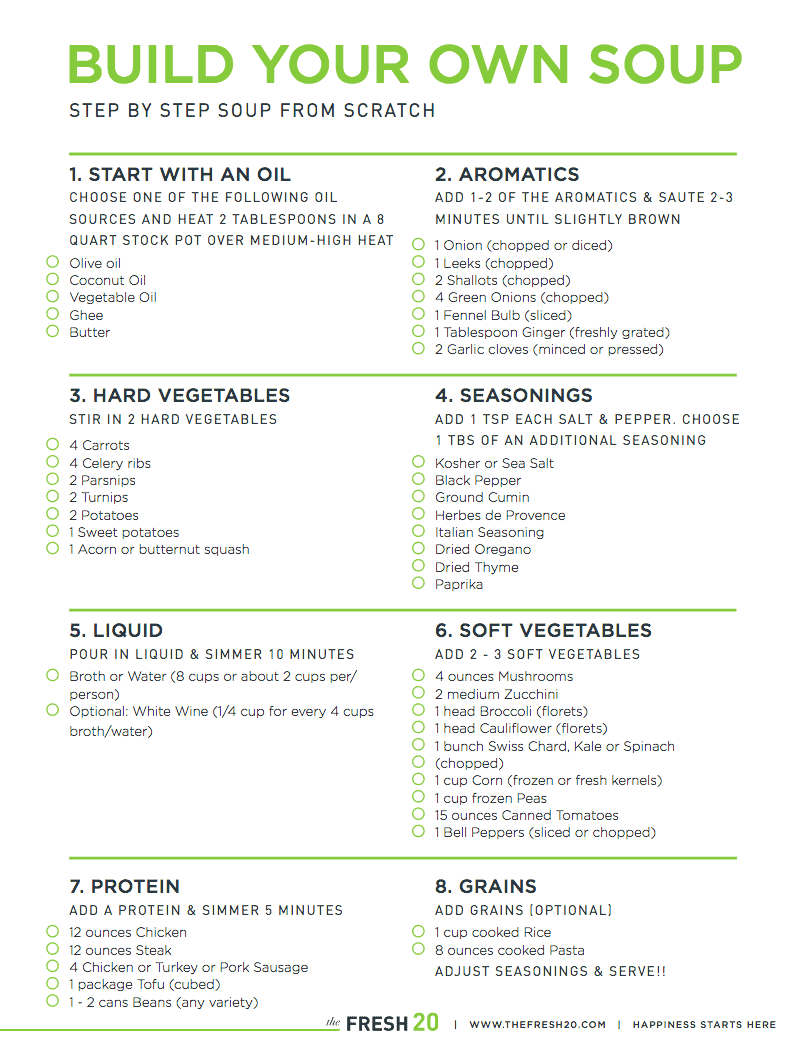 Do you want to try our FREE
20 ingredient meal plans?
Soup is an essential meal for busy families and can be easily prepared with just a few pantry staples.
START WITH AN OIL
Chose one of the following oil sources and heat 2 Tablespoons in a 8 quart stock pot over medium-high heat.
Olive oil
Coconut Oil
Vegetable Oil
Ghee
Butter
ADD 1 or 2 of the AROMATICS
Saute for 2-3 minutes until fragrant and starting to slightly brown.
1 Onion (chopped or diced)
1 Leeks (chopped)
2 Shallots (chopped)
4 Green Onions (chopped)
1 Fennel Bulb (sliced)
1 Tablespoon Ginger (freshly grated)
2 Garlic cloves (minced or pressed)
ADD 2 HARD VEGETABLES
4 Carrots
4 Celery Ribs
2 Parsnips
2 Turnips
2 Potatoes
1 Sweet Potatoes
1 Acorn or Butternut Squash
SEASONINGS

Add salt and pepper to taste and choose 1 Tablespoon of an additional seasoning.
Kosher or Sea Salt
Black Pepper
Ground Cumin
Herbes de Provence
Italian Seasoning
Dried Oregano
Dried Thyme
Paprika
POUR IN LIQUID
Broth or Water (8 cups or about 2 cups per person)
Optional: White Wine (1/4 cup for every 4 cups broth/water)
ADD 2 – 3 SOFT VEGETABLES
4 ounces Mushrooms
2 medium Zucchini
1 head Broccoli (florets)
1 head Cauliflower (florets)
1 bunch Swiss Chard, Kale or Spinach (chopped)
1 cup Corn (frozen or fresh kernels)
1 cup frozen Peas
15 ounces Canned Tomatoes
1 Bell Peppers (sliced or chopped)
ADD A PROTEIN
12 ounces Chicken
12 ounces Steak
4 chicken or turkey or pork Sausage
1 package Tofu (cubed)
1 – 2 cans Beans (any variety)
SIMMER for 10 minutes & SERVE
ADD GRAINS (OPTIONAL)
1 cup cooked Rice
8 ounces cooked Pasta
Lentils
Soup is a comfort food mood booster!
SOUP COMBINATIONS
onion, carrot, celery, parsley, thyme, white beans, zucchini, salt, pepper, broth, wine
garlic, celery, Herbes de Provence, cauliflower, canned tomatoes
onion, garlic, salt, pepper, broth pinto beans, cooked rice
SOUP STARTERS
garlic, green onions, ginger
onion, celery, green pepper, paprika,
onion, garlic, chilis, ginger, cumin, curry, cardamom, coconut
onion, garlic, celery, fennel, sage, bay leaf
shallots, garlic, chilis
Have a favorite soup recipe that's easy to make? Tag us #thefresh20 on Instagram