Make Your Own Sorbet
Only four main ingredients (peaches, coconut milk, apricots and dates) to make a simple and refreshing summer dessert. It's a dairy-free, sugar-free treat anyone with a good blender can make. No ice cream maker required!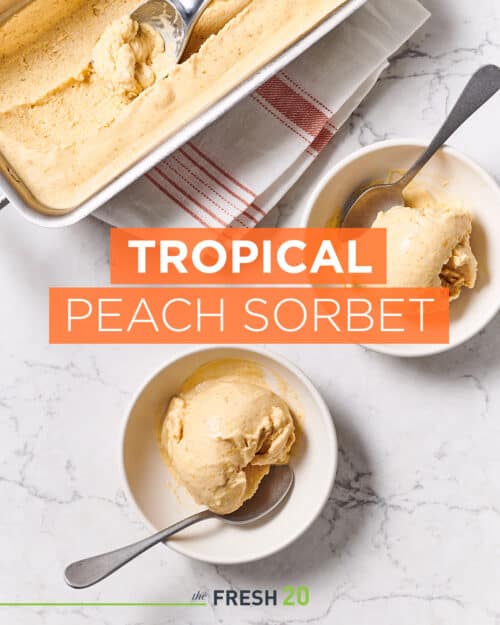 I've been trying to move my family away from dairy made ice cream but it's been a struggle to find anything as creamy and satisfying. We've been making fruit only frozen pops but they weren't feeling like enough of a substitute so we asked our partner, The Blender Girl to create a guilt-free dessert the whole family would love. She did not disappoint. The result is a creamy and sweet balance with a nice tang and lots of peach flavor.
If you have a blender and five minutes, you can make this simple dessert and feel good about serving it in your household.
Nutritional Benefits
Peaches make delicious and extremely healthy sorbet. A large, ripe peach has fewer than 70 calories and contains 3 grams of fiber. They're also a good source of vitamins A and C. The peels and the pulp of peaches possess significant antioxidant properties, and are rich in phenolic and carotenoid compounds, which have cancer and tumor fighting abilities.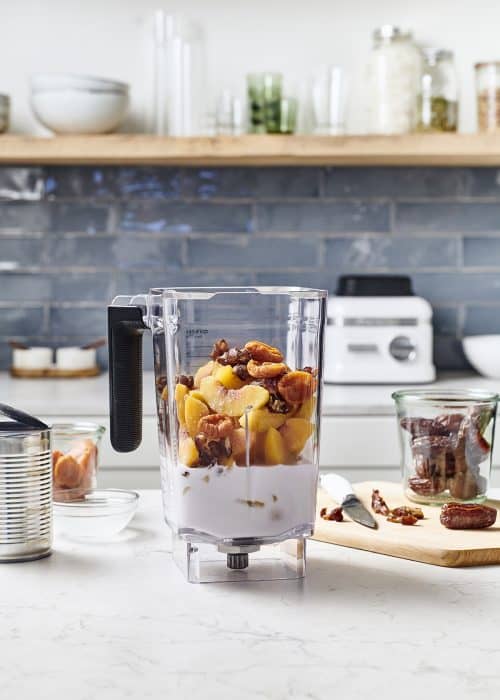 Do you want to try our FREE
20 ingredient meal plans?
Recipe for Tropical Peach Sorbet
Using dates and apricots for this sorbet brings an extra sweetness that rounds compliments the peach flavor, and coconut milk brings a tropical vibe that takes me right to the beach in my mind.
If you make this recipe, we'd love to see it on Instagram! Just use the hashtag #THEFRESH20 so we can see what's cooking in your kitchen.
Print
1 cup

full-fat canned coconut milk (shake, then pour)

1 tablespoon

coconut oil (in liquid form)

1/2 cup

chopped, pitted dates

1/4 cup

dried apricots

4 cups

frozen peaches
---
Instructions
Put the coconut milk, coconut oil, dates, and apricots into a high-speed blender or food processor, and process on high for 30 to 60 seconds until the dates and apricots are completely pulverized.
Add the frozen peaches, and process again for 20 to 30 seconds (using the tamper to guide the fruit through the blades if using a high-speed blender) until smooth.
Serve immediately, or transfer to a steel loaf tin, and place in the freezer for a couple of hours to solidify further.
*If you leave in the freezer for longer crystals will develop.