I don't think beans get enough credit. They are easy to prepare, high in protein and come in all shapes, sizes and flavors. Picky eaters can be hesitant towards beans so it's good to understand the difference in the varieties. Try tasting two or three different kinds at once for comparison. Having a conversation about likes and dislikes at the dinner table can help narrow down picky behavior.
For today's challenge…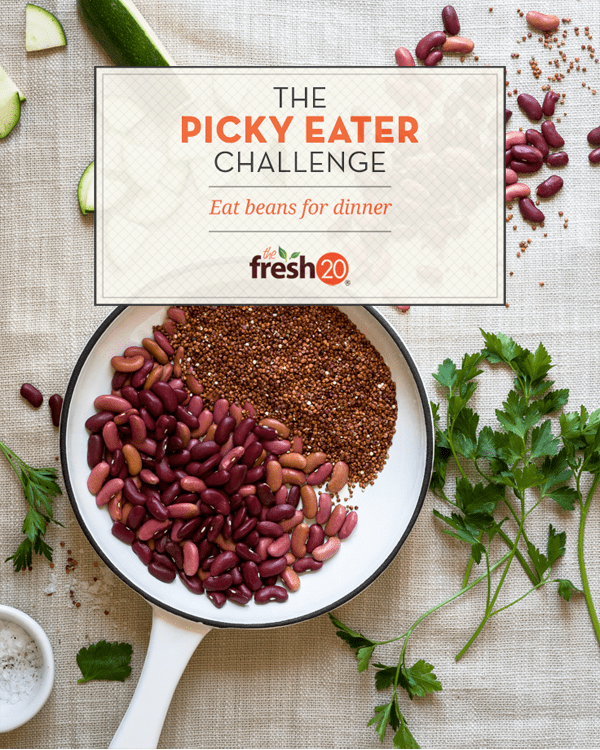 Print
Description
Red beans and rice is a traditional Creole dish, usually served on Mondays using Sunday's leftover ham or other meat. When I was growing up, a pot was often simmering at family gatherings. This vegetarian version uses quinoa instead of ham as a protein source. It's heart healthy but still has the satisfying feeling of that childhood meal.
---
2 Tablespoons

grapeseed oil

1

medium onion, chopped

2

garlic cloves, minced or pressed

1⁄2 teaspoon

kosher salt

1⁄4 teaspoon

cayenne pepper
Two

15

-ounce cans pinto beans in liquid

1 teaspoon

white wine vinegar

4 cups

prepared red quinoa

1⁄4 cup

water

1⁄2 teaspoon

black pepper

1⁄4 cup

chopped fresh flat-leaf parsley
---
Instructions
Heat the grapeseed oil in a large sauté pan over medium-high heat. Add the onion and garlic and cook until the onions soften, 4 to 5 minutes. Season with the salt and cayenne.
Add the beans and vinegar and bring to a simmer.
Meanwhile, in a medium saucepan, combine the quinoa, water, and pepper and heat over low heat.
Fold the parsley into the beans and serve over the quinoa.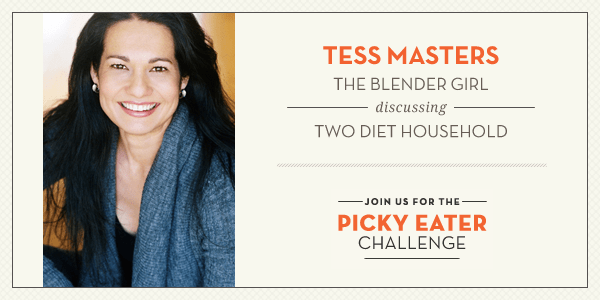 TESS MASTER is a self-confessed 'Blendaholic." Australian-born Tess Masters is a cook, writer, actor, voiceover artist and author. She is the powerhouse blogger behind theblendergirl.com and her debut 2014 cookbook, The Blender Girl: Super-Easy, Super-Healthy Meals, Snacks, Desserts, and Drinks–100 Gluten-Free, Vegan Recipes! is hot now.
As a vegan, Tess Masters shares recipes ranging from plant-based milks to cocktails, dressings and copy-cat dishes. She realizes many households have differing eating habits so she'll address cooking for a two-diet household for The Picky Eater Challenge.
On her blog, Tess Masters – aka, The Blender Girl – shares easy plant- based recipes that anyone can whip up fast in a blender for quick and fun ways to prepare healthy food.
Tess suggests that "You don't have to compromise on health, nutrition, or good eating just because you've got pressing things to do. Enter the blender, which makes healthy fast food possible. This phenomenal machine is the greatest culinary gift bestowed on us since fire and spoons! Blending makes life easier, levels the playing field in the kitchen, and allows anybody to whip up nutrient-dense, tasty foods with limited skills and time."
TODAY'S CHALLENGE "TWEETABLE"
"beans are underrated #dinner #pickyeatertips"
And don't forget to check out our daily Instagram contest for a chance to win great prizes!