Eve Schaub is a sugar sleuth. She singlehandedly uncovered the insidiousness of what hidden sugar is doing to all of us when she and her husband and their two daughters launched a project that would change all of their lives. They spent an entire year searching for meals that contained absolutely no added sugar. The stories and recipes she shares in her book, Year of No Sugar, cast an entirely new light on the nutritional advice we've all been following for years. Year of No Sugar shows beyond a doubt that it is possible to go grocery shopping, eat in restaurants, and do everything a normal family does with less – and even no – added sugar. Eve talks sugar addiction with us in her Picky Eater Challenge interview.
Get inspiration from other cultures!
For today's challenge…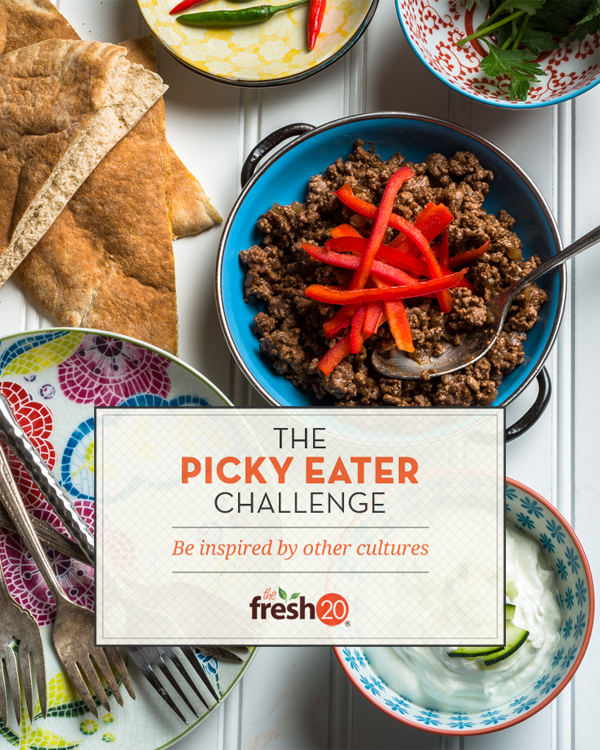 Print
Greek-Style Lamb Tacos with with Cucumber Yogurt Sauce
---
Description
I introduced my kids to this ground lamb before moving on to the more distinctive flavor of lamb chops and roasts. They call it the "good ground beef" and ask for these tacos often during the spring. I implore you to try it before assuming the kids won't enjoy this tender meat. Many are happily surprised.
---
1 Tablespoon

grapeseed oil

1⁄2

medium red onion, finely chopped

1

pound ground lamb

1 teaspoon

kosher salt

1⁄2 teaspoon

black pepper

1⁄2 teaspoon

ground cumin

1 teaspoon

dried oregano

8

corn tortillas, 6-inch taco size

2 cups

Cucumber Yogurt Sauce (see Prep Ahead, page 20)

1

red bell pepper, cored, seeded, and chopped
---
Instructions
Heat a 10- to 12-inch skillet over medium heat and add the oil. Add the onion and sauté until softened, 3 to 4 minutes.
Add the ground lamb and season with the salt, pepper, cumin, and oregano, stirring to combine. Cook until the lamb is browned and no longer pink inside, 3 to 4 minutes. Remove from the heat. If necessary, drain a little fat from the pan or blot it up with a paper towel.
To soften, heat the tortillas wrapped in wet paper towels in the microwave for 30 seconds, or place one by one in a lightly oiled pan and heat for 10 seconds per side.
Spoon 3 Tablespoons of the lamb into each tortilla followed by 2 Tablespoons of the yogurt sauce. Top with the chopped bell pepper.
Arrange the tacos on a serving platter.
Notes
Dairy-Free conversion: omit yogurt sauce and serve with cucumber sticks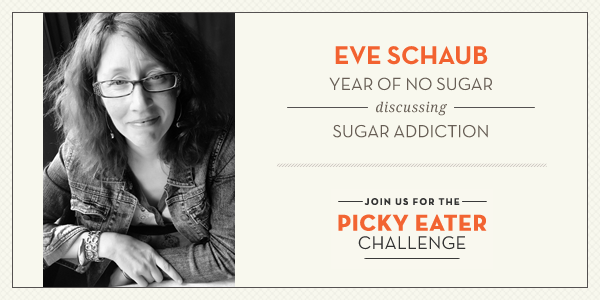 We are honored to have Eve join us on Day 5 of The Picky Eater Challenge! Eve shares alarming stats about the percentage of products with added sugar found in a typical supermarket.
Eve Ogden Schaub is a writer who holds a BA and BFA from Cornell University and a MFA from the Rochester Institute of Technology. She writes about art and photography and has also written the introductions for her photographer husband Stephen's published photography collections. She and her husband co-authored The Figital Revolution about the state of contemporary photography.
Eve's personal essays have been featured on WAMC, the NPR affiliate in Albany, New York.
In 2011, Eve started a blog called A Year of No Sugar which was published this spring as a book. In May she posted a list of 54 different names for sugar on the blog, calling it her Up-To-The-Minute, Pretty-Much-Alphabetized, Family-Sized LIST of Sugars-to-Watch-Out-For. The list includes buttered syrup, confectioners sugar, and sorghum. It's a pretty amazing list.
Eve's blog also features no-sugar recipes for Pancakes, Poppyseed Cake, Mayonnaise (yes, processed mayonnaise has sugar in it), and Fudge Brownies.
One of Eve's biggest takeaways from cutting sugar out of her life (which she and her family did cold turkey) is that she no longer has that midafternoon slump most of us are familiar with. "My energy is very consistent throughout the day. There's no more roller-coaster effect from sugar surges and then crashes," she told Family Circle Magazine.
Eve and her family are not as obsessive about eating without sugar as they were during the project, but they still avoid it as much as possible. They closely monitor food labels and reject anything that lists sugar as an added ingredient. However they do occasionally have treats on special occasions.
TODAY'S CHALLENGE "TWEETABLE"
Click to Tweet: "We have a garden. The more invested kids can be in the food. The more they will be excited about it." ~ @eveschaub #pickyeatertips
And don't forget to check out our daily Instagram contest for a chance to win great prizes!