There are so many studies about the importance of breakfast. We're often asked about ideas for healthy foods to start the day. So, we'll be sharing one of our favorite healthy breakfast recipes every Saturday for the next 5 weeks! All of the recipes we share will take less than ten minutes to prepare and are proven to give you and your family a boost in energy, focus and nutrition. Bonus: this Italian Egg Toast can be customized for each family member!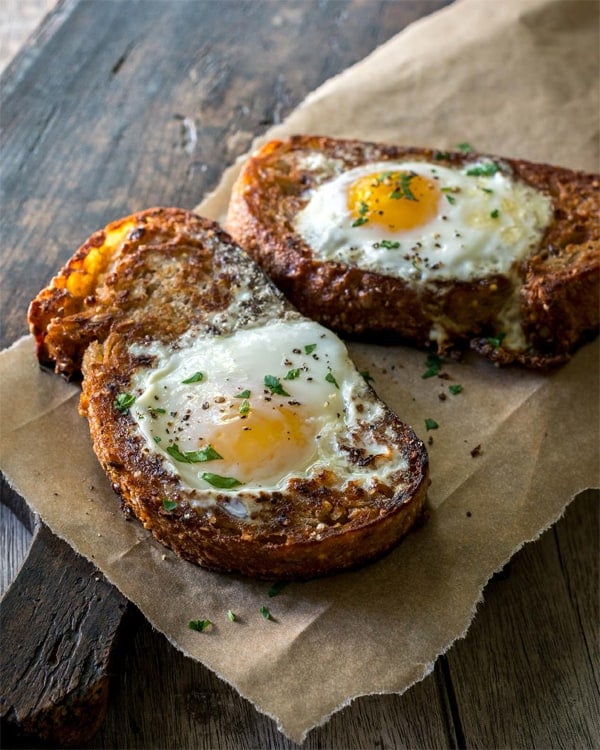 1 Tablespoon

olive oil (or butter)

2

slices whole wheat bakery bread (not sandwich loaf)

2

large eggs

¼ teaspoon

kosher salt
dash of black pepper

1 teaspoon

Italian seasoning
optional: 4 leaves fresh garden basil or fresh garden herb
---
Instructions
Press a hole in the center of each slice of bread using a 2-1/2 inch diameter drinking glass or a biscuit cutter.
Heat the oil in a 10-12" skillet over medium heat.
Arrange bread in bottom of pan. Brown on one side then flip.
Crack an egg into the bread hole without breaking the yolk.
Season with salt and black pepper.
Cook egg for two minutes and then flip, season with Italian seasoning and cook for one minute.
Remove and serve while yolk is a little soft. Serve with bread cut outs.
If you made your own version of Italian Egg Toast be sure to tag #thefresh20 on Instagram so we can see it!